Turn down the lights and turn up the fun with these creative glow party ideas! Whether you are hosting a birthday, Halloween, bachelorette party, or company event, a glow party is always an exhilarating and sensational experience.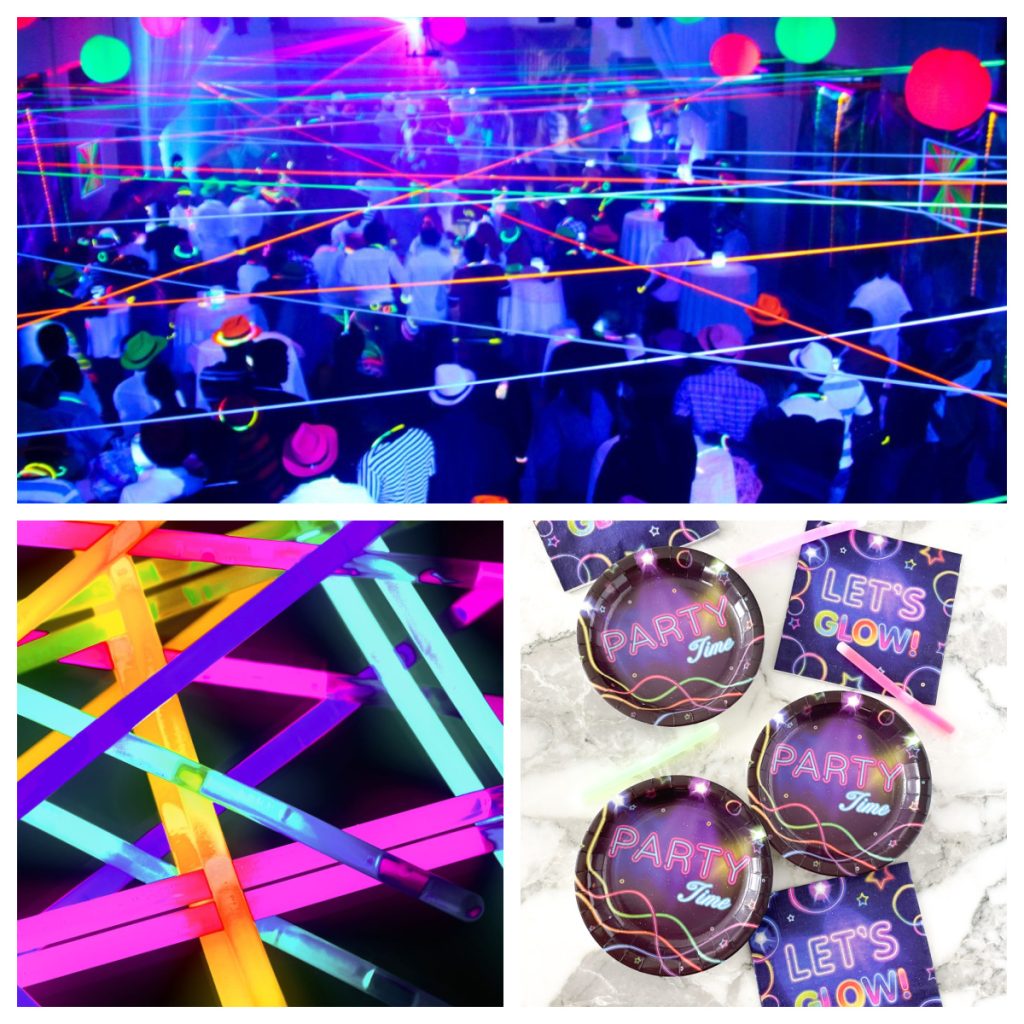 Best Neon Party Ideas
Between decorations, food ideas, outfits, activities, and party favors, planning an event can be a bit overwhelming. But don't fret!
We've gathered the top glow in the dark party ideas to get you excited and inspired — all without breaking the bank. This fun theme features black light bulbs, bright neon colors, and a whole menagerie of glow in the dark goodies.
Glow In The Dark Decorations
Get the excitement going with a fun party invitation. There are many styles you can find to fit your party needs. Don't forget to include an RSVP so you know how many guests to expect.
Decorations make all the difference! Create an eye-catching glow in the dark centerpiece out of styrofoam and glow sticks. This craft is easy, inexpensive, and super fun to make.
Add glowing ambience with these glow in the dark balloons. All you need for this project are latex balloons and glowsticks. You can use helium to have them float along the ceiling or simply blow them up and scatter them around the room.
Feast in style and add a splash of bright neon colors to the food table with this neon cutlery. Not only does it catch the eye, this cutlery is durable, inexpensive, and will help make cleaning up a breeze. Don't forget to grab some neon cups and plates to complete your table.
Label and illuminate the buffet table with blacklight reflective markers. Line your food table with white craft paper before labeling, and make sure it is positioned under black light bulbs for the full glowing effect. You can even leave the markers out for guests to sign their name or make glow in the dark doodles.
6. Party Table
Bright neon streamers, bold neon banners, glowing balloons, and glow in the dark centerpieces all help create a dynamite glow party table. This is one of those glow in the dark party ideas with tons of room for creativity and personal taste.
Capture the moment with a fun theme photo station. Splash bright neon UV paint onto a simple black background and line it with balloons to create a super fun DIY photo backdrop. Use glow balloons around the border for extra effect!
8. Neon Chandalier
Make this exquisite neon chandelier out of simple neon flagging tape tied to a hula hoop. It's a great way to add flair to the room and is one of the easiest and most creative neon party ideas out there.
Glow Party Food Ideas
Transform regular old cupcakes into glow in the dark goodies with this simple glow frosting technique. You can use this technique on home baked or store bought cupcakes, or even on your favorite cake! Enjoy your neon pastries under the black light for maximum glow.
10. Neon Glow Cake
It can't be a party without a glow in the dark cake! Black icing splattered in bright neon colors creates a cake that truly catches the eye. Like most of these glow party ideas, you will get the full effect under black light bulbs.
Wow your guests with a magical glowing potion made out of tonic water and lemonade mix. Served under the black light, the tonic water makes this simple black light lemonade recipe glow. So much fun to serve at a neon glow party.
Neon Party Outfit Ideas
Jazz up your wardrobe and stand out from the crowd with these fun and easy DIY tie dye t-shirts. This family friendly craft uses neon sharpies and rubbing alcohol with a plain white t-shirt to create a black light reflective work of art you can wear. Try this exciting technique and get ready to glow on the dance floor!
Get into the glow party spirit and pump up the glam with some glow in the dark face paint! One of the easiest neon party ideas to do, enhance your own outfit or set up an activity station for kids and adults alike. You can hire a resident face paint artist or set up a DIY station with brushes, paint, and mirrors.
Neon Party Games
Keep the party hopping with glow in the dark activities! You can craft a makeshift glow bowling alley out of repurposed water bottles, glow in the dark necklaces, and a ball. Spray paint the ball with glow in the dark paint for a little extra glow and get ready for a light show.
Keep guests engaged with a classic game of ring toss, glow party style. This simple DIY game can be made entirely out of glow sticks. Purchase a large pack, and you can set up as many different games as you need.
Nothing beats a good old game of tic tac toe. Unless, of course, it's glow stick tic tac toe! All you need are glow sticks and a bit of tape to create this glowing game board and pieces.
Crank up the fun factor with this homemade glow in the dark twister game. All you really need is a large sheet of fabric, neon paint, and a few flexible friends to get twisted with.
Glow In The Dark Party Favors
You can use inexpensive bubble solution and highlighters to make your very own batch of glow bubbles. This unique party favor will be a surefire crowd pleaser and it is way less expensive than the premade glow bubbles.
Send your guests home in neon style with glow in the dark themed party favor bags. This is another one of those glow party ideas with plenty of room for creativity. You can include glow sticks, glow in the dark jewelry, glow slime, glow bubbles, or whatever your neon loving heart desires.
Glow In The Dark Party Supplies
Start planning your own glow party with the help of these ideas and party supplies.
Glow In The Dark Party FAQ's
What colors to wear for a glow party?
White or bright colors are best to wear for a black light party. Try looking for colors like fluorescent pink, green, yellow, or orange.
More Fun Party Ideas
📖 Recipe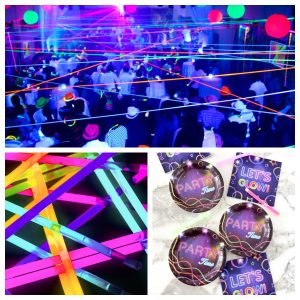 Glow Party Ideas
A variety of amazing ideas for a glow party. From decorations to activities, and glow party food like this super easy purple glow drink.
Ingredients
4

ounces

tonic water

4

ounces

grape juice
Instructions
Fill a glass with ice. Pour in grape juice and then top with tonic water.

Hold beside black light to see it glow.
Nutrition
Calories:
68
kcal
Carbohydrates:
17
g
Protein:
0.4
g
Fat:
0.1
g
Saturated Fat:
0.03
g
Polyunsaturated Fat:
0.02
g
Sodium:
6
mg
Potassium:
118
mg
Fiber:
0.2
g
Sugar:
16
g
Vitamin A:
9
IU
Vitamin C:
0.1
mg
Calcium:
12
mg
Iron:
0.3
mg