Get ready to have the best family movie night with this movie night snacks board. There is something for everyone and it can be easily adapted to include your favorite snacks! So pick out your movie of choice, your favorite movie snacks and let's get started.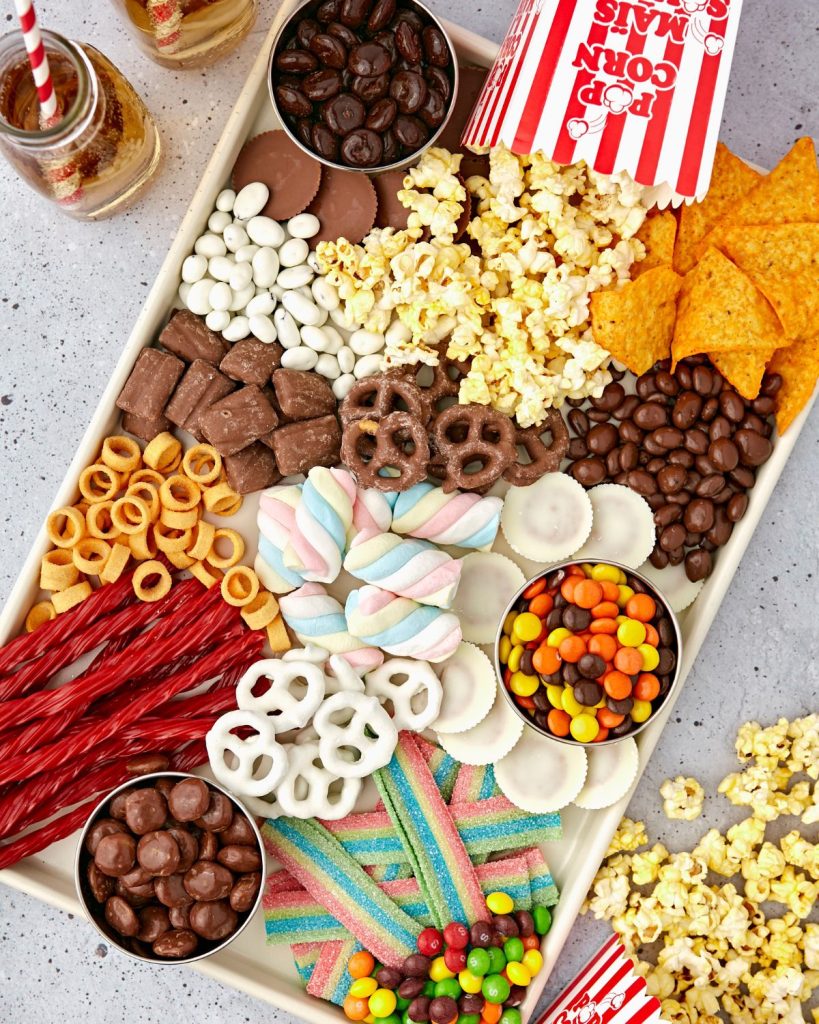 Why you should make a movie snack board
Who needs the movie theater concession stand when you can have it all on one board. This is such a great way to serve snacks for a movie night at home.
Movie nights at home are fun because you throw on your pajamas, grab a blanket and snuggle up with these snacks to watch a movie.
Let your family and friends help pick out their favorite treats to include on the board.
Movie night snack ideas
The wonderful thing about snack boards is that you can choose your favorite foods to serve. Here are a few favorites, including both sweet and salty snacks, to inspire you when constructing your board.
Popcorn - We have to start with classic movie popcorn. You can pop some in the microwave or heat some kernels on the stove. Try buttered popcorn, caramel corn, kettle corn, even white cheddar popcorn.
Chips - Chips are another good savory snack to add to your tray. Doritos, pretzels, potato chips, and corn chips are always a hit.
Cookies: Cookies are always a welcome addition to any dessert board. Try classic chocolate chip cookies, animal crackers, Teddy Grahams, Nilla Wafers, Oreos, and more.
Candy - Choose your favorite candy like Junior Mint, Skittles, Milk Duds, Gummy Bears, M&M's, Reece's Peanut Butter Cups, Twizzlers, and so many more.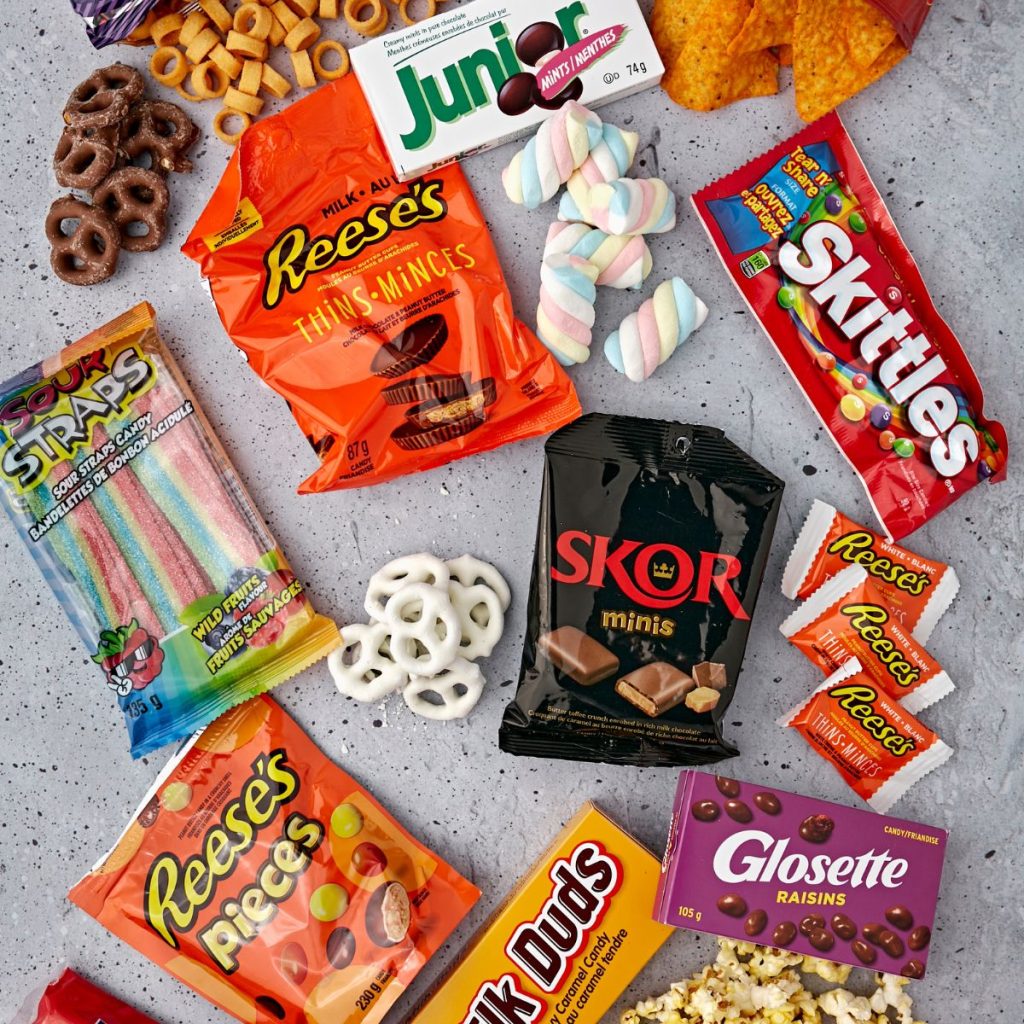 What you need to make a movie night charcuterie board
Tray - You will need some kind of serving tray, baking sheet, wooden board, large cutting board, or large platter.
Containers - Small bowls are great for holding things like small candies and nuts. Popcorn boxes or popcorn bags are also a wonderful way for people to hold their own individual serving of popcorn.
Plates and napkins - These are useful so that your guests can have something to hold the food and wipe their hands.
How to make a movie night snack board
Step One: Start by adding some snacks like small candy and nuts to bowls. Place snacks on the corners and then in the center of the tray or board.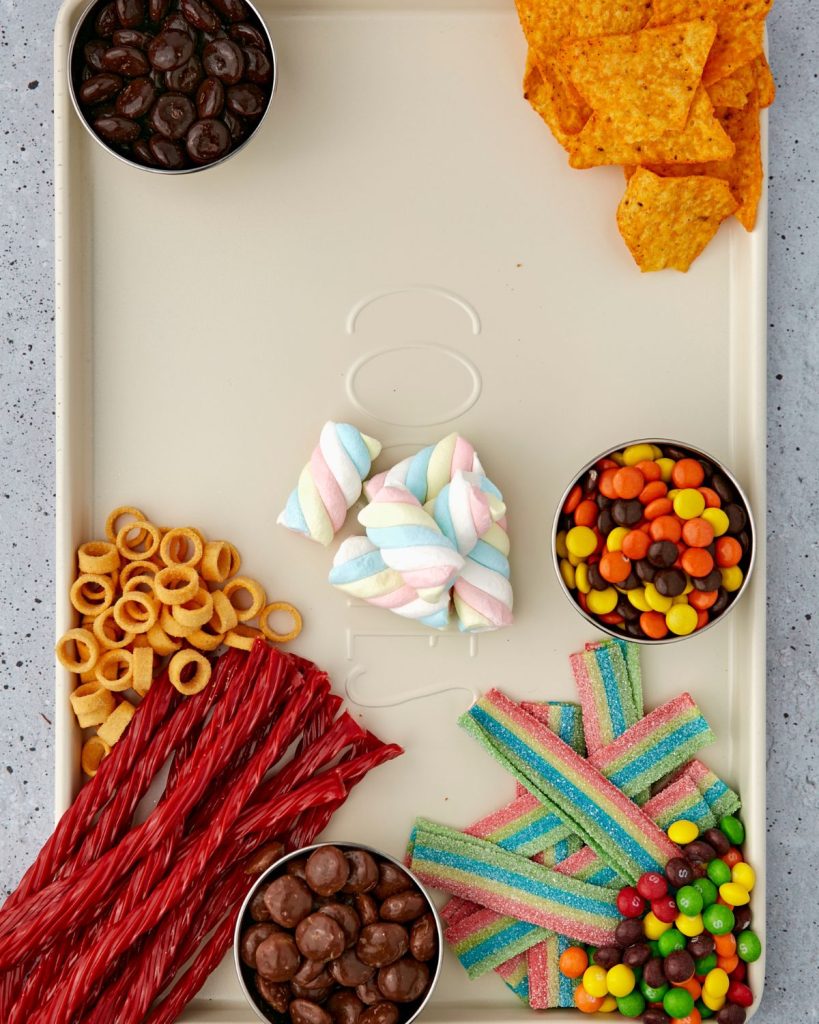 Step Two: Next, start filling in the empty space on the rest of the board with chips, cookies, and more candy.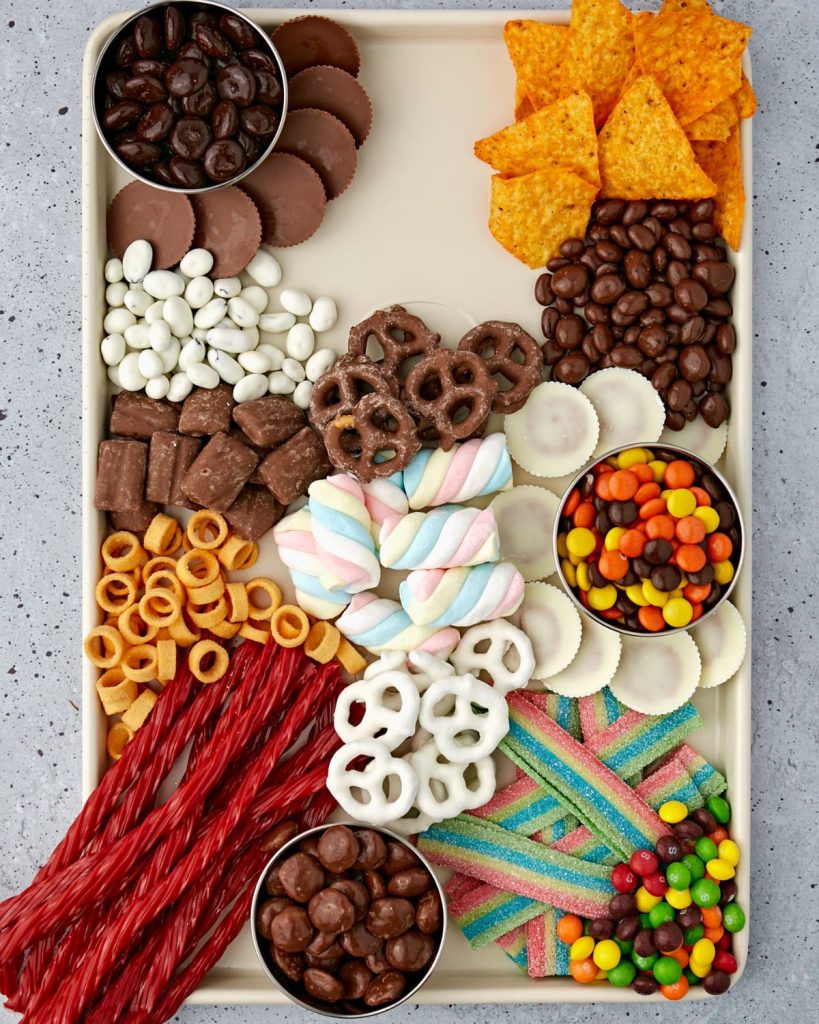 Step Three: Finally, add your popcorn.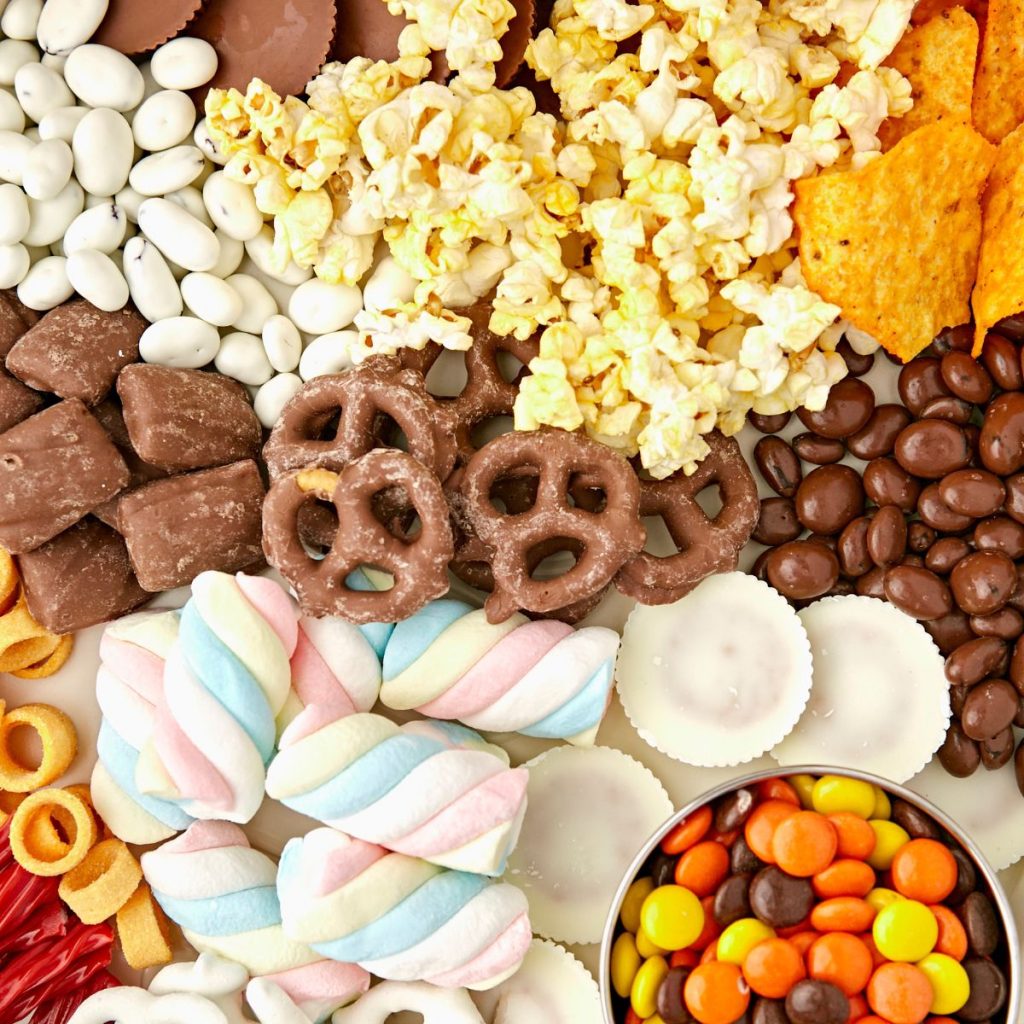 Snack board tips
Check the Dollar Store for great deals on all kinds of your favorite candies.
Try a mix of sweet and savory with a variety of different snacks for everyone to choose from.
Want to add some healthy options? Add a bowl of fresh fruit like grapes, strawberries, and blueberries.
Snack boards are wonderful for all occasions like watching sports games, award shows, or even an episode of your favorite TV show.
How to store leftovers
If you have leftover candy, chips, or other snacks. Store them in an airtight container or zip-top bag.
What to serve with movie night snacks
I recommend having a few drink options on hand to store with your movie night snacks at home. Water, lemonade, and maybe one or two soda options are great.
Snack board FAQ's
What is a snack board?
It's simply some sort of serving board or tray that is topped with small, usually bite-sized food that can be served as a snack or appetizer.
How many snacks do I need?
The amount of snacks will depend on the number of people. The larger the crowd, the more snacks you will need. With a movie snack tray, most of the candy and chips can be stored for later use if there is leftover.
What would you add to your movie night snack tray? Let me know in the comments.
📖 Recipe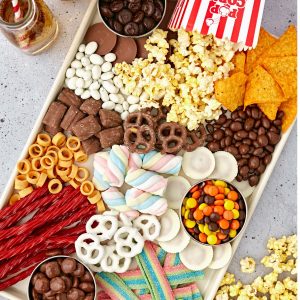 Movie Night Snacks Board
Learn how to assemble a fun movie night snack board for your next movie night at home. Quantity can be adjusted to the amount of people you have.
Ingredients
6

cup

Popcorn

1

bag

Twizzlers

2

cups

Junior Mints

2

cups

Milk Duds

6

cups

Chips

3

cups

Chocolate Covered Pretzels

2

cups

Chocolate Covered Raisins

1

cup

Skittles
Instructions
Add raisins and other small candies to a bowls. Arrange on platter. Fill in the games with chips, pretzels, candy, and popcorn.
Video
Nutrition
Calories:
2734
kcal
Carbohydrates:
390
g
Protein:
26
g
Fat:
138
g
Saturated Fat:
99
g
Polyunsaturated Fat:
11
g
Monounsaturated Fat:
9
g
Cholesterol:
14
mg
Sodium:
650
mg
Potassium:
566
mg
Fiber:
21
g
Sugar:
318
g
Vitamin A:
74
IU
Vitamin C:
0.1
mg
Calcium:
435
mg
Iron:
5
mg