Brighten up any family gathering or church potluck with a delicious, beautiful batch of Easter cupcakes! Whether you love to incorporate seasonal treats like PEEPS or candy eggs, prefer a classic flavor like carrot cake, or want something entirely new, there are so many fun options to try. With this mouthwatering collection at your fingertips, you'll be tempted to bake new cupcake recipes all throughout the Easter season!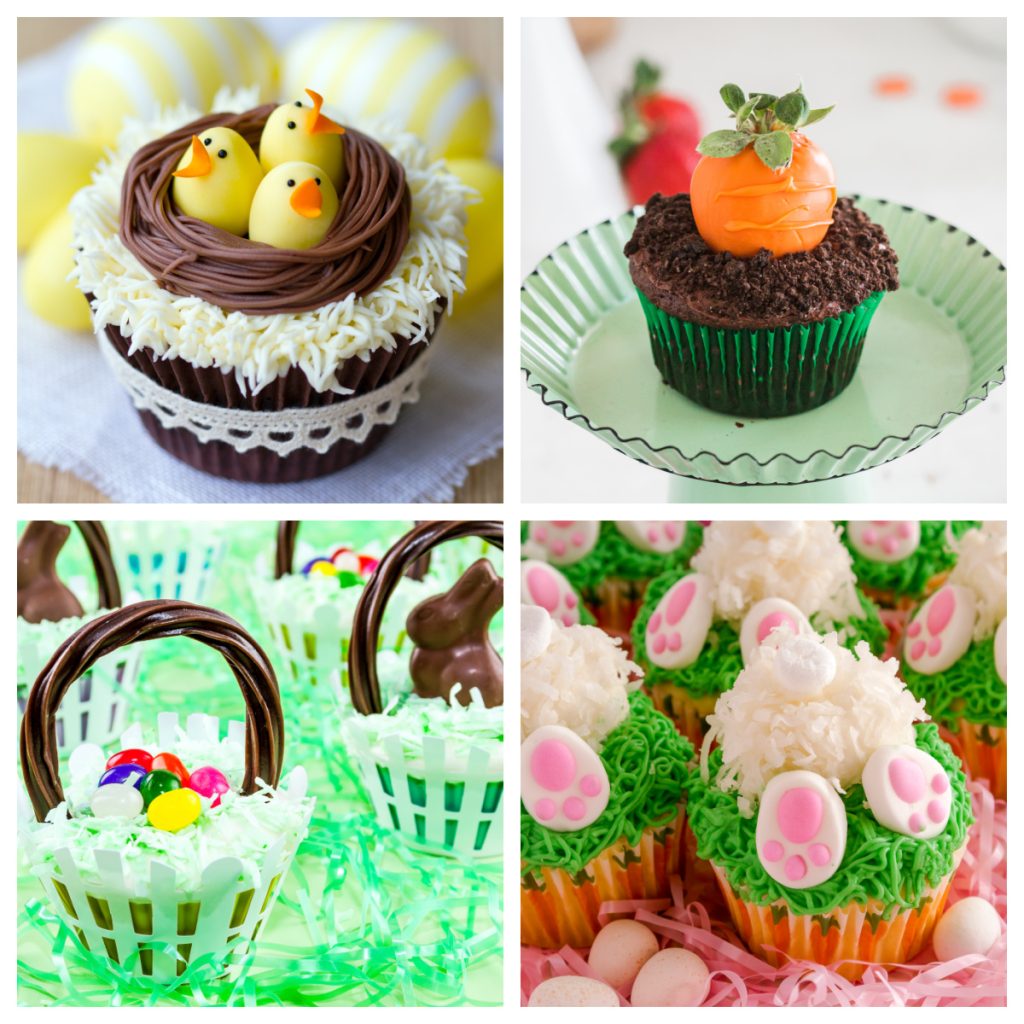 Planning to get together with family or join the church potluck for an Easter celebration? Everyone will be so delighted when you arrive with a delicious batch of Easter cupcakes!
This collection has a little something for every taste. Want to incorporate candy eggs, jelly beans, or even marshmallow bunny ears? We've got you covered. Prefer to use a box cake mix for simple prep? It's on here! Want to play around with some coconut flakes and a little food coloring? Read on!
With so many amazing Easter cupcake recipes to try, you may find yourself trying new ones long after the Easter season. After all, is there ever a bad time for a festive and tasty batch of cupcakes?
How can you go wrong when your cupcakes are topped with Oreo cookie crumbles and a chocolate covered strawberry frosted to look like a carrot? Not only are these cupcakes adorable, but they also use box mix for easy prep and such a cute Easter dessert!
Shredded coconut flakes and marshmallow bunny ears make these cute bunny cupcakes almost too adorable to eat! Chocolate chip eyes and a little fondant nose complete the look for the sweetest Easter cupcakes you've ever seen.
Cake flour, lemon zest, freshly squeezed lemon juice, and cream cheese frosting on top make these the most delicious lemon cupcakes ever! You'll want to enjoy these soft and tender treats all spring and summer long.
You'll be surprised how easy it is to make carrot cupcakes from scratch! Grated carrots keep the cupcakes soft and moist while the optional nuts and raisins add amazing texture. Top with cream cheese frosting for perfection!
A generous dollop of frosting with yellow food coloring creates the bodies of the adorable little chicks to go on top of your cupcakes! Easy chocolate feet and beaks plus black sprinkles for eyes complete the almost-too-cute-to-eat desserts.
Peek-a-Boo bunnies "peep" out from behind green frosting grass for the kind of cupcakes that kids and adults alike will love! And a clever box cake mix shortcut means making this recipe is a breeze.
Who could resist lemon curd inside a lemon-infused yellow cake with Swiss meringue buttercream? Best of all, they're topped with a candy nest made from green coconut flakes and colorful jelly beans!
Moist and fluffy cupcakes topped with a cream cheese frosting are as perfect for Easter as they are for any spring occasion! Ingredients like crushed pineapple and ripe bananas add a light and fruity flavor.
No artificial flavors here: these sweet treats are made with REAL strawberries! Featuring chunks of fruit in the cake batter and strawberry frosting made with puree, they're the perfect pretty-in-pink cupcakes.
You can make this recipe from scratch or with a box cake mix if you prefer, but either way, they'll still turn out delicious and oh-so-adorable! Decorate the tops with basket handles made from licorice, then decorate to your heart's desire.
The perfect combination of coconut cake with a lightly sweetened coconut mousse and a tangy cream cheese whipped cream on top will make you feel like you're eating a coconut cream pie in cupcake form!
Spice up your standard vanilla cupcake with an easy citrus upgrade. The key lime buttercream frosting and graham cracker crumbs makes this beautiful dessert taste just like a tropical vacation!
This recipe is a great one for getting the little ones involved in the decorating! Make the butterfly wings by dipping mini pretzels in white chocolate, then dunking them in sprinkles for a gorgeous and delicious burst of color.
Just wait until you see how cute these vanilla funfetti cupcakes are when topped with pillowy clouds of buttercream and sour candy strip rainbows! Best of all, they're ready to eat in less than an hour.
These rich, moist chocolate cupcakes would be a treat all on their own. But once you add the frosting, mini marshmallows, and sheep heads, they transform into the kind of cupcakes you simply can't resist!
Looking for a cupcake that's elegant in its simplicity? These soft, fluffy, and extra moist confetti cupcakes topped with creamy vanilla buttercream and extra sprinkles are perfect for Easter, birthdays, and more!
Bake a full-size Cadbury Egg inside a homemade chocolate cupcake topped with vanilla buttercream and watch the entire batch disappear in the blink of an eye! The Easter candy surprise inside is downright delightful.
Want a cupcake recipe that's guaranteed to get a giggle out of the kids? Tasty funfetti cupcakes with green frosting and sweet little bunny bums sticking out of the top are easy to make and always a hit!
Moist, rich chocolate cupcakes topped with a fluffy chocolate frosting, brown sprinkles, and sweet little chocolate Cadbury mini eggs make the perfect spring dessert! The pastel candies add such a perfect pop of color.
Don't let the design of these gorgeous floral cupcakes fool you. Homemade buttercream and a flower piping tip make these easy sweet treats look like they came straight from a high-end bakery!
Everyone loves chocolate bunnies! And they look extra adorable nestled in green coconut flake grass on top of your favorite flavor of cupcake. If you want to stick with the bunny theme, carrot cake is a great choice!
When you're in the mood for a cupcake on the lighter side, angel food cupcakes still give you the amazing flavor you're craving. Top with Cool Whip and a sliced strawberry for a refreshing finish!
Learn how to pipe a buttercream daisy for the most beautiful Easter and springtime cupcakes ever! There are a lot of different methods to try for your perfect flower, and no matter which direction you go, you know the result will be delicious.
A mixture of cocoa powder, vanilla extract, and water flicked onto the frosted cupcakes creates a beautiful speckling effect that's sure to set your cupcakes apart! They look like gorgeous speckled eggs when you're done.
Nothing says warm weather quite like lavender, so why not use it to create a beautiful and floral frosting? It's a perfect complement to the lemon flavor of the cupcakes, and a sprinkle of lavender flowers adds a gorgeous finishing touch.
The secret behind the richest, most delicious mascarpone buttercream frosting is to use real vanilla beans! It adds beautiful flecks to the frosting and tastes unbelievable on top of the tender and fluffy cupcake base.
These one-bowl cupcakes are velvety-smooth, simple to whip up, and downright irresistible! Compared to traditional red velvet, you only need a few drops of pink food coloring, and the rest of the ingredients are convenient pantry staples.
The color of the blackberry frosting on these moist and tender cupcakes will draw every eye in the room! Apart from being beautiful, the cupcakes are also bursting with fresh lemon flavor while the frosting tastes like biting into real berries.
You won't believe how easy it is to make buttercream roses on top of your cupcakes! The sprinkled edges add a wonderfully colorful finish for a stunning batch of swoon-worthy Easter desserts.
These cupcakes are made with melted rainbow sherbet, so it should be no surprise that they taste exactly like it! Just add to cake mix and voila. Top with a tri-colored frosting featuring strawberry, orange creamsicle, and key lime!
The glaze that covers and hardens over these sweet champagne-flavored cupcakes really takes the whole recipe to the next level. The fluffy buttercream on top is quite literally the icing on the (cup)cake!
The secret behind this pull-apart bunny cake is that it's actually made from 12 individual cupcakes! An adorable buttercream bunny is piped on top to give the illusion that it's all one cake. How fun is that for a adorable Easter cake?
Which one of these easy Easter cupcakes will you make first?
More cupcake recipes
📖 Recipe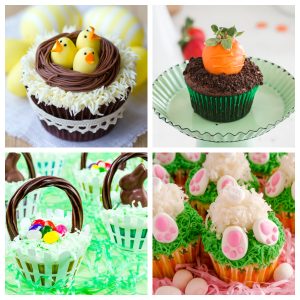 Best Easter Cupcakes
32 of the cutest Easter cupcakes perfect to make for your next celebration. From bunny cupcakes to carrot cake cupcakes, these Easter cupcake recipes are sure to please.
Instructions
Store any leftover cupcakes in an airtight container. They can be stored at room temperature for 2-3 days or in the refrigerator for 4-5 days.
Nutrition
Calories:
154
kcal
Carbohydrates:
25
g
Protein:
2
g
Fat:
5
g
Saturated Fat:
1
g
Polyunsaturated Fat:
1
g
Monounsaturated Fat:
2
g
Cholesterol:
1
mg
Sodium:
141
mg
Potassium:
41
mg
Fiber:
0.3
g
Sugar:
15
g
Vitamin A:
22
IU
Vitamin C:
0.1
mg
Calcium:
56
mg
Iron:
1
mg