There are many reasons to enjoy St. Patrick's Day and these St. Patrick's Day appetizers are at the top of the list. No party is complete without an array of delicious, satisfying appetizers to soak up those tasty libations.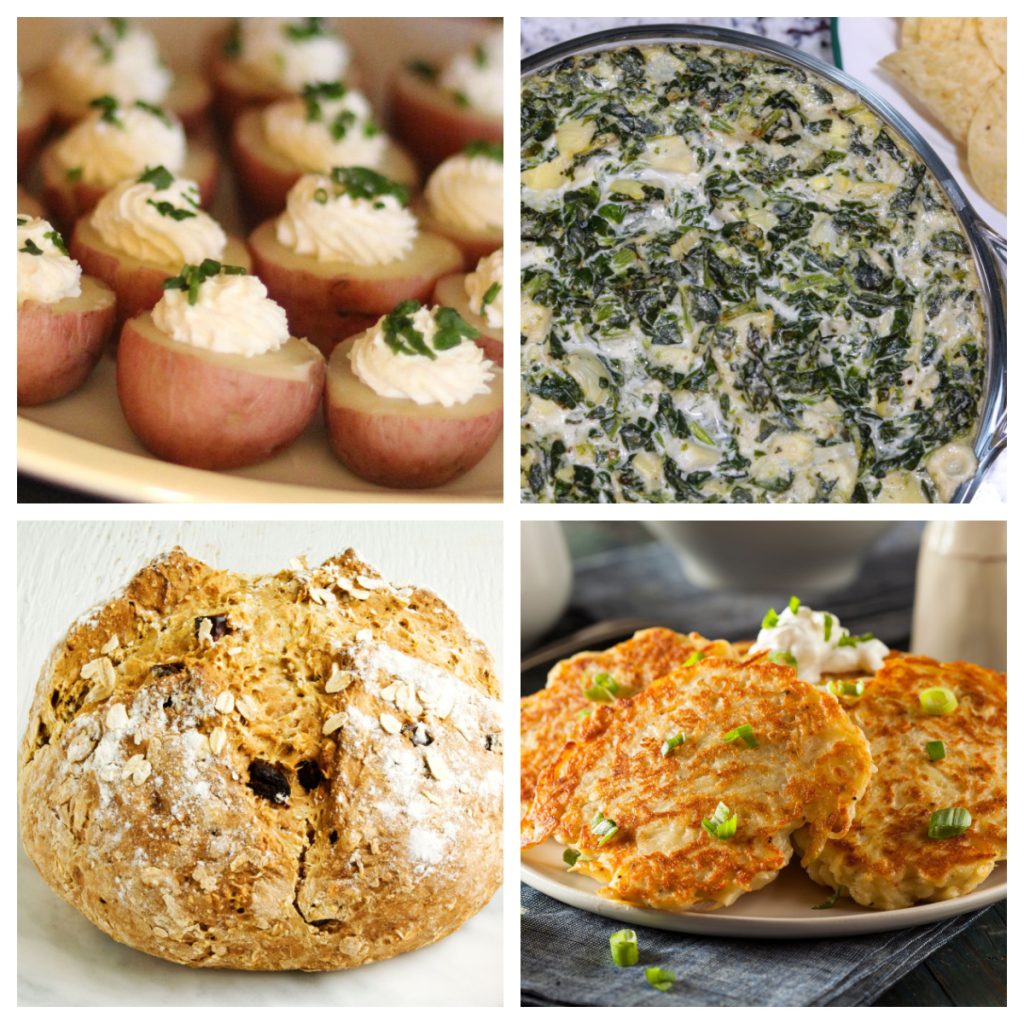 While many may choose not to celebrate this Irish holiday, there is no reason not to celebrate the fabulous food. You don't have to travel to Ireland to enjoy flavorful, quality Irish food. 
St. Patrick's day doesn't have to be all green food. From beer cheese and potato pancakes to Reuben sliders and Irish cheese toasties, these St. Patrick's Day appetizers are real crowd-pleasers. 
Nachos are the perfect appetizer. They are fun finger food that comes with a variety of toppings which makes them easily customizable.
Irish nachos are a pleasurable twist on the traditional nacho plate using thin potato slices instead of tortilla chips. Add cheese and toppings, and voila! Delicious nachos await. 
The classic Reuben gets a jollification into sliders with this simple recipe. Corned beef, Russian dressing, sauerkraut, and Swiss cheese piled onto Hawaiian rolls are what St. Patrick's Day party appetizer dreams are made of.
Best to make a double batch of these corned beef sliders because these will be gone in the blink of an eye. 
Irish potato bites are an enticing bite-sized version of twice-baked potatoes. Easy to make and a kid favorite, these captivating little treats will be a welcome surprise to your taste buds.
Using small red potatoes, ground turkey, cheese, and topped with sour cream, these make the perfect appetizer. 
While Reuben egg rolls may seem like an oxymoron, they are actually a tantalizing culinary creation. They take everything you love about a Reuben sandwich and turn it into a delicious appetizer. These little gems will surprise and delight those lucky enough to enjoy them.
It isn't a St. Patrick's Day party without green food. Shamrock shape chips are a simple and amusing way to add flair to your party table. Take a shamrock-shaped cookie cutter to spinach wraps, bake, and Tada!
Green shamrock chips. Pair with homemade guacamole for the ultimate green appetizer. 
The corned beef cheeseball is a fun way to dress up the appetizer table at your next St. Patrick's Day party.
Not only is it a tasty treat with diced corned beef, onion, pecans, horseradish, seasonings, and cheese, it is decorated in the most fabulous way; to look like a little leprechaun. Don't miss this recipe and feed your inner cheeseball. 
Don't let the name fool you. These tasty little treats are full of pizzazz to satisfy that sweet tooth. Cream cheese, butter, sugar, cinnamon, and coconut are combined and rolled into balls. They look like little potatoes but taste like a luscious dessert.  
Is any party really complete without a cheese dip? This awesome beer cheese fondue has Guinness in it for that extra Irish kick. It is a supremely cheesy, tasty dip full of ooey-gooey goodness, making it a perfect appetizer. 
The Reuben is a classic sandwich for a reason. It is unbelievably delicious, and this recipe turns those fabulous flavors inside out to create a dazzling dip. s
Serve with rye bread for the full Reuben experience, and you've got another must-have St. Patrick's Day appetizer.
Green food reigns supreme during the St. Patrick's Day holiday, and this green food is an Irish spin on traditional deviled eggs. The secret ingredient is avocado. These devilish eggs are so delicious and healthy that they are an appetizer or snack to enjoy all year.
Colcannon is a traditional Irish dish made with mashed potatoes and cabbage. This recipe is a vegan reimagining of the classic by turning the dish into bite-sized balls.  Mashed potatoes, kale, and seasonings combine for combustible flavor. These dainty puffs make for a perfect appetizer. 
The almighty Reuben strikes again, this time in the form of the beloved roll-up, also known as pinwheels. St. Patrick's Day parties require delicious food, and these definitely deliver.
Pinwheels make perfect appetizers for their hand-held ease and bite-sized goodness.
Popcorn is the ultimate snack food loved by kids and adults alike. This dish gives plain popcorn a bonny makeover for the festive day. It is a tasty treat that is crunchy, sweet, and easy green food to add to your St. Patrick's Day recipe repertoire. 
Irish soda bread is a simple and easy bread that bakes in just 35 minutes. It only takes a few simple ingredients and 10 minutes to prep. Once baked, you have fresh, hot, delicious bread that is a great accompaniment to the beer cheese dip and Reuben dip. 
The classic spinach dip is an alluring dish bursting with flavor. This crowd-pleasing dip is not to be missed at a St. Patrick's Day party. With cream cheese, sour cream, spinach, and cheeses, it is a wonderful green food that makes the perfect appetizer.
Pea soup shooters are refreshing gazpacho made with whole, simple ingredients. These sophisticated shooters are a perfect appetizer or light meal during the hot months. For your St. Patrick's Day party, they are an eye-catching, impressive treat. 
Create a green food frenzy with this St. Patrick's Day version of a charcuterie board. Like any quality charcuterie board, it is overflowing with fresh fruits and vegetables. There is an array of dips, crunchies, and extras to make anyone looking at this spectacular board green with envy.
If you love Guinness, you will love these meatballs. They are a homemade version infused with Guinness. Once cooked, they are soaked in a Guinness BBQ sauce that is a mouthwatering tangy delight. These make the perfect appetizer for any St. Patrick's Day party. 
We can't get enough versions of the classic Reuben, after all, it is full of corned beef and cabbage (sauerkraut). This version dolls up the infamous sammy into crescent rolls. They make a tasty appetizer and are little hand-held delights.
Guacamole cups are an ingenious culinary creation, especially for those still timid to put their hand back into the communal chip bowl. Little wontons are filled with homemade guacamole for a one-bite wonder.
Not only are they an impressive presentation, but they are also one tasty treat. 
Any quality appetizer table includes a refreshing component to combat the heavy components. These veggie roll-ups are a bright, light, and energizing jolt to the taste buds to balance out those tasty cheese dips.
Fresh veggies, cream cheese, and dill brighten up the palate with every bite of these refreshing roll-ups. Your party guests will keep coming back for more.
Need a quick and easy green food appetizer to take to a St. Patrick's Day party? Look no further than these elegant little bites. Take 5 minutes to whip up these tasty treats and be the hit of the party as you walk in with the perfect appetizer. 
Outrageously delicious and easy to make, these pinwheels will definitely be the hit at your St. Patrick's Day party. Perfect appetizers are hand-held, flavorful, and don't make a mess. This checks all the boxes and is considered a festive green food for the fun holiday. 
These Irish potato pancakes are crunchy, perfectly fried, and a wonderful treat. While you could eat them for breakfast, lunch, or dinner, they also make a great appetizer. Enjoy as is or pair with a flavorful dip like ranch, cheese dip, or even ketchup. 
Move over grilled cheese, there's a new cheese toastie in town. If you haven't had the pleasure of these tasty treats, then you must make this recipe. These toasties are cheesy, savory, and oh-so-satisfying. Made with Irish cheddar cheese, they make the perfect appetizer for an authentic St. Patrick's Day party. 
Grab your green beer and try one of these delicious appetizers.
📖 Recipe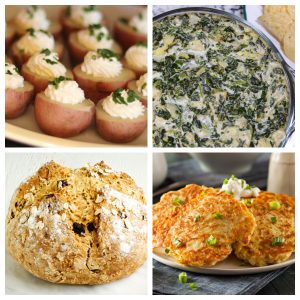 St. Patrick's Day Appetizers
A collection of amazing appetizers perfect to serve on St. Patrick's Day including this simple Guinness cream cheese dip.
Ingredients
8

ounces

cream cheese

softened

¼

cup

Guinness beer

2

teaspoon

grainy brown mustard

2

tablespoon

Worcestershire sauce

½

teaspoon

garlic powder

8

ounces

Irish cheddar cheese

shredded
Instructions
Using an electric mixer, mix together cream cheese, Guinness beer, Worcestershire, mustard, garlic powder until combined.

Cover the bowl with plastic wrap and refrigerate for at least an hour to let flavors come together.

Serve with pretzels, chips, crackers, or cut up vegetables.
Nutrition
Calories:
295
kcal
Carbohydrates:
5
g
Protein:
11
g
Fat:
26
g
Saturated Fat:
15
g
Polyunsaturated Fat:
1
g
Monounsaturated Fat:
6
g
Cholesterol:
76
mg
Sodium:
440
mg
Potassium:
127
mg
Fiber:
0.02
g
Sugar:
2
g
Vitamin A:
891
IU
Vitamin C:
1
mg
Calcium:
310
mg
Iron:
0.4
mg