Among Us is a murder mystery video game where players work to complete tasks, survive, or –– if you're an imposter –– eliminate other crewmates. This online game rose to popularity during 2020, and with the iconic crewmate characters remaining a beloved symbol in the gaming community, an Among Us party is guaranteed to be a fun time! Here are 23 unique Among Us cake ideas that will take your party to the next level.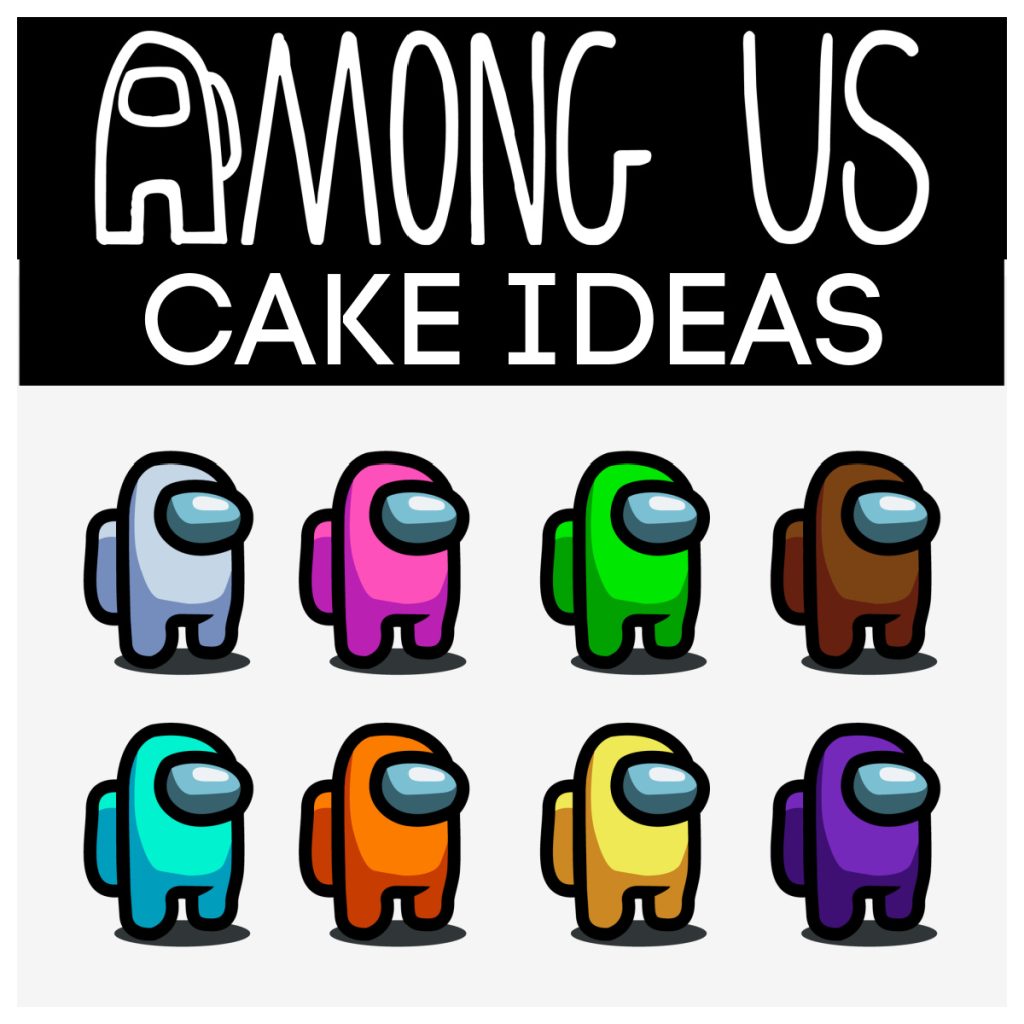 Best Among Us Cake Ideas
We've rounded up our favorite Among Us Cake ideas for both boys and girls, including everything from sheet cakes to tiered cakes to cakesicles.
This list features a number of helpful tutorial videos as well as downloadable templates that will make your cake decorating process easy.
Get ready for some DIY fun as you bring this popular game to life! These birthday cake ideas are sure to impress. Warning: there may be a few imposter cakes among us…
Decorated with buttercream and topped with a sugar cookie crewmate, this Among Us birthday cake is so cute and easy to make. Printing and cutting your own crewmate stencil will help you frost the characters.
How cute are these colorful fondant decorations?! We love the humorous "happy birthday imposter" message and how the fondant crewmates add dimension to the top and sides. Such a fun birthday cake idea!
3. Grey Among Us Cake
Our favorite thing about this cake is the details! Each crewmate has its own tiny accessory to reflect the customization option that players have when they first load into the game.
Here is an elegant number cake inspired by Among Us. You can recreate this design with printable toppers that feature the video game characters and details. Writing the birthday kid's name in the game's signature font is a great way to personalize the cake!
Making a crewmate cake doesn't require a special shaped pan! This post will guide you through the simple process of making your own homemade cake with just aluminum foil and a few simple baking ingredients.
6. Step By Step Among Us Cake
You can recreate this Among Us Cake birthday cake using the free downloadable template linked here. This helpful video will give you step-by-step tutorial for cutting, shaping, and decorating your cake.
Classic sheet cakes are always a fun party treat! Check out this adorable edible image cake topper that looks like it's straight out of the game. You can personalize this topper and order your own version here.
8. Among Us Bento Cake
One of our favorite Among Us cake ideas is this adorable bento cake that's decorated with crewmates. Bento cakes are typically small in size and have simple decorations, making them the perfect easy sweet treat to whip up and enjoy!
It's as easy as can be to make your own imposter cake with the help of this video. This tutorial will show you how to create a delicious cake with chocolate ganache and frosting.
Fondant decorations will take your Among Us birthday cake to the next level. Here is a close-up tutorial video that will show you how to stick the pieces together as well as stand them up. This DIY activity is not only easy, but also so fun!
11. Pink Among Us Cake
A pink Among Us cake is a sweet and beautiful way to celebrate a gamer girl. We absolutely love the pink watercolor design and how the addition of cute sprinkles and candy ties it all together.
12. Among Us Drip Cake
Drip cakes are fun and eye-catching, and this colorful Among Us cake will certainly add a splash of color to your celebration! We love how each drip section is paired with a matching crewmate topper.
Bring the video game to life by creating a cake that looks just like a scene from the game! Gum paste and fondant are the key ingredients that you will need when decorating these types of imposter cakes.
This red velvet cake with chocolate ganache and vanilla frosting is one of our favorite Among Us cake ideas. Follow along with this video tutorial to see how this standing crewmate cake comes together, plus how you can hide an edible surprise inside!
We're a huge fan of this creative design that incorporates the Among Us logo and the iconic emergency meeting button. This video will show you everything you need to know to create your own fondant decorations for this cake.
16. Cute Among Us Cake
Party guests will adore this cute Among Us cake! We love how detailed this design is, featuring the emergency meeting table, fondant electrical cords, and lots of vibrant colors. 
Classic imposter cakes like this one are so easy and fun to make! Simply cut a rectangular cake into the shape of a crewmate, wrap it in colored red fondant, and enjoy.
18. Fun Among Us Cake
Keep the party fun going with this birthday themed Among Us cake! The edible confetti decorations are absolutely adorable, and we love the creative way that the birthday kid's name is written.
19. Colorful Among Us Cake
Here is an amazing cake that will brighten any room. The colorful fondant crewmates and accessories are so cute, and the fondant balloons make this design perfect for any party.
20. Among Us Birthday Cake And Cakescicles
This matching cake and cakesicles display is almost too cute to eat! Here is some inspiration for how you can set up a memorable dessert table with plenty of Among Us cake ideas to satisfy any sweet tooth.
21. Simple Among Us Cake
Perfect for any minimalist, this simple black cake is fun and unique with a sparkly outer space base and a single crewmate or imposter topper. 
22. Sprinkle Cake
Sprinkles will add a fun touch to your Among Us cake ideas. This frosted cake uses rainbow sprinkles, sugar pearls, and character toppers to create a beautiful and special display.
23. Two Tiered Among Us Crewmate Cake
Putting the birthday kid in the spotlight will be easy with this humorous personalized cake that calls them "sus." We love how this cake has a different design in each tier and has toppers to finish it off.
Among Us Cake Toppers
Will you be making an Among Us Themed Cake? Let me know in the comments.
More Video Game Party Ideas
📖 Recipe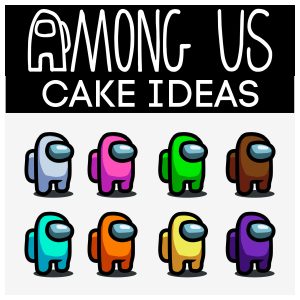 Among Us Cake
Some of the best Among Us Cake Ideas for your next gaming party. These fun Among Us cakes are colorful and cute. Imposter or crewmate, your guests will love these cakes.
Ingredients
1

chocolate cake

Among Us Cake Topper
Instructions
Place cake topper in the center of the cake and serve.
Nutrition
Calories:
231
kcal
Carbohydrates:
39
g
Protein:
3
g
Fat:
8
g
Saturated Fat:
2
g
Polyunsaturated Fat:
3
g
Monounsaturated Fat:
3
g
Sodium:
446
mg
Potassium:
178
mg
Fiber:
1
g
Sugar:
21
g
Vitamin A:
2
IU
Calcium:
81
mg
Iron:
2
mg