Pokemon is one of the most popular and timeless video game franchises of all time, bringing people together for endless fun, adventures, and memories. Planning a Pokemon inspired party means that you'll need a cake to celebrate the special day! Here are 21 creative Pokemon cake ideas that will be not only delicious, but also so fun to make.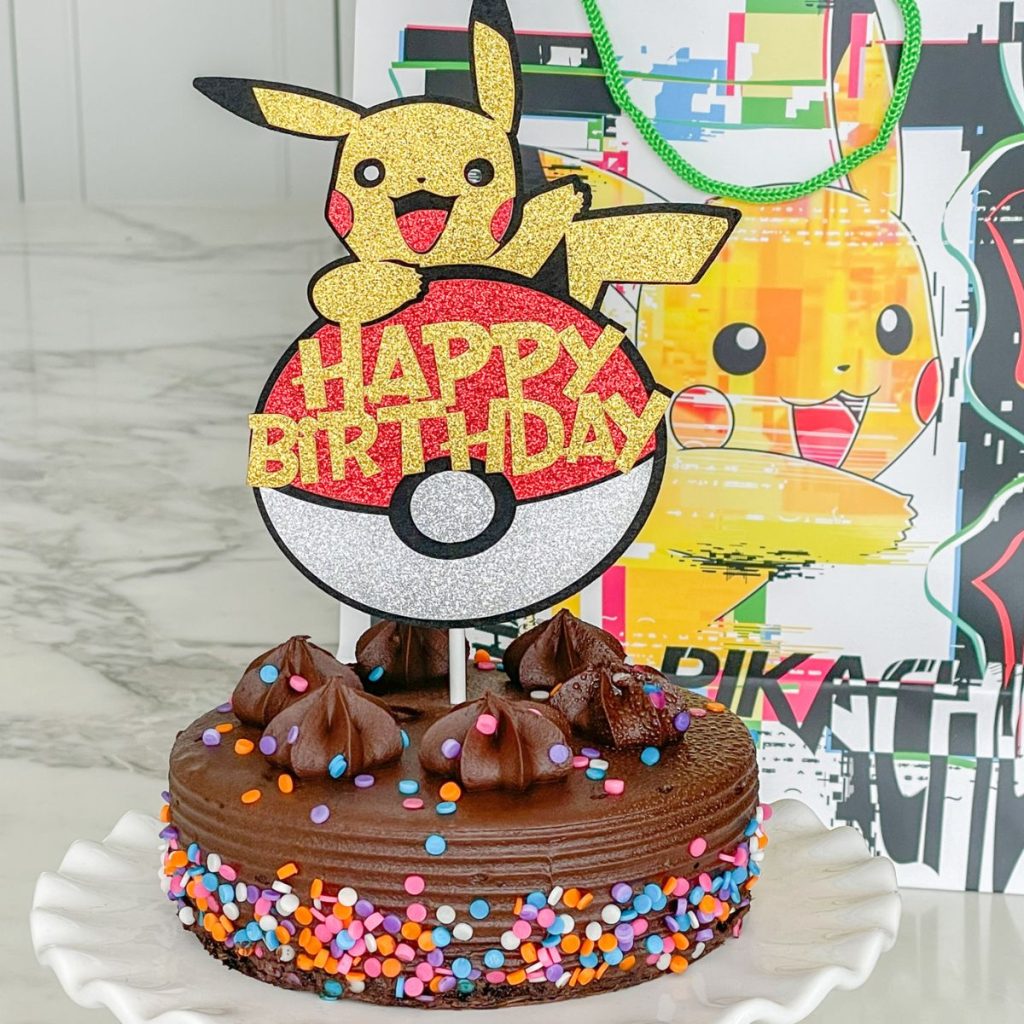 Best Pokemon Cakes For Your Birthday Party
We've assembled a collection of some of our favorite Pokemon cakes, including plenty of simple ideas that are perfect for beginner bakers.
The best part is that there's no need to run to your local bakery or store –– you can recreate any of these cake designs at home with a few simple ingredients and a bit of creativity.
This list of Pokemon cake ideas features Pokeballs, beloved characters, and more, with options that are perfect for boys and girls of all ages. These cakes are great for any Pokemon party!
You can never go wrong with a classic Pokeball cake. Want to take this design to the next level? Use decorating tips to create a fun textured pattern with your buttercream, or add some sprinkles and Pokemon toys for this easy Pokemon cake.
This Pikachu cake is easy to make and so adorable! Check out this post for step-by-step instructions on how to make your own. You can also find a helpful video and Pikachu template linked here.
How cute is this Squirtle cake?! The exterior of the cake is decorated with modeling chocolate –– perfect for beginners because of how easy it is to work with. Follow the instructional video to see how this design comes to life.
Made with chocolate cake, buttercream, and Oreo cookie crumbs, this Diglett cake is every chocolate lover's dream. This post contains a video that will walk you through the whole process of creating it.
5. Charzard Cake
Add a splash of color to your Pokemon party with a Charizard cake! You can make this eye-catching, awesome cake design with fondant, printable flame toppers, and a Charizard action figure.
6. Charmander Cake
Get ready to have some fun with buttercream frosting! We absolutely love the textured design and colors of this Pokemon themed cake, as well as the addition of a Pokeball in the character's hands.
Here is one of our favorite simple Pokemon cake ideas. We love the smooth look of the fondant exterior, and the added Pokemon characters give it dimension and some decorative flair.
8. Sylveon Cake
The dreamy pastel colors of this cake design are so cute and will make a fun addition to your Pokemon party. This simple but unique Sylveon cake stands tall and is sure to bring a smile to your party guests' faces.
This Evee cake design is meant to reflect the adorable animation style of the puzzle game called Pokemon Café Mix. You can recreate this fluffy buttercream cake by following along with the steps in this video.
10. Pokemon Card Cake
Pokemon cards are an essential item at any Pokemon party! What better way to incorporate your theme than with a cake that looks just like a trading card? The personalized details for the birthday kid add such a fun touch.
A pink cake with flowers is the perfect way to celebrate any birthday girl's special day. This adorable cake design features plenty of Pokeballs and favorite Pokemon characters, including Sylveon, Evee, and Gyarados.
Decorated with a sweet smile and huge round eyes, this Jigglypuff cake is almost too cute to eat. Recreating this fondant-based cake idea is easy as can be. We love how the creator finishes off the design with coconut shavings and gumballs too!
Colorful, creative, and cute, this Pokemon tiered drip cake will be the talk of your birthday party. This design is one of our favorite Pokemon cake ideas because of how it brings together so many different elements –– characters, Pokeballs, and lots of candy!
14. Pokemon Candy Cake
Satisfy any sweet tooth with this colorful candy cake! This stunning drip cake idea features Pikachu and other fondant toppers at the center but will look incredible with any of the birthday kid's favorite Pokemon characters.
15. Colorful Pokemon Cake
Pokeballs are an iconic symbol in the world of Pokemon! Making a cake with different colored pokeballs is not only cute, but also so fun! After all, you gotta catch 'em all!
16. Pokemon Go Cake
Pokemon Go is a virtual game centered around exploration, adventure, and –– of course –– catching Pokemon! If your birthday boy or girl is a Pokemon Go fan, this cake is guaranteed to be a hit.
17. Pokemon Cupcake Cake
We're huge fans of cupcake Pokemon cakes! These types of cakes are great for parties because they have the fullness of a regular cake, but are so easy to pull apart and serve without making a mess.
18. Adorable Pokemon Cake
The details in this adorable Pokemon cake are absolutely darling! With mini presents, cakes, and Pokemon characters, this elegant cake design will take your birthday party to the next level.
19. Cute Charmander Cake
Here is another one of our favorite simple Pokemon cake ideas. This colorful buttercream cake features plenty of pokeballs, a Charmander topper, and an adorable Pikachu decoration to make it even more fun.
20. Tiered Pokemon Cake
Tiered cakes never fail to impress! We love how each fondant tier is decorated with the face of a different Pokemon character and topped with Pikachu and Pokeballs to tie it all together. A cake any Pokemon fan will love.
21. Gengar Cake
This simple cake design is the perfect choice for any birthday kid whose favorite Pokemon character is Gengar. Adding sprinkles, stars, or the birthday kid's name is a great way to add a personal touch to this Pokemon birthday cake idea.
Pokemon Cake Toppers
More Cake Ideas
📖 Recipe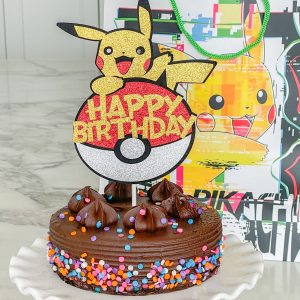 Pokemon Cake Ideas
A group of 21 Pokemon cake ideas. These Pokemon cakes are perfect for a birthday party or gaming party.
Ingredients
1

premade cake

any flavor

1

Pokemon cake topper
Instructions
Place the cake topper into premade cake. Serve immediately.
Nutrition
Calories:
238
kcal
Carbohydrates:
53
g
Protein:
2
g
Fat:
2
g
Saturated Fat:
1
g
Polyunsaturated Fat:
0.1
g
Monounsaturated Fat:
0.4
g
Trans Fat:
0.1
g
Sodium:
470
mg
Potassium:
30
mg
Fiber:
1
g
Sugar:
28
g
Calcium:
136
mg
Iron:
1
mg