MInecraft is an imaginative, popular video game beloved by kids and adults alike. The craze is totally understandable. After all, who wouldn't be excited about conjuring up entire worlds out of digital scratch?
If you have a Minecraft fan and want to throw a Minecraft themed birthday party, be sure to complete the party with a Minecraft birthday cake.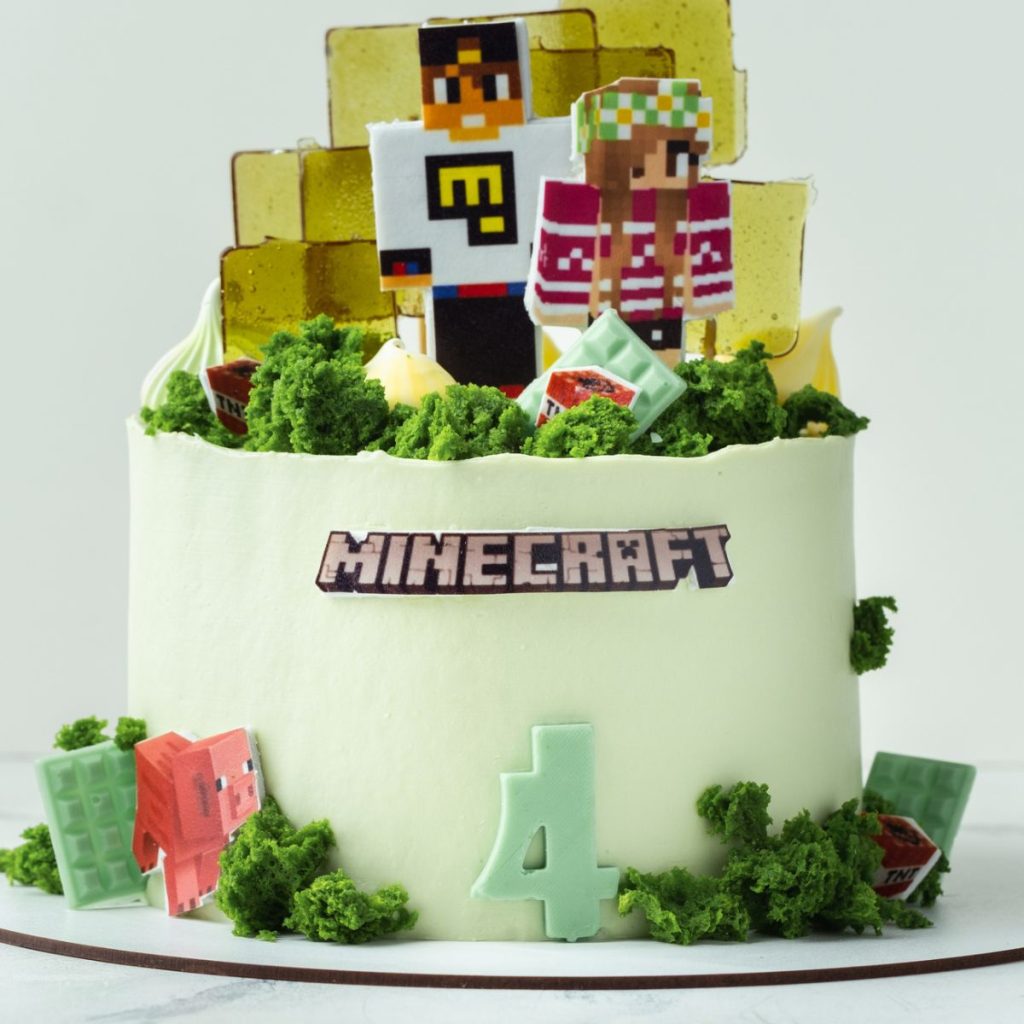 21 Minecraft Theme Cake Ideas
This handy list of easy Minecraft cake ideas has a little something for everyone. Whether you want to bring characters, critters, villages, or landscapes to life, we've got you covered!
Choose from sheet cakes, cupcakes, cake pops, and more to create the perfect Minecraft themed birthday cake for your event. There is even a recipe where party guests get to design their own piece of a Minecraft village cake in real time. Enjoy!
Make this easy DIY Minecraft Creeper Cake using a boxed cake mix, buttercream frosting, food coloring, and homemade tiny fondant squares. This large square cake comes together with surprising ease and looks straight out of a magazine.
This creative Minecraft theme cake uses rice krispies, marshmallows, and food coloring to build a giant rice krispie treat cake that looks just like a block of Minecraft TNT. The cake is then topped off with sparklers for a truly dynamite effect.
3. Minecraft Enderman Cake
Bring a character from this popular video game to life by arranging cake pieces with cupcakes to create your Enderman. You can choose any type of cake, as long as you have chocolate or black colored frosting.
Recreate a Minecraft grass block with this delicious, double layer chocolate buttercream cake. With a little green food coloring and a special piping tip, your cake will look exactly like a vibrant patch of grass. You can even add crushed Oreos to the dirt layer to make it look just like soil!
5. Minecraft Cookie Cake
It's hard to beat an enormous chocolate chip cookie covered in cake icing — except when it's made especially for you! Decorate your cookie canvas with whatever the birthday kid loves most about Minecraft.
This innovative recipe uses brownie tins to make square cupcakes. What could be better for Minecraft cake making!? Decorate the tops with colored frosting and arrange them in the shape of a diamond sword. Easy peasy!
This fondant free cake design uses wafer cookies and sugar paper to make the perfect Minecraft pig. Use your favorite cake recipe or even a box mix, then achieve the perfect pink color with food coloring or premade strawberry frosting.
8. Minecraft Village Cake
Bring this popular video game into the real world with a fabulous Minecraft village cake! Built with pieces of cake, rice krispie treats, and blue JELLO, this show-stopping dessert is so stunning that you might not want to eat it.
9. Minecraft Steve Cake
This sheet style cake is customizable to work with any cake recipe. It is simple to make and easy to scale up or down, depending on how many people you are feeding. Highlight one of the main characters, Steve, this the perfect choice for a fun and easy cake to make.
10. Minecraft Bee Cake
Expert technique and creative vision come together to make this perfectly cubical, enchanting Minecraft bee cake. More time and materials are required here, so this recipe is best for more experienced cake decorators or anyone looking for a fun baking challenge.
11. Minecraft Ender Dragon Cake
Chocolate cake and buttercream frosting team up to create this whimsical Minecraft Ender Dragon cake. Use a variety of piping tips to create the accents, then fashion the wings out of wafer paper or regular construction paper!
12. Simple Creeper Cake
This creeper cake is a bit easier to pull off, requiring no special piping bags, techniques, or fondant fuss. Instead, simply frost as usual and top with squares made from sugar sheets to create the design.
13. Minecraft Number Cake
Make your birthday kiddo feel extra special with this number cake! Simply pick out a cake pan with the appropriate shape and bake the cake of your choice. Then, create a simple grass pattern with piped frosting or adorn the cake with Minecraft figurines.
14. Buttercream Creeper Cake
This elegant little cake features various shades of piped green frosting to create a pixelated effect around the outside. Use icing, sugar sheets, or fondant to make the face of the Minecraft creeper on top!
15. TNT Cake Using Candles
Here's one of those easy Minecraft cake ideas you can use on any Minecraft birthday cake. Simply bundle together red cake candles to look like makeshift TNT. Dynamite!
Make these exquisite little Minecraft creeper pops with square silicone molds and a handy little stencil. Cake pops are a joy to make and a fantastically fun way to please cake and candy lovers alike.
17. Minecraft Sheep Cupcakes
These charming sheep cupcakes are made completely from scratch and decorated with marshmallows. To make the sheep heads, create mini cake pops and top them with candy eyes.
18. Minecraft Ghast Cake
Combine a square cake with white fondant-topped cupcakes to bring yet another character to life. This easy-to-make Minecraft birthday cake is sure to please any player. Go ahead, I dare you to try dodging the fireballs of this enticing Ghast cake!
Make this epic Minecraft birthday cake once, and you'll be hard pressed to ever top it! Either build the whole thing at once or let party guests help build on each piece of cake.
20. Minecraft Candy Cake
If you're looking for easy Minecraft cake ideas or are simply pressed for time, try this idea! Make a chocolate cake with green icing and strategically place green and black M&Ms on top of the cake to create a pixelated Minecraft creeper face. Done!
Use boxed cake mix and colored candy melts to make this frugal, no fail Minecraft birthday cake. You only have to spend a few dollars to make it, and your kids will think you're the coolest parent alive.
Will you be making any of these cool Minecraft birthday cakes for your Minecraft birthday party? Let me know in the comments.
More Birthday Cake Ideas
📖 Recipe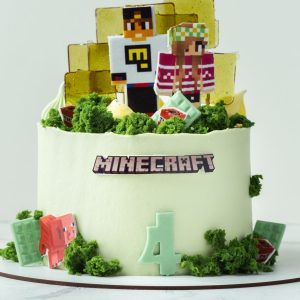 Minecraft Cake Ideas
A collection of awesome minecraft birthday cake ideas. All kinds of Minecraft birthday cakes for you to make at your next Minecraft party.
Ingredients
1

store bought chocolate birthday cake

4-5

drops

green food coloring

1

16 ounce tub

white frosting

3

small Minecraft figurines
Instructions
Stir green food coloring into the frosting to make green frosting.

Using a piping bag and star tip, pipe green "grass" on top of the cake.
Nutrition
Calories:
154
kcal
Carbohydrates:
26
g
Protein:
2
g
Fat:
6
g
Saturated Fat:
1
g
Polyunsaturated Fat:
2
g
Monounsaturated Fat:
2
g
Sodium:
297
mg
Potassium:
119
mg
Fiber:
1
g
Sugar:
14
g
Vitamin A:
1
IU
Calcium:
54
mg
Iron:
2
mg