Decorations will take your party to the next level, and crepe paper decorations are a party essential! Since store bought decorations can get pricey quickly, we recommend getting creative and making your own at home. Here are 26 of our favorite crepe paper decorations that you can use for your next special event.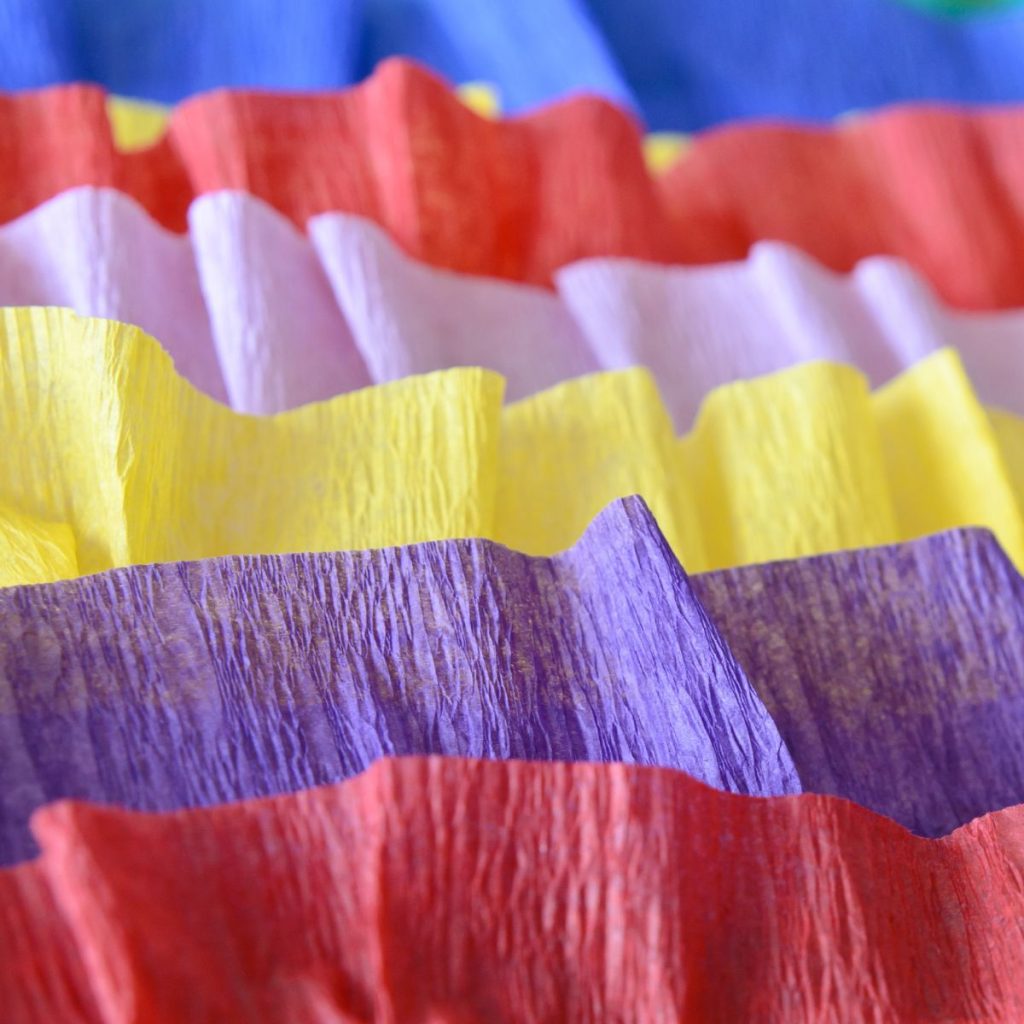 We're a huge fan of homemade decorations because they're not only fun to make, but also add such a cute personal touch to any event.
This list of crepe paper decorations features a variety of DIY ideas including flowers, wreaths, piñatas, and more. Gather your crafting supplies and get ready to make some magic happen!
With a little bit of twisting and folding, this gorgeous hanging flower display is much easier to make than it looks! You can use a variety of colors to create a beautiful ombre effect.
Making a tassel garland from crepe paper is easy. This style of garland is a popular party decoration, but making your own at home gives you the freedom to personalize it with all of your favorite colors.
Big fringe garlands are a great eye-catching decoration or photo backdrop. Hang them from up high and twist them around to create a unique colorful display!
Can't find streamers in the color you're looking for? This DIY dye process with rubbing alcohol and liquid RIT dye allows you to create any color you want! You can find the step-by-step instructions here.
Paper bunting is such a cute addition to any gathering! It's easy to make your own at home with just a few simple supplies: crepe paper, scissors, a stapler, and yarn.
Box folded streamers have an intricate appearance, but they're actually super easy to make with just a little bit of patience! Follow these step-by-step folding instructions to make your own at home.
Our list of crepe paper decorations would be incomplete without flowers! Here is an elegant rose design that you can glue to a styrofoam ball and use as a stunning centerpiece on your party table.
These adorable flowers will brighten up any space and add a splash of color to your event. Check out the helpful instruction video in this post to see just how easy it is to make your own.
Deck the halls with crepe paper decorations! This simple, inexpensive Christmas craft is a fun way to get festive and celebrate the beauty of the holiday season. Make sure you have a styrofoam cone and a tiny topper for your tree!
Colored textured wreaths are great for any special event, not just the holidays! You can make your own ruffle wreath by using a straw wreath as the base and pinning crepe paper streamers onto it.
11. Crepe Paper Flower Wreath
One of our favorite crepe paper decorations is this lovely flower wreath. It will look incredible both as a party decoration and a home decoration year round! Gather streamers to match your favorite flowers, and make sure you have floral wire and a wire cutter on hand.
Nothing says celebration quite like confetti! Here is an easy crepe paper confetti idea that will take just a few minutes to make. The best part is that paper confetti is totally safe and easy to clean up.
How cute are these DIY jellyfish?! You can make this creative hanging decoration with just crepe paper streamers, cupcake liners, glue, and a needle and thread. This decoration is perfect for a mermaid party or under the sea party.
Create a mini rainbow piñata with paper plates and assorted crepe paper streamers! Fill it up with your favorite candy and there will be a sweet surprise at the end of the rainbow.
Cake and piñatas are birthday party essentials. You'll need a few different crafting supplies and tools to bring this idea to life, but the process is simple and the results will be oh-so-cute!
This glamorous layered party backdrop is made from crepe paper streamers and foil fringe curtains. Pro tip: hang your streamers on a colored tablecloth instead of a wall so that the colors pop and you don't have any visible gaps.
Keep your DIY party decorations simple with this easy backdrop design. Hang your crepe paper streamers on a wooden dowel secured by command hooks and zip ties. This backdrop will look so cute over any dessert or gift table!
If you've got a sewing machine on hand, this ruffled crepe paper craft is the perfect decoration idea for you! You can find the tutorial for both a two-color and three-color version linked here.
There are so many different ways that you can use crepe paper streamers to decorate presents! Whether you're wrapping the paper around an item, or using it to make bows, crepe paper adds a unique and creative touch to gifts.
Take plain treat bags to the next level by adding some fringe-cut crepe paper. This simple design is so cute and will only take a few minutes to create.
Crepe paper chair garlands are a creative alternative to your classic chair covers. Check out the step-by-step instructions to learn how to watercolor your streamers and turn them into gorgeous chains.
Hung from the ceiling, this fun crepe paper idea creates a cute tented display! It's perfect for a carnival theme party, but can easily be used for any type of party that you're planning.
23. Crepe Paper Chandelier
Create a beautiful crepe paper chandelier by attaching long streamers to a hanging hoop. This DIY craft is easy to recreate and will look stunning at your party.
Hanging streamers will help turn your table into the dreamiest display. You can create your own table skirt by attaching your desired color streamers to the edge of the table.
This rainbow backdrop is easy to make and will leave you with the perfect colorful spot to capture photos during your special event!
Here is an easy and elegant floral decoration idea that is sure to impress your party guests. While this wisteria DIY project looks complicated, it's actually much simpler than it looks!
More party decoration ideas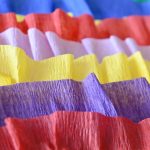 Print
Crepe Paper Decorations
A collection of easy and beautiful crepe paper decorations. From simple streamers, to flowers, and more. There are so many creative ways to decorate with crepe paper.
Materials
1

crepe paper

any color

1

tape
Instructions
Place a piece of tape on one end of the crepe paper. Attach the other end of the tape to a wall or ceiling.

You can leave the crepe paper stream straight or twirl it and then attach the other end with tape and another part of a wall or ceiling.

Hang as many streamers as you like to get desired look.