Bell bottoms, mirror balls, trumpet sleeves, and groovy music are just a few of the hallmark characteristics of disco in the 1970s. More than half a century later, disco remains a beloved era and a popular party theme for adults and kids alike. What better way to bring this timeless era back to life than with a disco themed dance party? Here are 13 disco party ideas to help you plan a special celebration.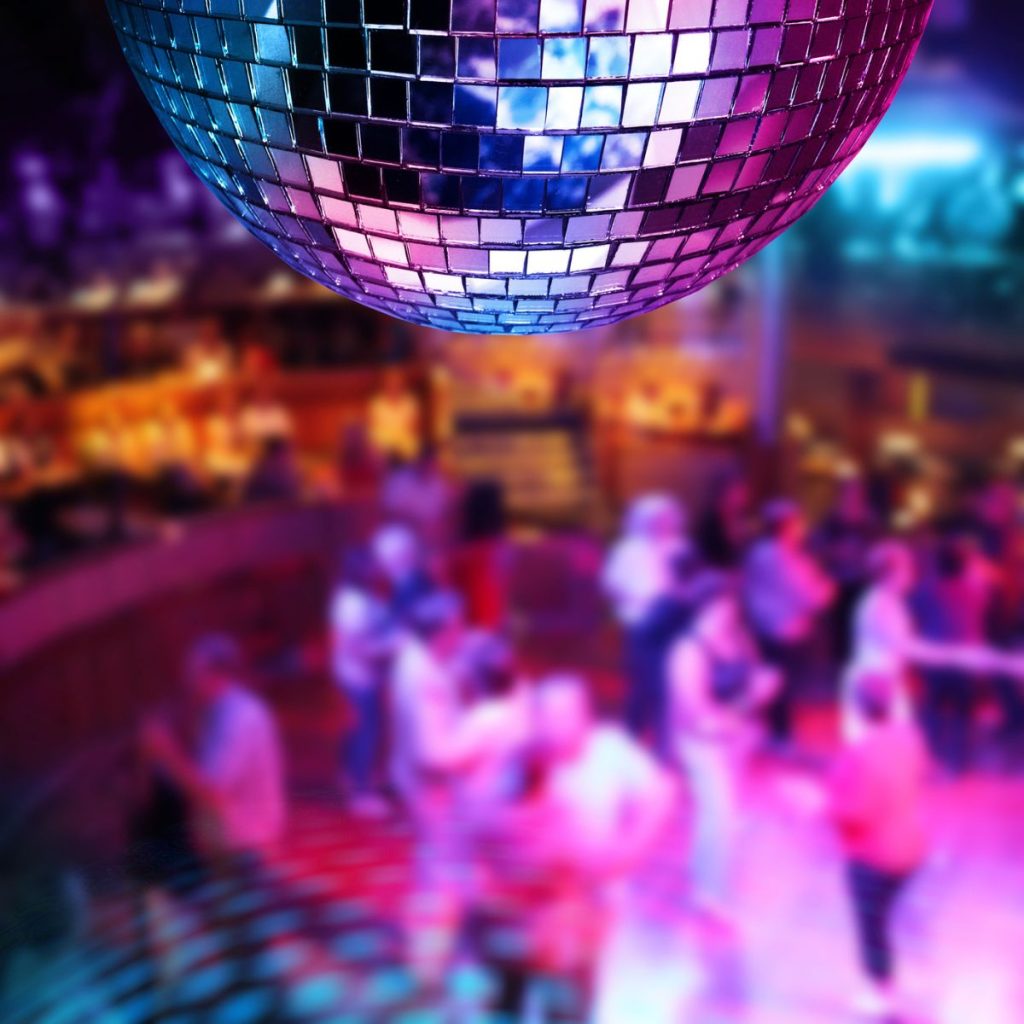 Best Disco Dance Party Ideas
We've rounded up a collection of our favorite disco party ideas, including DIY decorations, desserts, activities, and party favors. With disco being such a popular party theme, there is no shortage of ideas for planning a disco inspired event.
Once you've picked your favorite ideas, let the fun begin! Turn on some disco music, get your groove on, and get ready to dance the night away under the sparkle of a mirror ball!
Disco Party Decorations
A disco ball is an essential for this party theme. Making your own mirror ball is as easy as can be, and you'll only need four supplies to put it together: a paper lantern, holographic bird tape, tape or glue dots, and some ribbon. Your DIY disco ball is sure to add some sparkle to your event!
2. Balloons
Here's a unique balloon garland that will add such a special touch to your party. Bursting with bright colors and silver sparkles, this retro balloon display is perfect for decorating and will also make a great backdrop for photos.
You can recreate these stunning centerpieces at home with the help of disco ball planters. Simply fill up the planters with an arrangement of your favorite flowers. These decorations are easy to make and will look absolutely incredible on top of your party tables.
4. Strobe Lights
Fun lighting is guaranteed to take your party to the next level. Light up the dance floor with strobe lights to create the perfect disco ambience! Colorful flashing lights will add so much fun to your disco party, and guests will have a blast showing off all of their favorite dance moves.
This fun, eye-catching backdrop will add some sparkle and a splash of color to your celebration. You can easily make your own with fringe curtains! Perfect for photos or as decoration behind your dessert or gift table, this festive backdrop is one of our favorite disco party ideas.
6. Dance Floor
What's a disco party without a glowing dance floor? Here is some inspiration for how you can create the perfect space for everyone to show off their dance moves! This fun and simple disco setup is made from masonite boards, neon poster boards, and decorative tape.
Lava lamps are a fun way to set the disco mood. You can find them in different colors or make your own.
Disco Party Food
Loaded with rich chocolate and decorated with a sparkly gold disco dust, these scrumptious truffles are the perfect dessert for your disco themed party. This easy recipe requires only 30 minutes of active prep time and will leave your taste buds dancing. Serve them at room temperature for the best texture and taste.
How adorable are these disco ball cupcakes?! The best part is that they're just as delicious as they are cute. Recreating this recipe is simple with the help of boxed cake mix and this step-by-step instruction guide. Each cupcake sits in a shimmery silver liner and gets its additional sparkle with the help of edible luster dust. The perfect addition to your dessert table.
Fondue is a fun way to celebrate. Chocolate fondue is easy to make and can be serve with a variety of dippers.
Disco fries are a meal that started in New Jersey diners. Fries are topped with cheese and gravy and make a great late night party snack.
Disco Party Activities
Channel your inner John Travolta and groove to the funky beat of disco music and get ready to dance the night away! Featuring iconic tunes that have been loved across multiple generations, your disco dance party will have a touch of nostalgia. Step out on the dance floor and don't be afraid to show off your best dance moves!
With fashion being one of the most iconic parts of the disco era, our list of disco party ideas would be incomplete without awards for the best dressed. Put on your favorite bell bottoms, leisure suits, platform shoes, and more –– and you might just win a special prize! Don't forget to snap pictures!
14. Disco Bingo
A game of disco themed bingo is a great way to get the competition going and to keep your party guests entertained. We love how this bingo board features so many different disco party ideas, including dance moves, clothing items, and popular 70's styles. You can purchase a set of boards and mirror ball cards here.
Disco Party Favors
These DIY microphones are perfect for singing along to all of your favorite disco music songs. Not only is this craft so fun to make, it will also result in adorable photo props that will glow if the lights are dimmed! You can make these at home with small silver flashlights, plastic crystal play balls, and a few other simple supplies.
16. Disco Ball Cup
Keep the party fun going by sending each guest home with their very own mirror ball cup! Fun, sparkly, and perfect for holding your favorite beverage, these cute disco themed cups will be loved by guests of all ages.
Disco Party Supplies
17. Disco Ball Plates
Disco ball plates, cups, and napkins will help set the party mood.
18. Disco Invitations
These colorful disco invitations are perfect to use to invite party guests.
19. Disco Ball Table Runner
Try this glitter disco mirrored table runner to add some sparkle to your party table.
20. Glow Sticks
Glow sticks are fun to give away at a disco themed party. Turn on the black lights for extra glow.
21. Let's Boogie Balloons
These fun boogie balloons make a fun decoration for your party.
More fun parties
📖 Recipe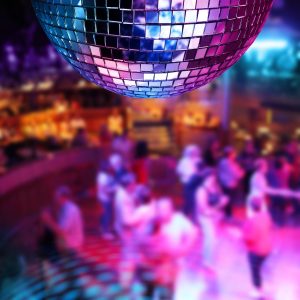 Disco Party Ideas
A group of disco party ideas, from disco party decorations, food, and disco party activities. These ideas will help make your disco theme party complete including these easy cupcakes.
Ingredients
12

prepared cupcakes

1

tub

vanilla frosting

silver color sprinkles
Instructions
Frost each cupcake with a thin layer of frosting. Cover the frosting with silver sprinkles to mimic a microphone or disco ball.
Nutrition
Calories:
195
kcal
Carbohydrates:
31
g
Protein:
2
g
Fat:
7
g
Saturated Fat:
2
g
Polyunsaturated Fat:
2
g
Monounsaturated Fat:
3
g
Cholesterol:
1
mg
Sodium:
159
mg
Potassium:
44
mg
Fiber:
0.3
g
Sugar:
22
g
Vitamin A:
22
IU
Vitamin C:
0.1
mg
Calcium:
56
mg
Iron:
1
mg