Colorful pinatas are a fun way to take your celebration to the next level. They are not just for Cinco de Mayo, pinatas can be used for baby showers, bridal showers, holidays, birthday parties and more. We have gathered these amazing homemade pinata ideas.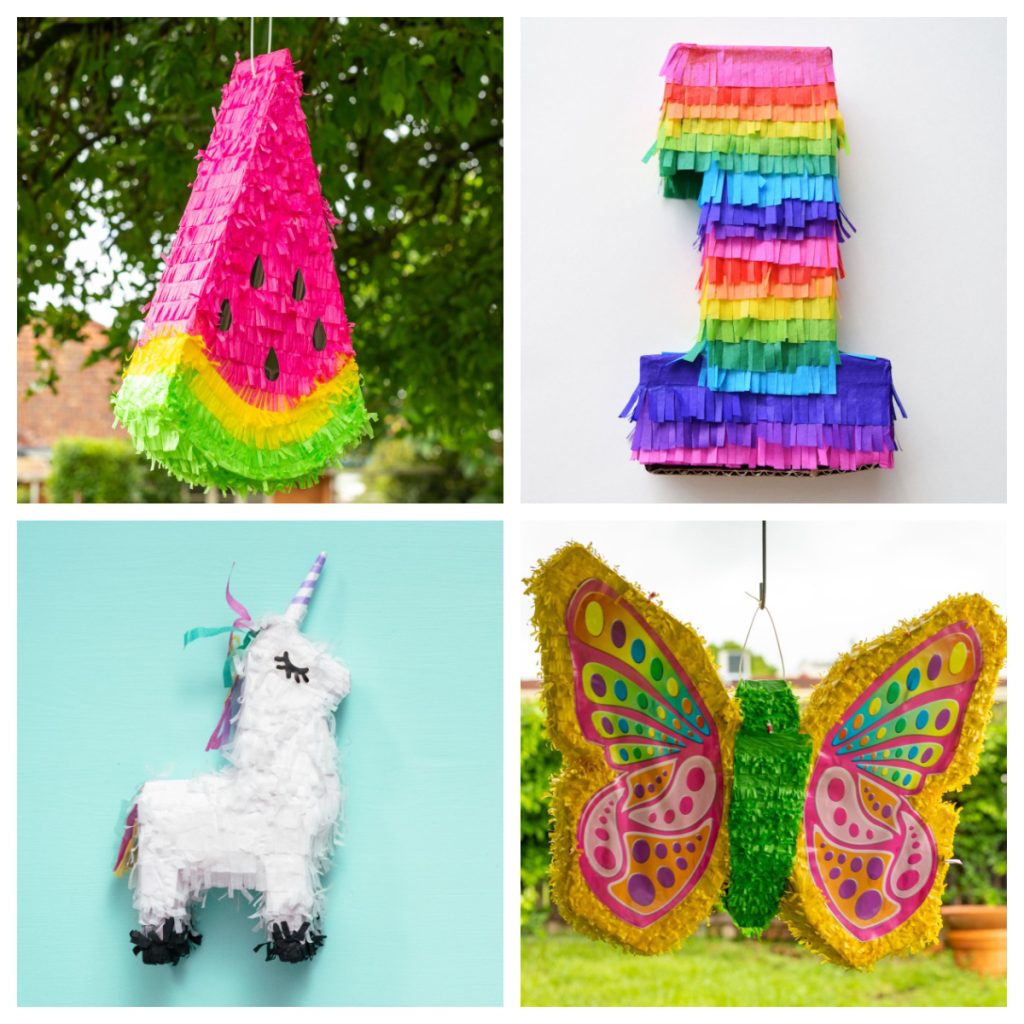 Supplies you might need for a DIY pinata
Here are a few suggestions on things you might need to make your own pinata. Be sure to click on the links for the step-by-step process of each unique design.
Cardboard box
Cereal box
Balloons
Toilet paper rolls
Crepe paper
Ribbon
Tissue paper
Some pinata filler ideas include candy, little toys, personal notes, and more. And don't forget a pinata stick or baseball bat to use for hitting the pinata.
Homemade pinata ideas
These DIY pinatas can be made with just a few materials like cereal boxes and crepe paper. A fun craft project that even your kids will enjoy.
A slice of birthday cake pinata is a great addition to a kid's birthday party. Use your favorite color crepe paper to personalize the cake.
What a fun idea for a summer party. This popsicle pinata is easy to make and is so cute!
Cute and colorful, this watermelon shaped pinata would work for a variety of occasions like a summer party, birthday party, or a fun decoration at school.
Your unicorn themed party needs a beautiful unicorn pinata. These are mini pinatas that make a great party gift instead of a treat bag for everyone to take home.
Have a kid that loves playing Minecraft? You can't go wrong with this bright green creeper pinata. This is a simple homemade pinata that won't take long to put together.
A paper mache pinata shaped like the sun makes a bright and cheery decoration for a kids' party or gathering.
These mini pinatas would be so cute to make for an emoji themed party. They are sure to bring a smile to even the older kids faces. Don't forget to make these easy emoji cupcakes for a festive celebration.
This pumpkin pinata would be so fun for a Halloween party. You can decide how to make your jack-o-latern face.
This would be so fun for a movie night! Follow this easy tutorial which includes a free printable popcorn sign.
An easy craft to make for your next birthday party. Fill them with treats and pass out as a party gift.
Everyone loves a delicious donut! DIY donut pinata can be made with cardboard and a few other simple supplies. Studio DIY shares a great tutorial on how to make your own.
Such a fun idea to make for a baby shower or birthday party. Choose your favorite crepe paper color to make a beautiful butterfly pinata.
Mike Wazowski is a beloved character from the movie Monsters Inc. Make your own Mike for a fun movie party.
Save your empty cereal box to make a shark shaped pinata. These would be so fun to make for shark week, an underwater themed party, or just for fun.
Having a cookie exchange party? Try making this super cute gingerbread man for a fun party game with the participants.
Pinata Ideas For Adults
Adults love a pinata just as much as the kids. These adult pinatas are perfect for a taco night, baby shower, bridal shower and more.
Taco Tuesday is taken to the next level with this giant taco pinata.
Have a game night or casino inspired party? This playing card pinata would be the perfect addition. It's also great for a kids magic party.
A football pinata is just what you need for gameday or football themed party.
A giant slice of pizza pinata adds fun to any occasion. Fill with your favorite candy. Make sure to stand at a safe distance before you give it a hit.
Nothing says I love you like breaking open a Valentine's day conversation heart pinata. Add your favorite saying and fill with chocolates or Valentine treats.
Bring sparkle and shine to the holidays with these cute ornament pinatas. Use a paper lantern to achieve the round shape of these ornaments.
Want a fun way to reveal the gender of your baby? Make a reveal pinata. Follow this simple tutorial and fill with either blue or pink confetti or candy. A great way to share your future babies gender with family and friends.
Add a fun twist to your wedding day with a DIY wedding cake pinata. The bride and groom can bust open the cake to reveal candy, treats, and party favors.
Want to start a new Easter tradition? Try making one of these colorful Easter egg pinatas for a fun activity to share with family. Fill with your favorite Easter candy or Easter treats.
Such a fun and creative way to keep notes from guest at a wedding or engagement party. Choose an anniversary to open up the pinata are read the thoughtful well wishes from friends and family.
Which pinata will you be making?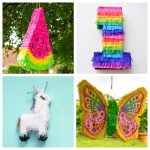 Print
25 Pinata Ideas
A group of fun homemade pinata ideas. These pinatas are great to help celebrate any occasion like a birthday party or holiday. Be sure to give these simple toilet paper roll mini pinatas a try.
Materials
4

toilet paper rolls

1

roll

ribbon

tissue paper

candy

for filling
Instructions
Cut 4 pieces of ribbon into 6-inch pieces. Tape 1-inch of the end of ribbon to the inside of each toilet paper roll.

Hang the ribbon over the top of the toilet paper tube and place a small square of tissue paper over the top of the ribbon and tube.

Secure the tissue paper with tape or glue. Turn the tube upside down and fill with candy.

Place another square of tissue paper of the other end to close the tube.

Cut remaining tissue paper into 2-inch strips.

Wrap the tissue paper strips around the toilet paper tubes in alternating colors.

Open the pinata by pulling on the string.