Sleepover parties are a great way to bring people together. Whether you're watching movies, eating snacks, or playing games, there's nothing quite like staying up all night with your very best friends. Grab your coziest, cutest pair of pajamas, and get ready to have some fun! Here are 25 pajama party ideas to help you plan an unforgettable night. 
Best Sleepover Party Ideas
Every pajama party has decorations, food, activities, and party favors, but the best thing about pajama parties is that there are endless themes that you can choose from!
This list of pajama party ideas features some of our favorite slumber party themes, and plenty of details that will help make your event special. So grab your favorite pajamas and let's get started.
Pajama Party Themes
Roll out the red carpet and pass the popcorn! This pajama party doubles as a movie marathon and is sure to be a blast. Get ready to watch your favorite movies while enjoying all of your favorite movie snacks and enjoy an unforgettable slumber party.
2. Glow In The Dark
Glow-in-the-dark parties are fun and trendy! With glowing food and decorations, this colorful  pajama party theme will be memorable and fun. Don't forget the glow sticks!
A spa-themed party is all about glamor, luxury, and relaxation! Silk pillowcases, face masks, manicures, and makeup are just a few of the things that you can incorporate into your special celebration.
4. Indoor Camping
Perfect for anyone who loves adventure, an indoor camping party will take your pajama party theme to the next level. Each guest will have their own mini tent to sleep in, making the night a fun and unique experience!
5. Pancake And Pajama Party
Nothing beats breakfast after a night of fun. Here is a cute party idea with a pancake bar for all of your guests. Heap on all of your favorite toppings –– whether fruit, syrup, or whipped cream –– and enjoy!
Get your creativity on at a craft-themed pajama party! Make your own friendship bracelets, paintings, and more. Here is a link to a fun DIY watercolor pillowcase recipe!
Here is a fun pajama party theme for the birthday boy or girl who loves to sing! Grab a karaoke machine, a microphone, and let your guests belt out their favorite tunes. With music-themed food and activities, your guests will have a blast turning into pop stars for the night.
Games are a great way to make memories and keep your guests entertained. This guide contains a collection of printable party games, as well as plenty of other game ideas and board games for a night of bonding and fun.
9. Night Owl Party
Pajama parties are every night owl's dream! Bring this creative theme to life with owl-themed food, decorations, and activities. Check out this post to find the perfect midnight snack ideas for your little owls!
10. Holiday Themed Party
What better way to celebrate the magic of the season than with a holiday sleepover party?! Cozy up in your favorite pair of pajamas, watch endless Christmas movies, and enjoy sipping on hot chocolate. 
Pajama Party Decorations
Elevate your pajama party with beautiful balloon decorations. Here is a stunning cloud-inspired balloon display to help you plan a dreamy, ethereal celebration. This balloon idea is one of our favorite pajama party ideas and will look so cute in photos!
One creative way to show off your theme is to provide matching sleeping bags or sleeping mats for all of your guests. This Stranger Things pajama party offers some inspiration for how you can set up your own.
Making your own DIY tents is as easy as can be! You'll need air mattresses, wood, and a nail gun, and you can personalize each tent with colored tulle and paper banners. This DIY project is one of our favorite pajama party ideas –– fun to make, and the results will be incredible.
If you don't have tents, let your guests build blanket forts to sleep under.
Fleece-tied pillows are not only easy to make, but also so cute! This simple craft is the perfect DIY activity for your sleepover party. Each guest will have their own adorable pillow to use for the night.
Cute lights will take your slumber party to the next level. They'll not only look magical –– they're also perfect to lighten up the room for any little ones who are afraid of the dark. Try using string lights around the room or fairy lights inside pop-up tents.
Sleepover Party Food
A delicious breakfast is an essential at all pajama parties! Set up a pancake bar with your favorite toppings –– including fruit, syrup, and sprinkles –– and enjoy eating pancakes in your pajamas.
One of our favorite pajama party ideas is this build-your-own-pizza bar. Simply lay out a variety of toppings, and guests will have so much fun creating their own personalized pizzas. Pizza is just as fun and easy as it is delicious!
Add some sweetness to your celebration with an ice cream bar. Guests will love creating their own ice cream sundae loaded up with all of their favorite toppings: candy, chocolate syrup, sprinkles, and more!
Sleepover Activities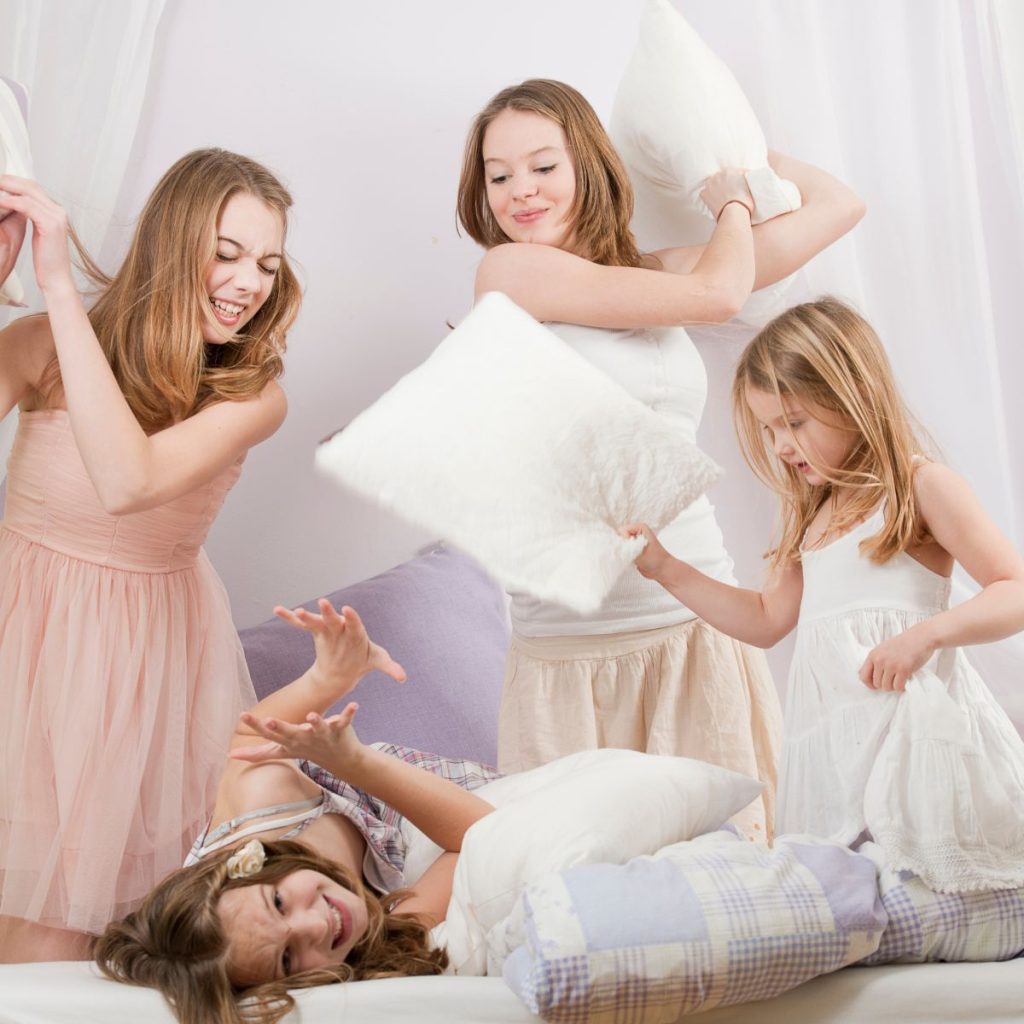 19. Pillow Fight
A classic activity at any sleepover party is a pillow fight! Dress up in your comfiest pajamas, grab your softest pillow, and get ready to have some fun!
Here's a fun activity that's perfect for all ages and will satisfy any sweet tooth. Provide unfrosted cupcakes and let your guests take the reign with frosting and all of their favorite toppings!
21. Sleepover Bingo
Bingo is an iconic party game that will keep your guests entertained. You can purchase printable sleepover party bingo cards here. We love how these adorable cards feature a variety of different pajama party ideas. See who gets five in a row first!
Sleepover Party Favors
22. Hair Ties
Cute hair ties are a fun and easy party favor, and better yet, they'll guarantee you don't wake up with messy hair! There are plenty of different hair ties you can choose from, including elastics or scrunchies.
Enjoy some pampering with the help of face masks. Face masks are among our favorite pajama party ideas because of how relaxing they are! 
Giving out personalized pillows with each guest's name is sure to make each person feel special. We love this idea because they can use it at the party and also enjoy it at home after.
25. Pajamas
The most important item for any pajama party theme is –– of course –– pajamas! Provide a set of pajamas for each guest, and be sure to snap pictures of everyone's adorable outfits.
What ideas will you be using for your sleepover theme party?
More party themes
📖 Recipe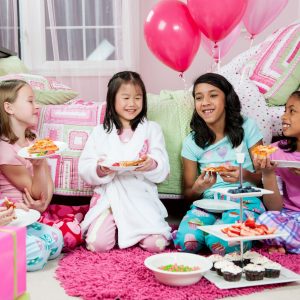 Pajama Party Ideas
Ideas for having a fun sleepover party including this easy idea for a waffle bar.
Ingredients
Toppings
maple syrup

strawberries

chopped

blueberries

bananas

sliced

pecans

chopped

chocolate chips

whipped cream
Instructions
Toast the frozen waffles and arrange on a plate.

Place toppings in individual bowls for serving.
Nutrition
Calories:
195
kcal
Carbohydrates:
28
g
Protein:
5
g
Fat:
7
g
Saturated Fat:
2
g
Polyunsaturated Fat:
3
g
Monounsaturated Fat:
2
g
Trans Fat:
0.1
g
Cholesterol:
18
mg
Sodium:
410
mg
Potassium:
60
mg
Fiber:
1
g
Sugar:
2
g
Vitamin A:
1065
IU
Calcium:
162
mg
Iron:
5
mg