These emoji cupcakes are so fun, cute, and easy to make with the help of boxed cake mix. This tutorial will demonstrate how to transform some of your favorite emojis into delicious cupcakes.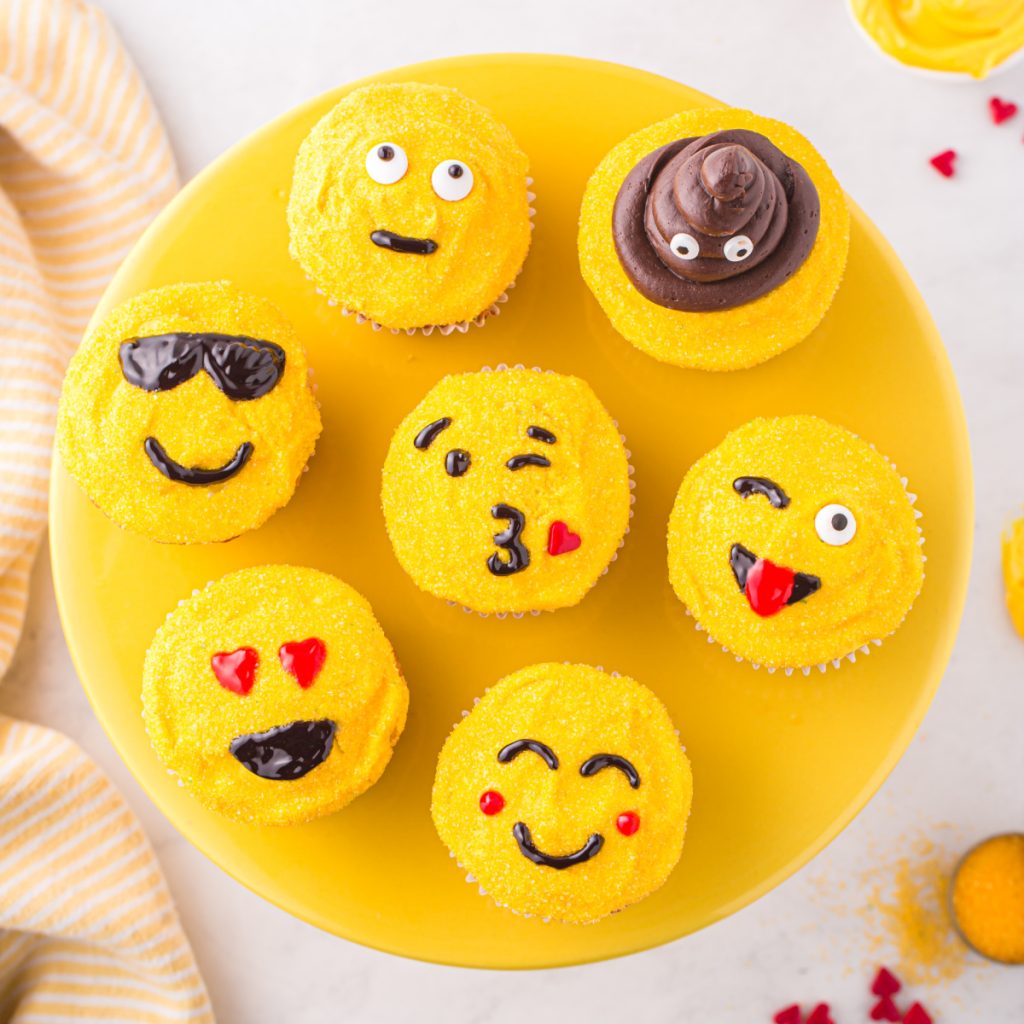 Why you will love these cute cupcakes
These cupcakes are so fun for a birthday party, school bake sale, or even as funny office treats.
This emoji cupcakes recipe is made from simple ingredients and an easy recipe that is perfect for even beginner bakers.
Ingredients needed
Cake mix - This recipe calls for yellow cake box mix. You can substitute with white cake mix or even lemon cake mix.
Eggs - You will need 3 large eggs. They are best if they are room temperature.
Frosting - Use a tub of vanilla frosting and chocolate frosting. You could also use lemon frosting.
Oil - Vegetable oil is used but you can substitute with canola oil or coconut oil.
Milk - Use whatever milk you have on hand.
Sanding sugar - Yellow sanding sugar adds color and sparkle to these cupcakes. If you can't find yellow sanding sugar, it's fine to leave it off and just use the yellow frosting.
Food coloring - Yellow food coloring is used to make the frosting yellow.
Candy eyes - You can use large, small, or both candy eyes to decorate. The small eyes work best for the poop emoji.
Food decorating gel - Red and black food coloring gel is used to draw the faces. You can usually find decorating gel in the baking aisle of the grocery store.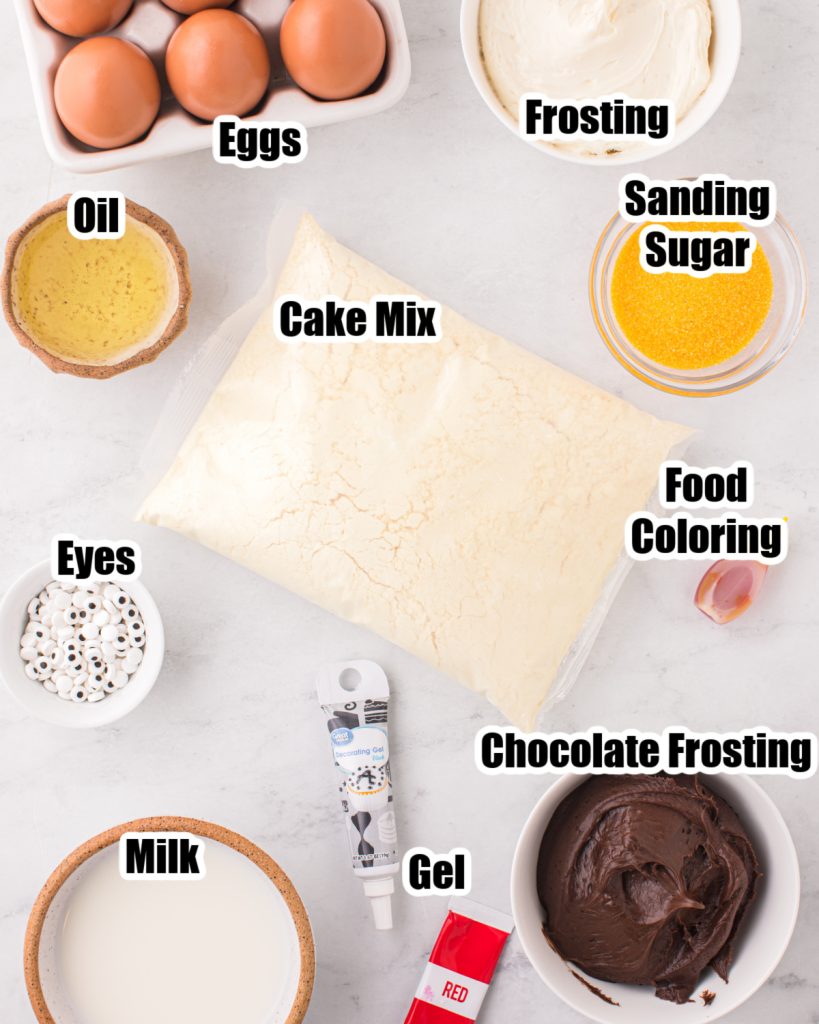 How to make emoji cupcakes
Step one: Preheat the oven to 350 degrees F. Put cupcake liners in a cupcake/muffin tin.
Step two: Mix together cake mix, eggs, milk, and vegetable oil.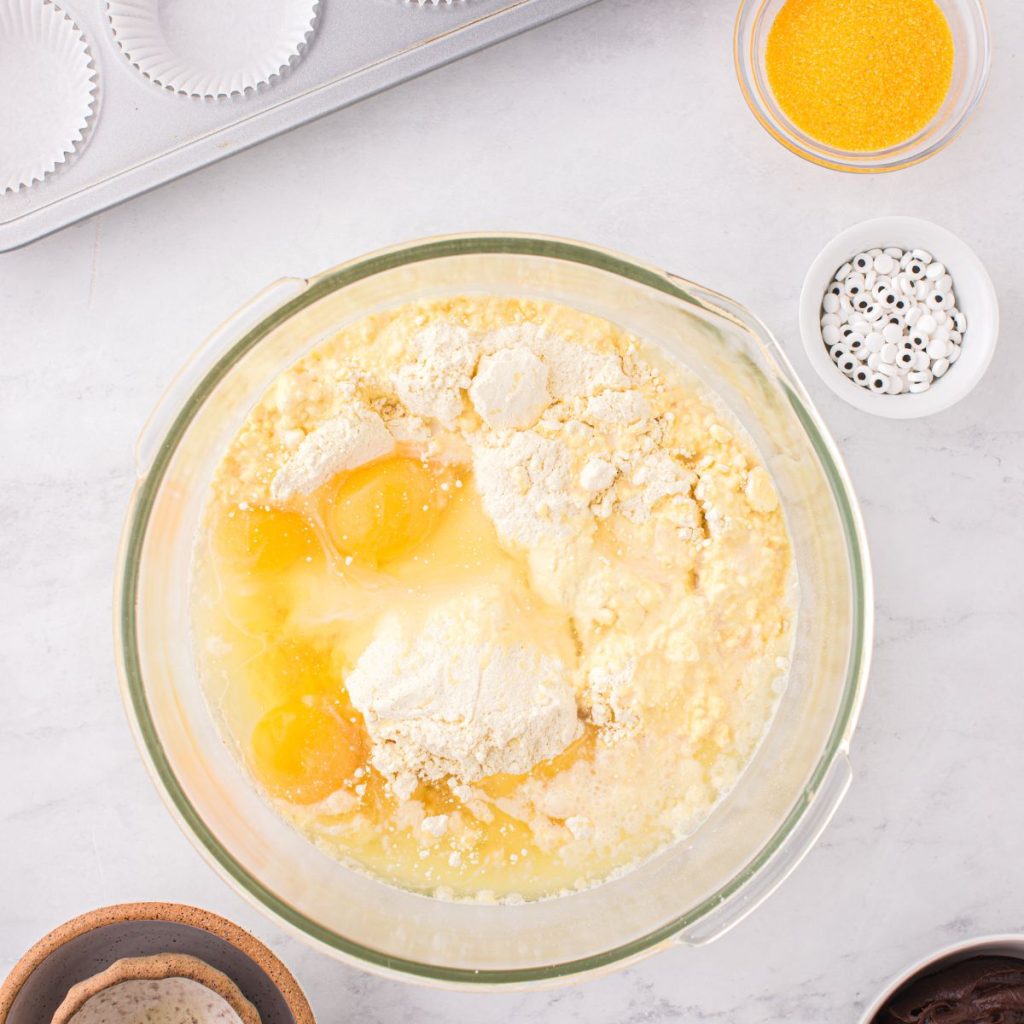 Step three: Scoop batter into prepared cupcake liners. Fill about ⅔ full. Bake for about 20 minutes. Let the cupcakes completely cool on a wire rack.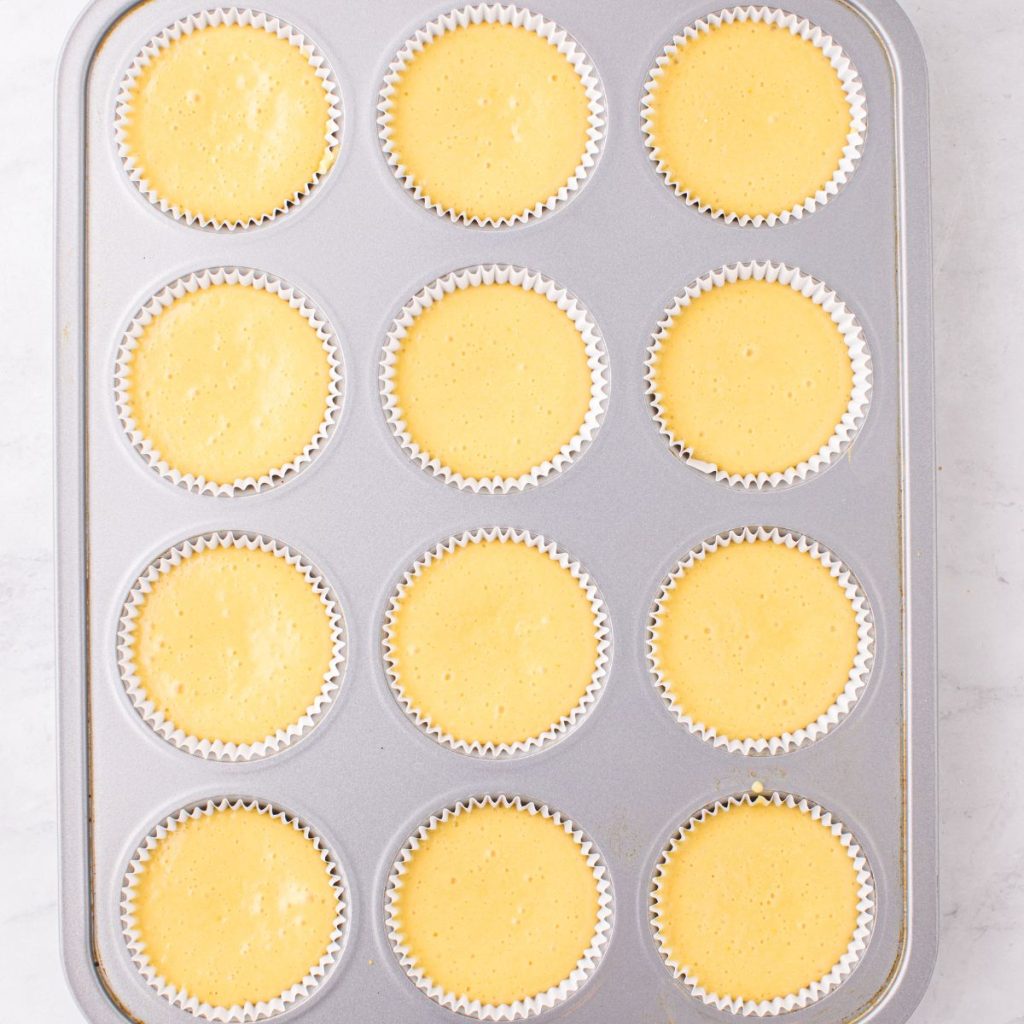 Step four: Mix white frosting with yellow food coloring to make yellow frosting. Frost each cupcake with a thin layer of frosting. Dip the frosting top of the cupcake into yellow sanding sugar to completely cover.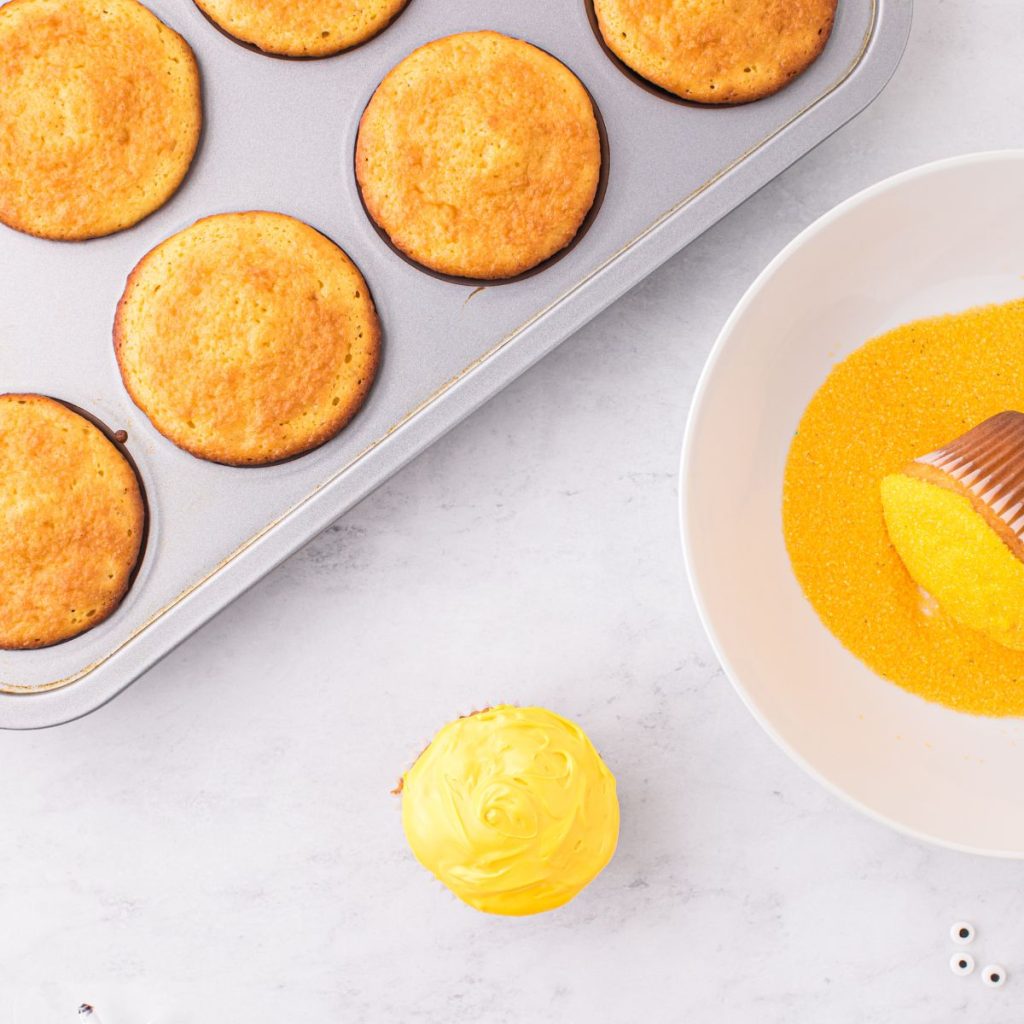 Step five: Use the black and red gel to decorate the top of the cupcake with emoji faces. Add candy eyeballs as needed.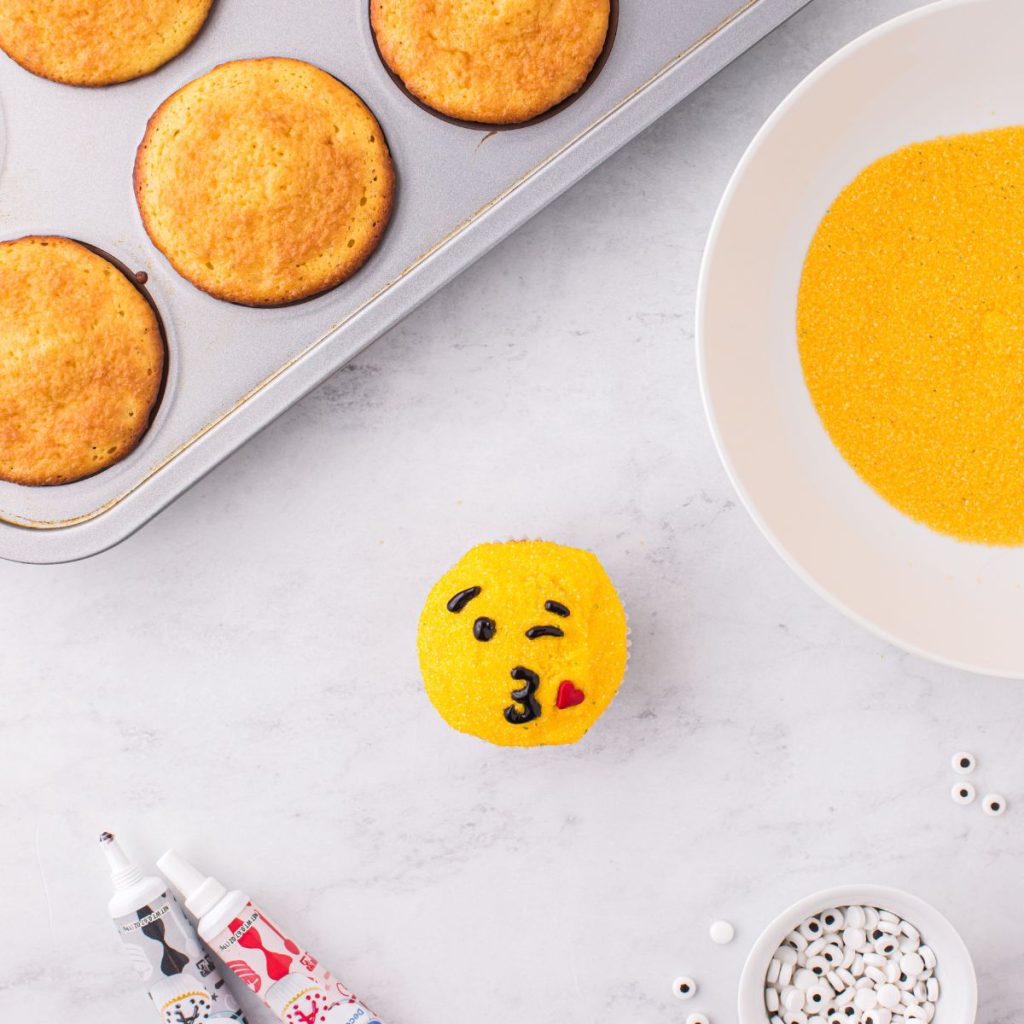 Poop emoji cupcakes
To make the poop emoji cupcakes:
Place the chocolate frosting in a piping bag with a Wilton 2A piping tip.
Pipe a "Poop pile" onto each of the remaining cupcakes and then press two small candy eyes into the top half of it to make a Poop emoji.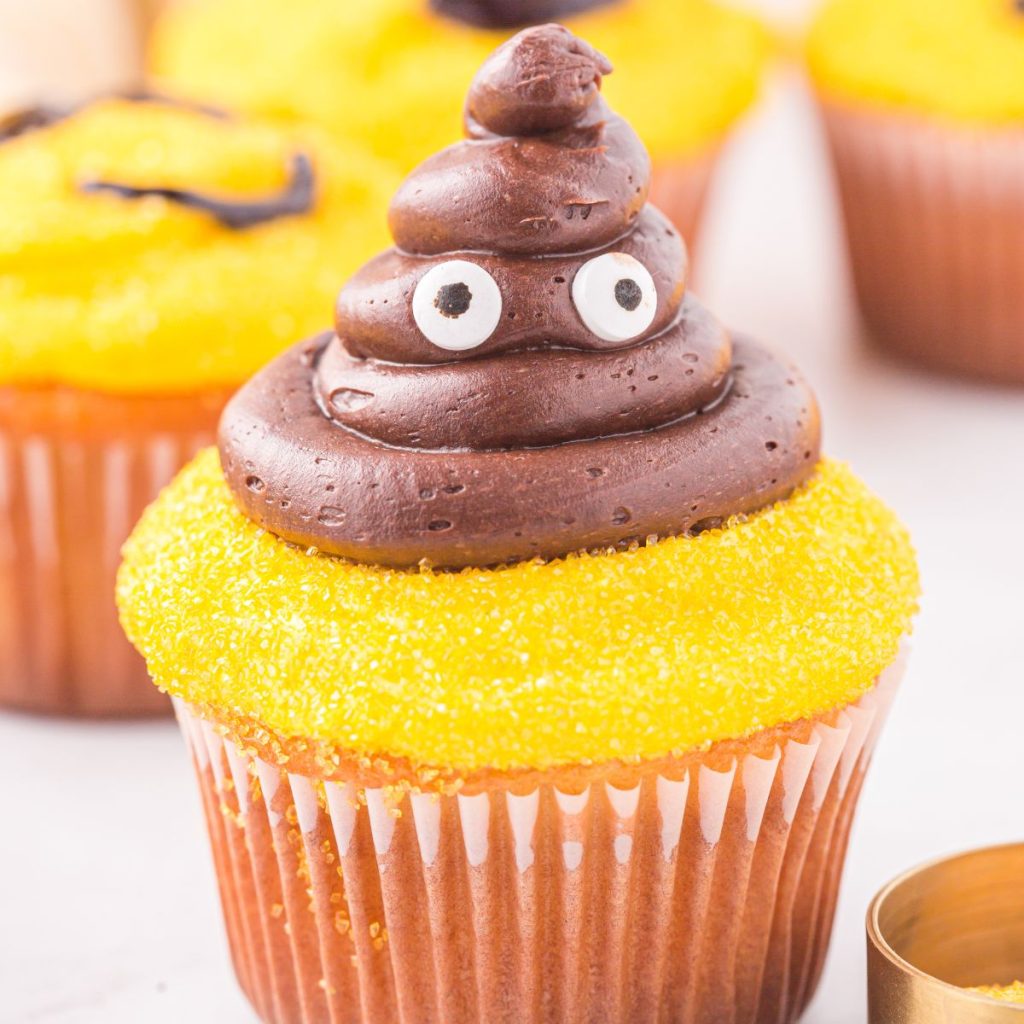 Recipe tips
It is very important to let the cupcakes completely cool before you frost and add the faces. If they are still warm, the gel will melt off.
Don't add too much frosting to the cupcake. You want to try and get the frosting smooth over the top of the cupcake.
You can use black and red fondant if you prefer to make the emoji faces.
How to store emoji cupcakes
Store: Store any leftovers at room temperature in an airtight container. They will last 1-2 days.
Can you make emoji cupcakes ahead of time?
You can bake the cupcakes the day before. You could also frost them with the yellow frosting and sanding sugar. I would recommend to decorate the faces closer to the time you will be serving.
Did you make this cupcake recipe? Let me know in the comments.
More party desserts
📖 Recipe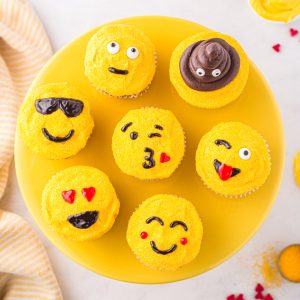 Emoji Cupcakes
Ingredients
1

15.25 ounce

box yellow cake mix

3

eggs

1

cup

milk

⅓

cup

vegetable oil

1

16 ounce

tub vanilla frosting

yellow food coloring

⅓

cup

yellow sanding sugar

24

large

candy eyes

1

tube black decorating gel

1

tube red decorating gel

1

tub

chocolate frosting

24

small candy eyes
Instructions
Preheat your oven to 350 degrees Fahrenheit and line two cupcake tins with yellow or white cupcake liners. 

Using a medium sized mixing bowl, mix together the cake mix, eggs, milk and vegetable oil until combined, about 2 minutes. 

Scoop the cupcake batter into the prepared cupcake tins, filling each liner about ⅔ full with batter.

Bake the cupcakes for 20-23 minutes or until the edges turn golden brown, the cupcakes bounce back when gently tapped and a toothpick inserted in the center comes out clean. 

Carefully remove the cupcakes from the oven. Remove from the cupcake pan and allow to cool completely. 

Once the cupcakes have cooled, prepare to decorate by mixing the vanilla frosting with yellow food coloring until you have a bright yellow color. You don't have to be too exact with the color. 

Place the yellow sanding sugar in a shallow bowl. Frost cupcakes with a smooth layer of frosting. 

Dip the cupcake in the yellow sanding sugar and gently swirl it so that the frosting is completely covered in sugar.

Repeat with each cupcake until all are frosted and coated with sugar. 

Put the large candy eyes on 12 of the cupcakes and use the black and red decorating gel to pipe on your favorite emoji faces likes smiles, tongues sticking out, surprised faces and kissy faces. You can also use candy hearts as eyes or around the face, optional. 

If you want to make a face that has lines for eyes, such as a winky face, you can omit the candy eyes and use the black decorating gel to pipe on the eyes instead.
For poop emoji
Place the chocolate frosting in a piping bag with a Wilton 2A piping tip.

Pipe a "Poop pile" onto each of the remaining cupcakes and then press two small candy eyes into the top half of it to make a Poop emoji. 
Nutrition
Calories:
116
kcal
Carbohydrates:
13
g
Protein:
1
g
Fat:
7
g
Saturated Fat:
2
g
Polyunsaturated Fat:
2
g
Monounsaturated Fat:
3
g
Trans Fat:
0.02
g
Cholesterol:
22
mg
Sodium:
47
mg
Potassium:
60
mg
Fiber:
0.2
g
Sugar:
11
g
Vitamin A:
46
IU
Calcium:
17
mg
Iron:
0.4
mg