Learn how to make a kids charcuterie board even the pickiest of eaters will love. These easy instructions will help you assemble a kid-friendly charcuterie board filled with food perfect for a snack or even a light meal.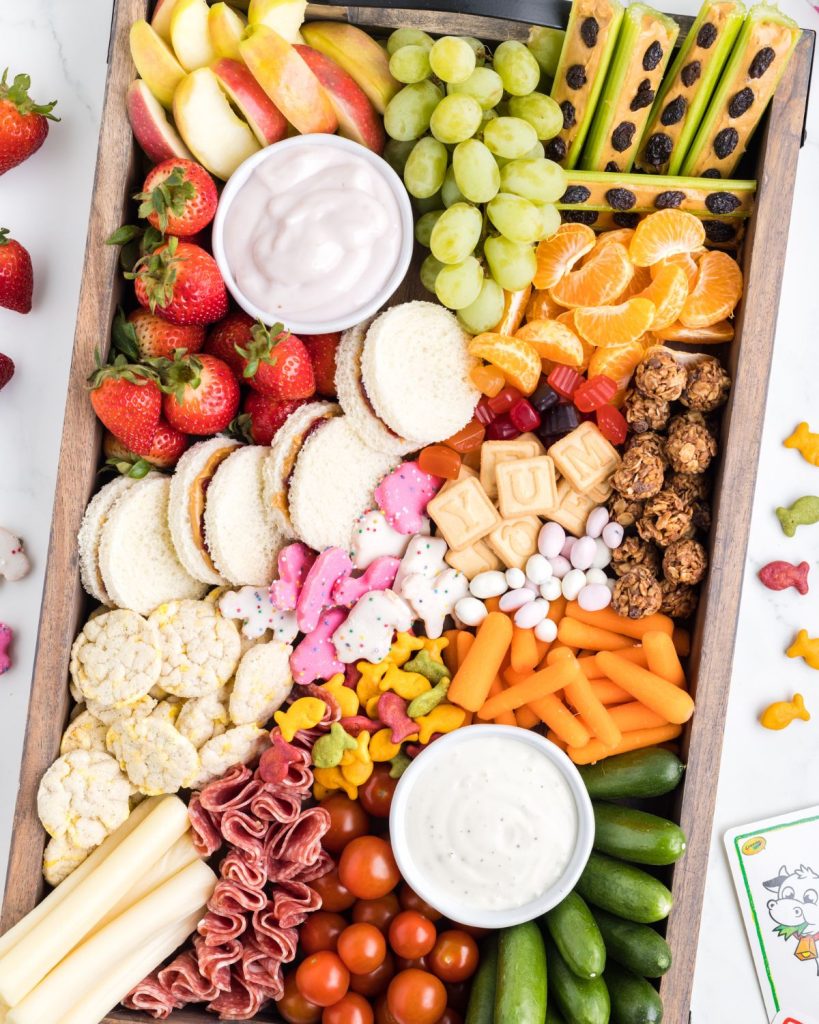 Making charcuterie boards is so much fun! It's a great way to get creative in the kitchen. There are so many types of snack boards like this fun movie night snack board.
What is a charcuterie board?
Charcuterie boards are typically filled with sliced meats and cheeses. They are perfect for a party, gathering, or other special occasions.
Kid friendly charcuterie board ingredients
The great thing about these boards is that you can customize the ingredients to appeal to even your picky eaters.
Fruit - Choose fresh fruit that is easy to pick up like strawberries, mandarin oranges, grapes, blueberries, apples, and more.
Vegetables - Cucumbers, cherry tomatoes, baby carrots, celery, and other favorite veggies.
Meat - Use your favorite sliced meat like salami, pepperoni, turkey, ham, or other deli meats.
Cheese - Cheese sticks, cheese cubes, or cheese slices all work well.
Crackers - Any cracker will work like Goldfish, butter crackers, and more.
Cookies - Choose small cookies like mini vanilla wafer cookies, animal crackers, mini chocolate cookies, or others.
Candy - Fruit gummies, yogurt covered raisins, or other candy.
Sandwiches - Peanut butter and jelly sandwiches, or small tea sandwiches.
Dips - Add small bowls of your favorite dips like ranch, or yogurt dip.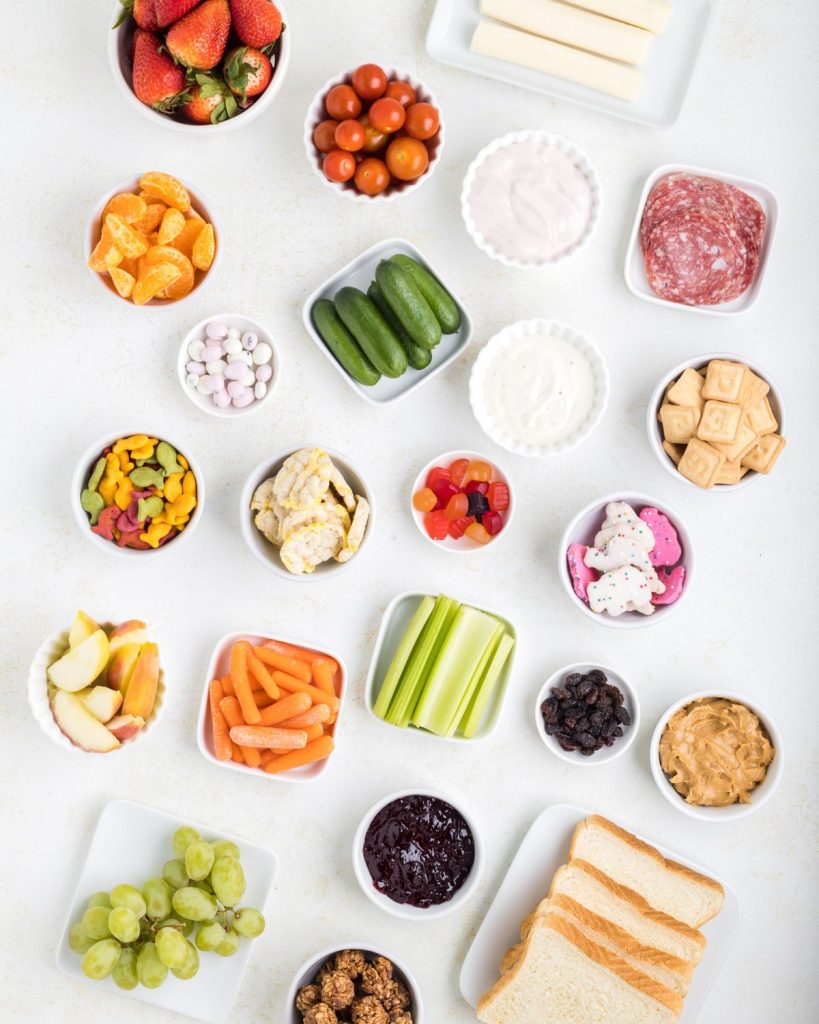 How to make a kids charcuterie board
Step one: Board - Select a board that is the appropriate size for the number of kids you are feeding. If you have 2 or 3 kids, choose a smaller board. If you are feeding a large group, go big! I used a 13x18-inch board.
Step two: Sandwiches - Prepare the sandwiches by cutting out bread with a circle cookie cutter. Spread peanut butter and jelly on the bread to make a sandwich.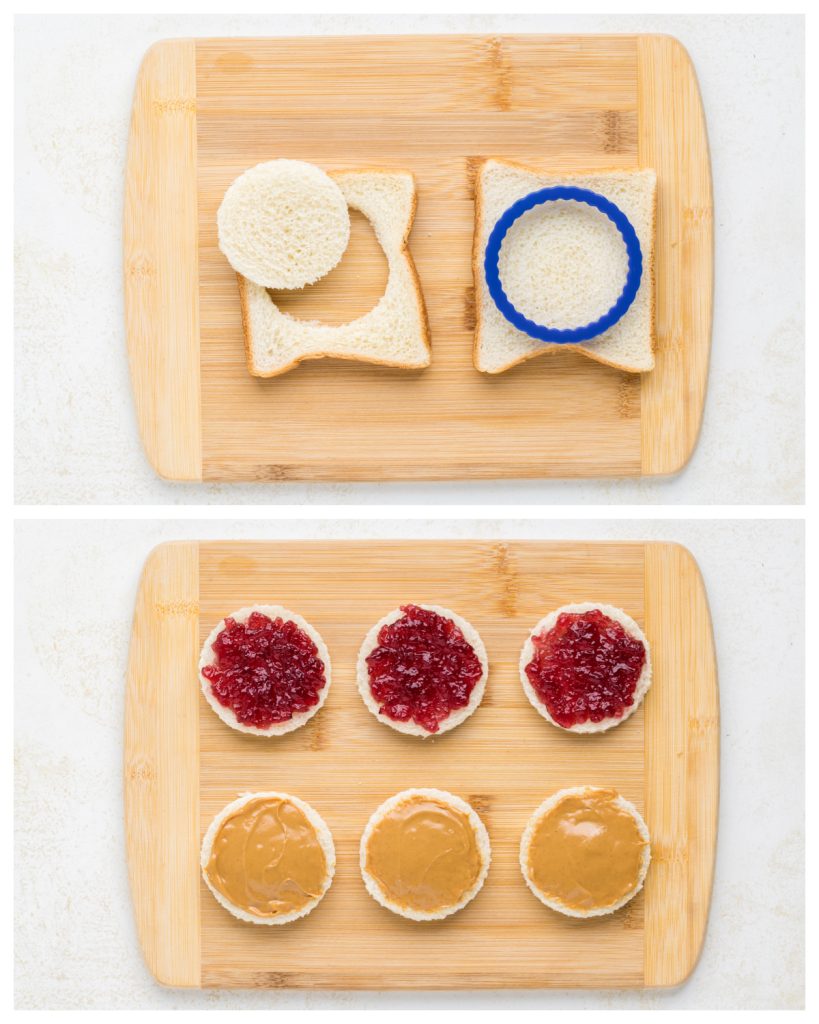 Step three: Ants on a log - To make the ants on a log, spread peanut butter in the celery stalks and top with raisins.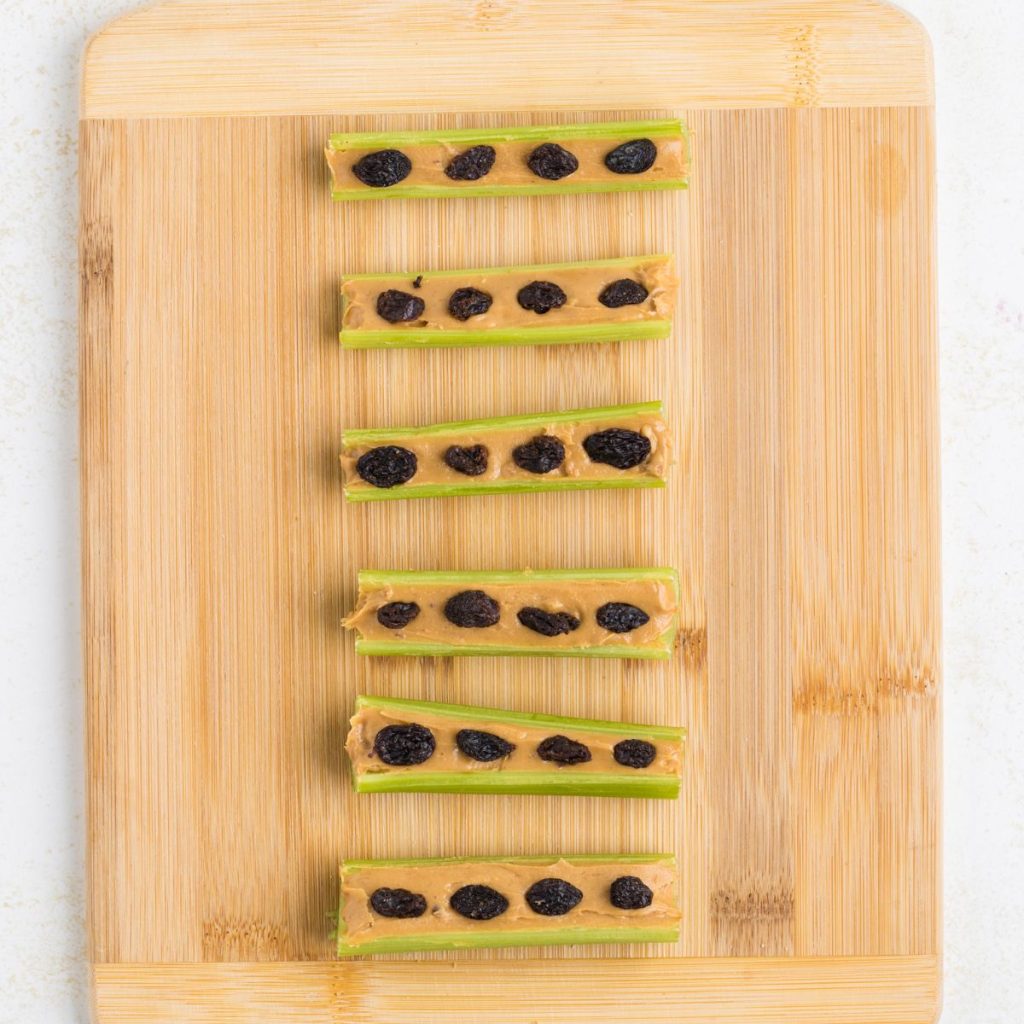 Step four: Assemble the board - Place bowls of dip on the board. Place fruit around the bowl of yogurt dip and then the vegetables around the ranch dressing.
Step five: Keep filling in the large spaces with sandwiches, deli meat, cheese sticks, and granola bites.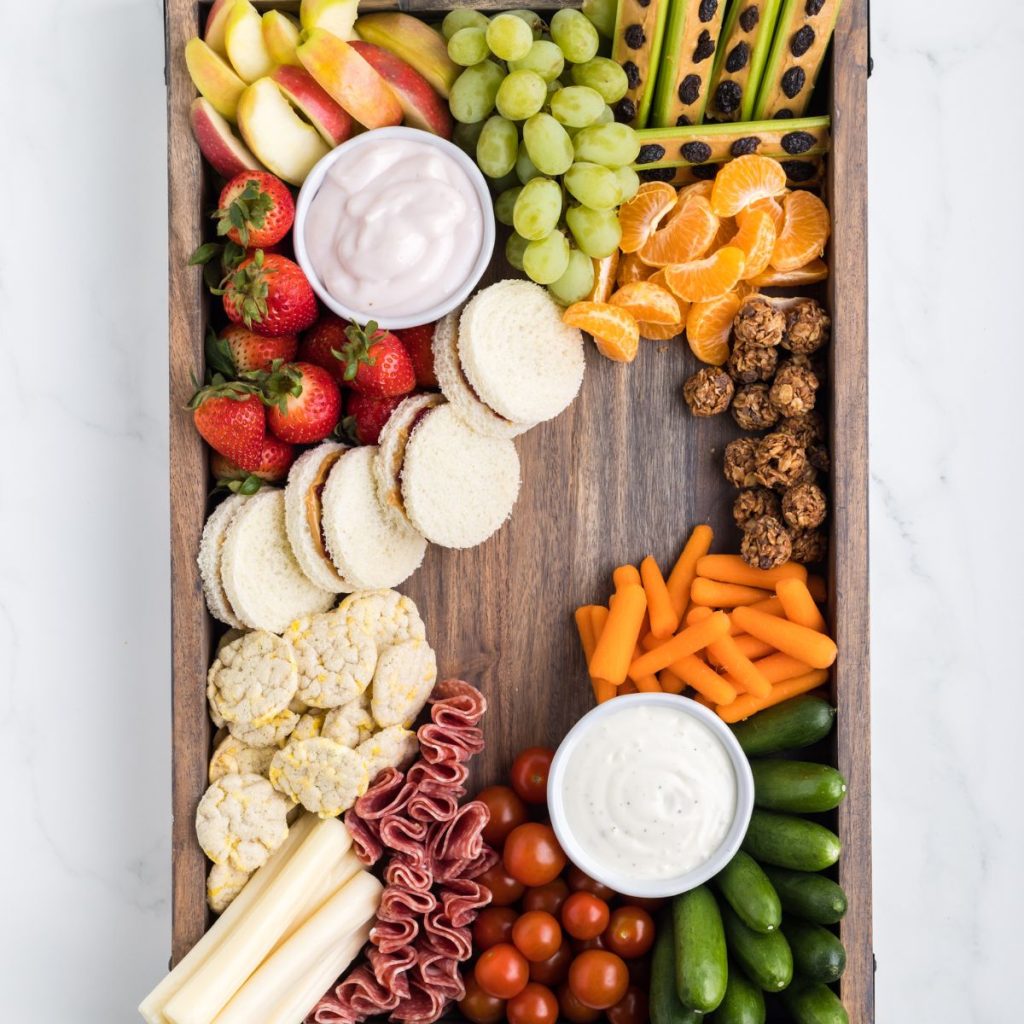 Step six: Fill in remaining spaces with cookies, yogurt covered raisins, fruit snacks, and other smaller food.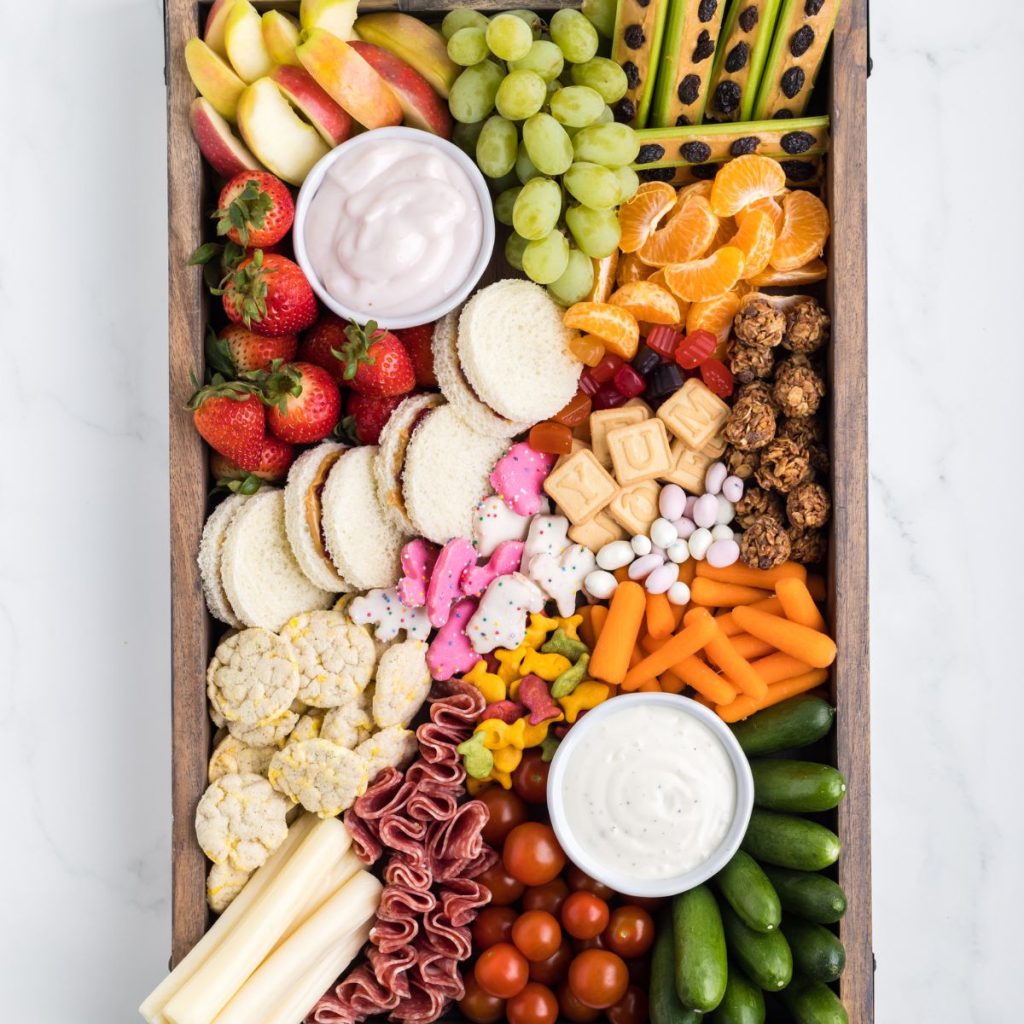 Tips
Choosing a board - There are a variety of things you can use for charcuterie boards. A wooden board is always a popular choice, you could also use a large cutting board. The size of board you will need depends on how many people will be eating.
Shapes - Use different sizes and shapes of food on the board for visual interest.
Other ideas for kids charcuterie board
More yummy foods you can add to your board:
Snacks - Trail mix, popcorn, yogurt covered pretzels, pita chips, or tortilla chips.
Meat - Chicken nuggets, ham and cheese tortilla roll-ups, lil' smokies, or mini corn dogs.
Dips - Salsa, hummus, bleu cheese dressing, or cream cheese fruit dip.
How to store leftovers
Be sure to store in leftovers in an airtight container. The meat, cheese, fruit, veggies, and dip need to be stored in the refrigerator.
What will you be putting on your kids snack board?
More kid friendly recipes
📖 Recipe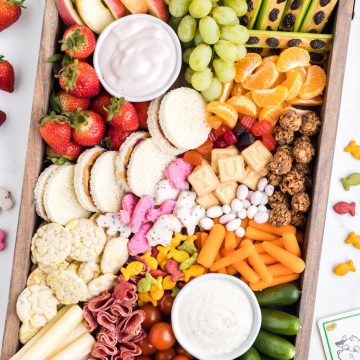 Kids Charcuterie Board
Learn how to make a simple kids charcuterie board. Filled with food even the pickiest of eaters will love.
Ingredients
8

slices

white bread

½

cup

peanut butter

¼

cup

grape or strawberry jelly

6

pieces

celery

¼

cup

raisins

½

cup

strawberry yogurt

½

cup

ranch dressing

1

cup

strawberries

2

apples

sliced

grapes

mandarin oranges

6

baby cucumbers

1

cup

baby carrots

1

cup

cherry tomatoes

½

cup

granola bites

4

ounces

salami

½

cup

animal cracker cookies

½

cup

goldfish crackers

¼

cup

yogurt covered raisins

¼

cup

fruit snacks
Instructions
Sandwiches
Cut the bread into the desired shape for the sandwiches (I used round). Spread half of the bread with jelly and the other half with peanut butter. Place one piece of bread with jelly and one piece with peanut butter together, lining up the sides to assemble the sandwiches.
Ants on a log
To make the ants on a log, fill the celery sticks with peanut butter and top the peanut butter with 3-5 raisins. 
Snack Board Assembly
To assemble the board, start by placing your bowls of dips on the board. 

Next, fill in around the yogurt dip with larger fruits such as apples, grape clusters, and strawberries. 

Fill around the ranch dip with larger vegetables such as cucumber, carrots, and cherry tomatoes.

Continue to fill in the large spaces on the board with your largest items, such as sandwiches, ants on a log, mandarine segments, rice cakes, cheese sticks, salami, and granola bites.

Finally, fill any remaining spaces with smaller items such as animal crackers, goldfish crackers, alphabet crackers, yogurt-coated raisins, and fruit snacks.Serve with small paper plates or bowls, juice boxes, or milk.
Nutrition
Calories:
563
kcal
Carbohydrates:
58
g
Protein:
16
g
Fat:
31
g
Saturated Fat:
7
g
Polyunsaturated Fat:
9
g
Monounsaturated Fat:
11
g
Trans Fat:
0.01
g
Cholesterol:
29
mg
Sodium:
1057
mg
Potassium:
539
mg
Fiber:
6
g
Sugar:
18
g
Vitamin A:
3118
IU
Vitamin C:
23
mg
Calcium:
156
mg
Iron:
3
mg