The anticipation of a baby's arrival is a special experience, and a diaper cake is the perfect way to shower new parents with love! Diaper cakes are an arrangement of diapers made to look just like a cake. Although they aren't edible, these cakes make beautiful party decorations, as well as a great baby shower gift. Here are 25+ diaper cake ideas that will add some extra sweetness to your celebration.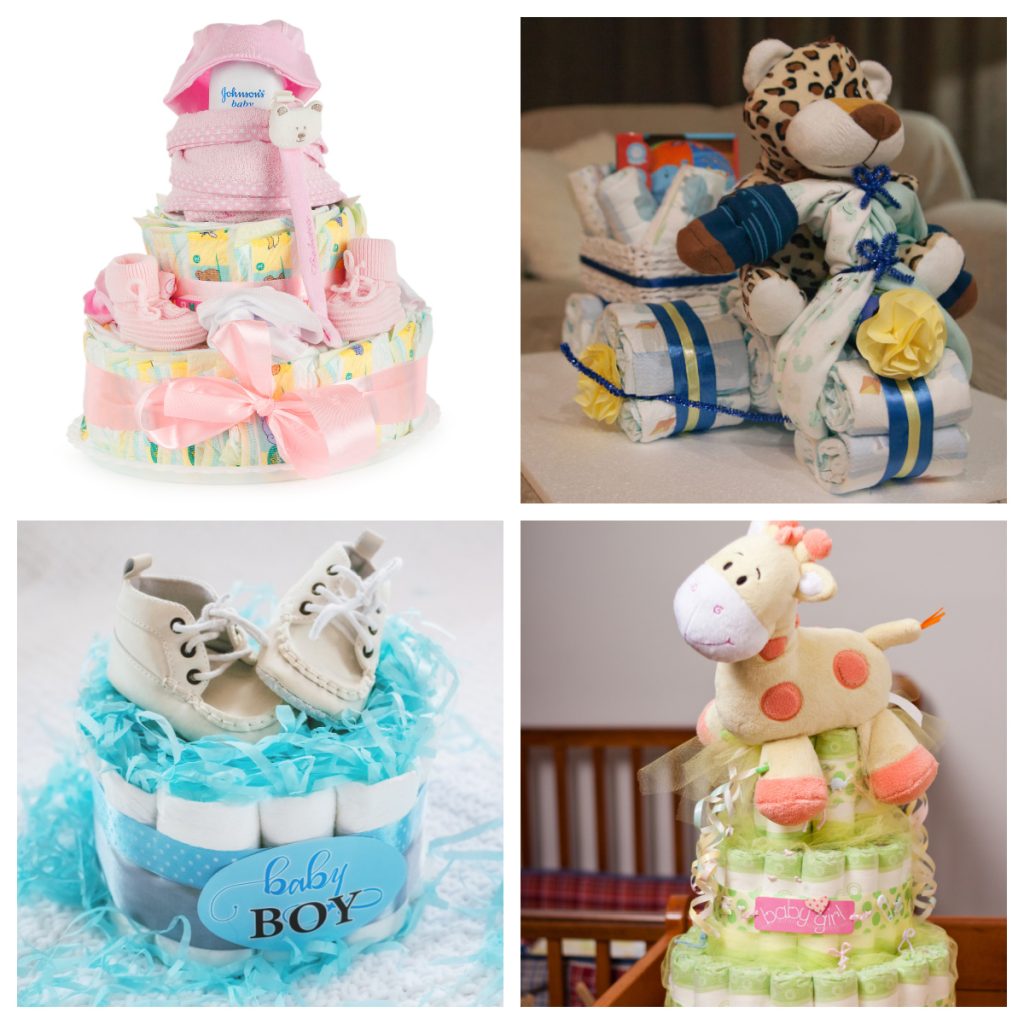 Easy Diaper Cake Designs
We've rounded up some of the best diaper cake designs, perfect for boys, girls, and even gender-neutral celebrations. Our list features plenty of simple DIY ideas and tutorial videos to help you create your own cake at home.
Despite their name, diaper cakes aren't limited to just diapers –– they can include other items new parents may need such as pacifiers, bibs, blankets, and more. Don't be afraid to get creative and have fun as you put it all together!
Here's an adorable safari-themed diaper cake that you can easily put together with a few simple supplies. We love how the burlap and ribbon create a layered look. Be sure to top it off with your favorite safari animal!
This fun cake idea looks just like an elephant! This display makes a great baby shower gift as it includes not only diapers, but also bibs and a pacifier.
Elevate your baby shower with a stunning hot air balloon display. This easy diaper cake will be the talk of the party and is perfect for any gender-neutral celebration.
4. Blush And Gold Diaper Cake
Classy and elegant, this blush and gold cake design is a great way to welcome a little girl into the world. The pinecones and leaves create a beautiful rustic appearance.
Babies love bath time! Making a bathtub diaper cake is as easy as can be. Load up a small tub with diapers, baby soap, and an assortment of cute toys, and you'll have the perfect gift in no time at all.
6. Bunny Diaper Cake
Bursting with flowers and topped with a cute bunny stuffed animal, this cake will look incredible on your party table. This is one of our favorite diaper cake ideas because it looks like a real cake!
7. Boho Diaper Cake
A boho-inspired cake will make a special addition to your celebration. We love how this cake design includes a variety of different elements to create a beautiful eclectic display.
Adorable woodland animals will take your diaper cake to the next level. Decorated with a deer, owl, fox, and bear, this simple and sweet design is sure to impress your guests.
9. Llama Diaper Cake
How cute is this llama-themed cake?! Covered in a dreamy assortment of flowers and topped with the cutest llama plush, this is easily one of our favorite diaper cake ideas.
10. Diaper Castle Cake
Build a castle to celebrate the arrival of the little princess! You can recreate this adorable design at home with a few simple supplies: ribbon, assorted paper, and of course –– loads of diapers.
11. Motorcycle Diaper Cake
This motorcycle diaper cake is a fun and creative way to celebrate a little boy. We love how this cake idea can be personalized to include a baby bottle, socks, and either bibs or a blanket!
12. Bumble Bee Cake
We absolutely adore this bumble bee-themed baby shower cake. Topped with stuffed animals and Burt's Bee's products, this cake is sure to create a buzz of excitement with the new parents.
13. Princess Diaper Cake
Celebrate the soon-to-be little princess with a glamorous cake fit for royalty! Our favorite things about this easy diaper cake are the gold sparkles and the crinkle paper that adds texture.
14. Duck Diaper Cake
This cute duck cake will take the celebration to the next level. We love how this design brings so many different diaper cake ideas together including bibs, baby bath supplies, a pacifier, and a stuffed animal.
15. Cute Moose Diaper Cake
An outdoorsy-themed diaper cake will add some fun to your party! The red flannel fabric is certainly eye-catching, and the moose silhouettes and stuffed animal take the cake to the next level.
One of the most unique diaper cake ideas is this adorable owl cake with a bib and flower eyes! Check out the helpful video in this post to see how easy it is to recreate this design at home.
You can make this simple but elegant succulent diaper cake in just a few minutes! All you need are diapers, succulents, burlap, and twine. This design will make both a great baby shower gift and centerpiece.
Here's a creative cake idea that the new parents will fall in love with! The instructions in this post will walk you through all the steps you need to make your own using receiving blankets, washcloths, and baby booties.
19. Bird House Diaper Cake
We're a huge fan of this cake topped with decorative eggs, a bird's nest, and a gorgeous birdhouse. The ribbons also add such a sweet personal touch to this design.
20. Guitar Diaper Cake
This music-inspired cake is fun and unique! The addition of flowers and the use of vibrant colors take this easy diaper cake idea to the next level.
21. Pink Diaper Cake
Loaded with plenty of pink diapers, this sweet cake is the perfect way to celebrate a baby girl. We love the ribbons and the beautiful heart-shaped topper that bring it all together.
22. Flower Diaper Cake
Decorated with pearls, flowers, and butterflies, this stunning diaper cake will take everyone's breath away! The cascading flowers add dimension and such a beautiful splash of color.
Butterflies add beauty to any special occasion. Here's an easy diaper cake idea that is so cute and fun to make! You can follow along with the video in this post to make your own at home with a few simple crafting supplies.
24. Hungry Caterpillar Diaper Cake
What better way to celebrate the arrival of the little one than with a cake inspired by the iconic Very Hungry Caterpillar? Perfect for a book-themed baby shower, this eye-catching cake features cute toys and the book itself.
Unicorns are trendy and magical and look fantastic in cake designs! Check out this creative diaper cake, dressed in a fluffy tutu and stuffed with a supply of diapers on the inside.
26. Winnie The Pooh Diaper Cake
This is perfect for any Winnie The Pooh fans. Decorate using Winnie stuffed animals, towels, and more.
Will you be making any of these beautiful diaper cakes? Let me know in the comments.
Supplies for diaper cakes
Diaper cakes are easy to customize. Here are a few things you might need to make your own:
Diapers - Cloth diapers or disposable diapers.
Rubber bands - You will want a variety of large rubber bands and small rubber bands.
Towels - Baby wash clothes or burp clothes.
Toys - Plush toys, rattles, or other baby toys.
Ribbon - Choose your favorite ribbon or one to match the baby shower theme.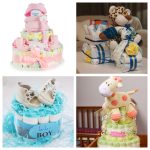 Print
Diaper Cake Ideas
A group of cute, unique, and beautiful diaper cake ideas. From a simple diaper cake to a tiered cake full of toys and other baby essentials.
Materials
2

cardboard cake circles

10-inch and 8-inch

60

diapers

newborn size

rubber bands

ribbon
Instructions
Roll each diaper and then secure with rubber band in the center of the diaper.

Place rolled diapers on the 10-inch cake board. Place the 8-inch board on top of those diapers and then place the remaining diapers on the 8-inch board.

Take the ribbon and wrap around the center of the bottom layer of diapers and then either tie off into a ribbon or hot glue the ends together. Repeat with the top layer of diapers.

Add any other baby essentials like baby wash clothes, toys, or other decorations.