Every little girl deserves to feel like a princess on her birthday, and a beautiful princess cake is a sweet and thoughtful way to make her feel just like royalty. Here are 20 princess cake ideas to help you celebrate the special day.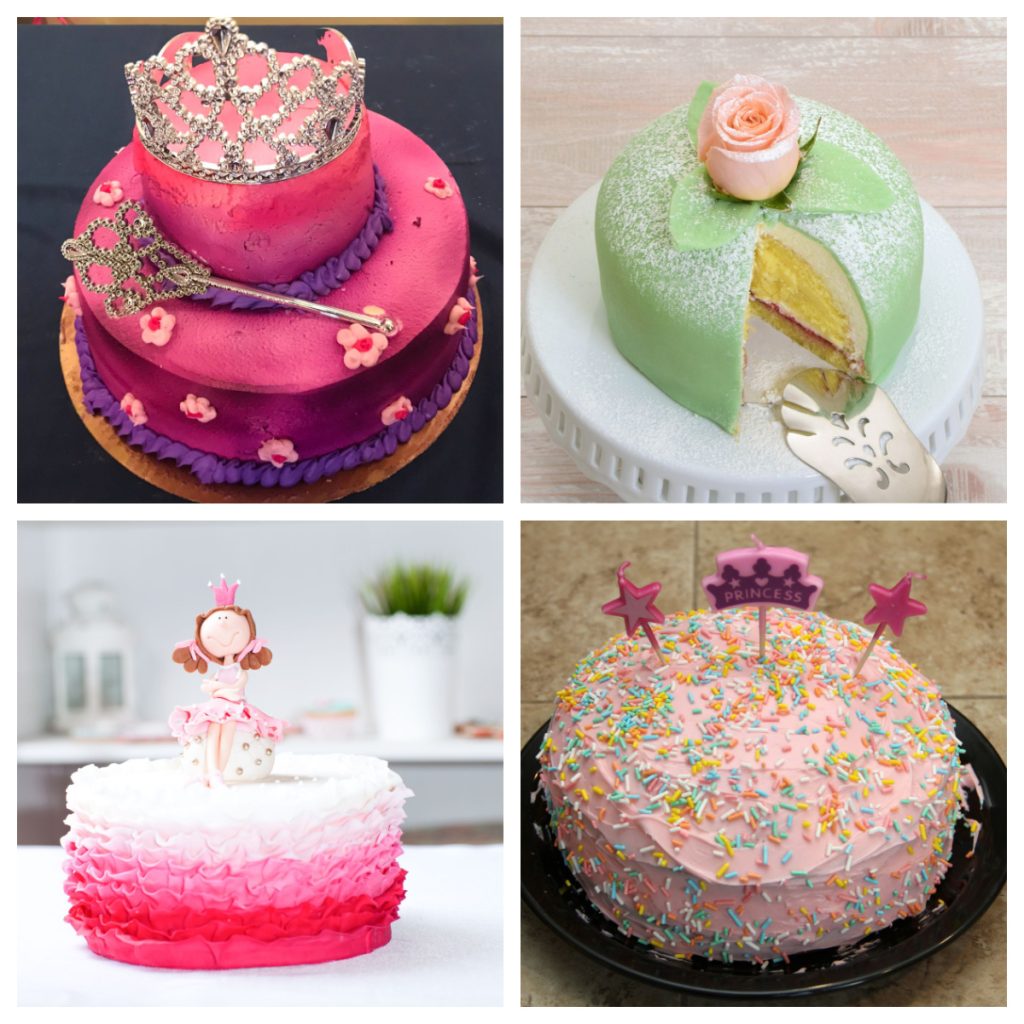 The Best Princess Birthday Cakes
From castles to dresses to dolls, we've collected some of the cutest and most creative princess cake ideas. The best part is that you don't need to get yours from the store –– you can make any of these DIY cakes at home!
This list of princess birthday cakes features a variety of different cake types. Between sheet cakes, tiered cakes, cupcakes, and cake pops, there are plenty of adorable ideas here that will help you make the perfect cake for your next princess party.
This beautiful tiered castle cake is fit for royalty! You can build this castle by using square and round cake pans, waffle ice cream cones for the towers, and fondant to create the walls and flags. Fondant is great for decorating because you can easily customize the color with a little bit of gel food coloring.
Swedish princess cake is a popular traditional layer cake made with sponge cake, pastry cream, raspberry jam, and green marzipan. This soft and creamy cake has a delicious almond flavor due to the marzipan, and is topped with powdered sugar and a beautiful fondant rose to finish it off.
Making a castle cake is as easy as can be! Dip waffle ice cream cones in chocolate to create turrets, then place them on top of your frosted cake. Add-ons such as marshmallows, sprinkles, and princess figurines will take your display to the next level.
This beautiful doll cake is actually much easier to make than it looks! After baking your "skirt" base in cake pans and a glass bowl, use piping tips to create gorgeous frosting ruffles. Any Barbie or similarly sized princess doll will work well for this recipe — find inspiration for your Disney princess doll cake in the post!
Every princess needs a crown, so why not make her a crown cake? This cake idea is so cute and also easy to personalize with the birthday girl's name, favorite colors, different frosting designs, and sprinkles. You can find the crown-shaped cake pan linked here.
Even the simplest of princess cake ideas are so incredibly cute. This special dessert uses DIY cake toppers made from Disney princess stickers and toothpicks. Not only is each cake topper so easy to make, it's also a great way to feature a variety of princess characters! Place them on the top of the cake or side of the cake.
7. Tiered Disney Princess Cake
When it comes to princess cake ideas, it can be difficult to choose your favorite princess like Snow White, Elsa, and Cinderella. With this creative tiered cake idea though, you can feature multiple princesses, dedicating individual layers to specific characters that you love.
This cupcake dress is one of our favorite princess cake ideas. We absolutely adore the way that the frosting creates a pattern on the dress––almost like roses! Adding details such as a crown, sash, or necklace will make it even more special. Not only is this cake so cute, it's also super easy to divide and serve.
9. Princess Figurine Cake
Using princess figurines as toppers is a great way to turn any cake into a cake that's fit for a princess party. Better yet, your little girl can keep the princess figurines and add each cake topper to her stash of toys!
10. Classic Princess Birthday Cake
Classy, elegant, and oh-so-cute, this cake is guaranteed to make the birthday girl feel just like a princess. Use different designs and piping techniques on each layer to add some dimension and variation. Then, top it off with a crown to tie it all together!
11. Ombre Princess Cake
Ombre cakes have become increasingly popular in recent years. This eye-catching cake design is a creative way to make the most out of color, and the rose pattern of the frosting makes it a unique and fun addition to any special day.
This magical cake uses a mix of waffle ice cream cones and regular sugar cones to create the cutest castle towers! Once you assemble and frost your towers and walls, you can add the decorations of your choice to personalize it. Sprinkles, marshmallows, and flowers made from frosting are all great for decorating.
13. Princess Sheet Cake
Here is one way that you can decorate a classic sheet cake to make it perfect for your princess. An elegant border, simple frosting, and edible pearls are all that you need to put it together, but the possibilities are endless. You can use your creativity to achieve any look on this type of cake!
14. Princess Cookie Cake
Princess birthday cakes don't have to be made from cake! A cookie cake is perfect for any birthday princess who prefers cookies over cake. This large cookie has a beautiful carriage on it, but would also look amazing with a castle, crown, or any other princess-themed item.
15. Princess Number Pull Apart Cake
Pull apart cakes are among our favorite princess cake ideas! This collection of cupcakes has the beauty and fullness of a typical number cake, but it's much easier to serve since you can simply pull it apart instead of cutting it.
16. Princess Sprinkle Cake
Sprinkles are fun and delicious and will never go out of style! This beautiful rainbow sprinkle cake is so fun and simple –– the perfect easy cake for any princess. While this example uses rainbow sprinkles, you can use any sprinkles of your choice to get your desired look.
Cake pops are soft, scrumptious, and absolutely adorable. These bite-sized desserts are a twist on your classic cake recipe, but are guaranteed to satisfy any sweet tooth. This foolproof recipe will make it easy to put your cake pops together. Serve them up at the party, or send them home as party favors!
This beautiful cake is the perfect shade of blue. Piped using a closed star tip gives a magical ruffle shape similar to a princess dress.
19. Giant Cupcake Cake
This giant cupcake cake is made using a giant cupcake mold, melted chocolate and piped rosettes. Top with a crown and pearl sprinkles for the ultimate princess effect.
This beautiful glass slipper cake is easier to make than you might think. Perfect for your little princess. A beautiful blue frosted cake topped with Cinderella's glass slipper. Add some gold star sprinkles for extra sparkle.
More Cake Ideas
📖 Recipe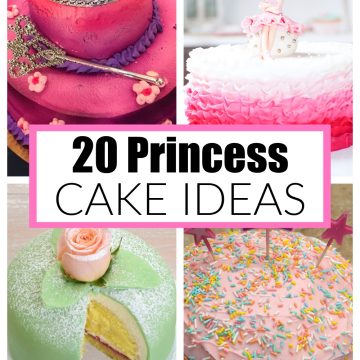 Best Princess Cake Ideas
A collection of 20 beautiful princess cake ideas. From crowns, to Disney princess, and more, these princess cakes are perfect for your next princess party.
Ingredients
1

store bought vanilla birthday cake

pink sprinkles

mini princess figurines
Instructions
Top the premade cake with pink or purple sprinkles. Add princess figurines to the top of the cake.
Nutrition
Calories:
160
kcal
Carbohydrates:
35
g
Protein:
2
g
Fat:
2
g
Saturated Fat:
1
g
Polyunsaturated Fat:
0.2
g
Monounsaturated Fat:
0.4
g
Trans Fat:
0.2
g
Sodium:
299
mg
Potassium:
27
mg
Fiber:
0.5
g
Sugar:
18
g
Calcium:
94
mg
Iron:
1
mg