With witches, wizards, secrets, and spells, the wizarding world of Harry Potter is truly one-of-a-kind. Harry Potter is a beloved series that also doubles as a fun party theme, allowing folks of all ages to experience the mysteries of Hogwarts. Here are 14 creative Harry Potter cupcakes ideas that will bring magic to your Harry Potter party.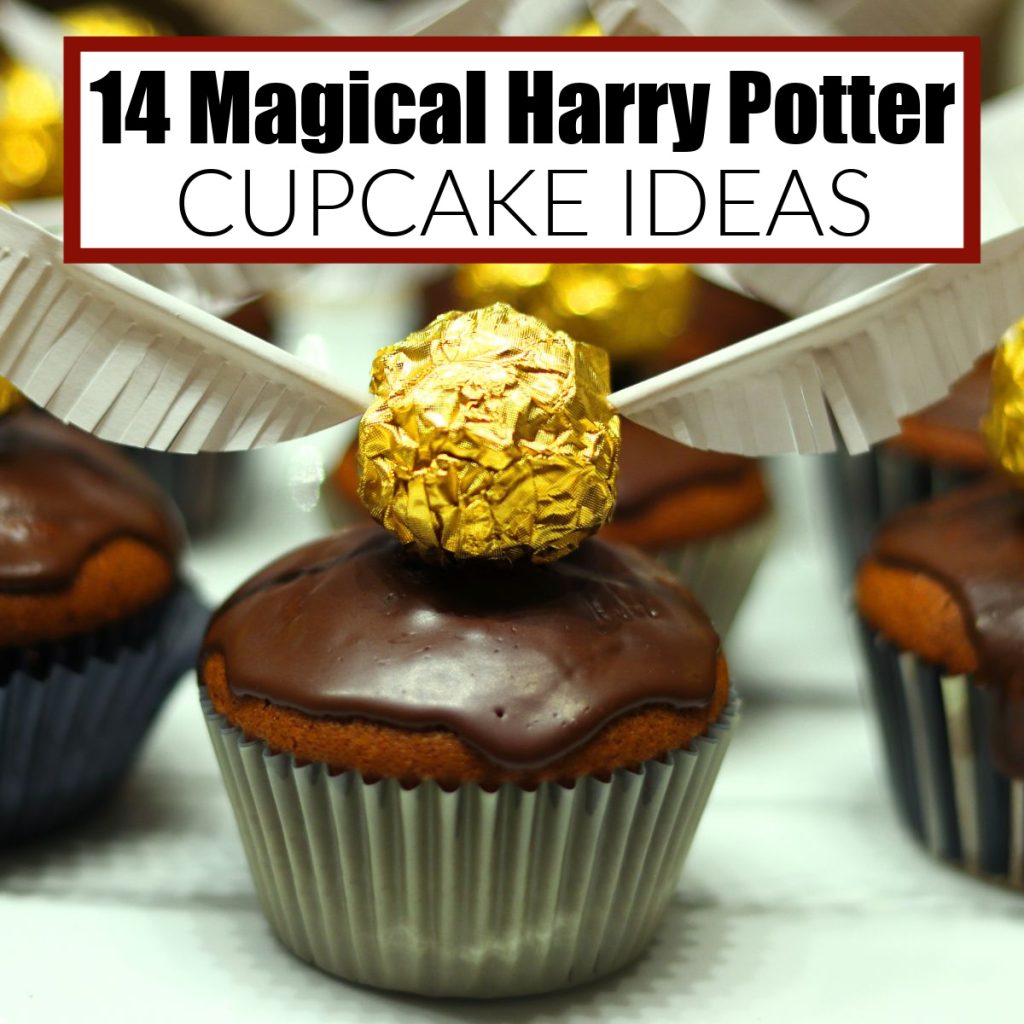 Themed Cupcakes For Your Harry Potter Party
As one of the most popular book and movie series of all time, there are no shortage of Harry Potter cupcake ideas that you can choose from.
We've rounded up some of our favorite Hogwarts-inspired cupcake designs to make your party planning easy.
Between magical creatures, heroes, enchanted objects, and house pride, you'll be sure to find the perfect cupcakes for your special day.
Topped with mini chocolate sorting hats, these butterbeer flavored cupcakes will reveal which Hogwarts house you belong to — a fun surprise for Harry Potter fans!. Each chocolate sorting hat is filled with colored frosting to match one of the four houses: Gryffindor, Slytherin, Ravenclaw, or Hufflepuff.
These soft, sweet, and scrumptious butterbeer cupcakes will make you feel as if you've been transported right to Hogsmeade! This recipe has a rich and flavorful butterscotch frosting that's easy to make with the help of butterscotch instant pudding mix. Topped with extra butterscotch sauce for added flavor.
Bring the game of quidditch to life with golden snitch cupcakes! This quidditch-inspired recipe features lemon cake, cream cheese frosting, gold sprinkles, and beautiful chocolate wings that add dimension to each treat. Try using gold cupcake liners for extra sparkle.
Magical creatures make not only great companions, but also cute cupcake toppers! These owl cupcakes look just like Harry Potter's very own Hedwig and are easy to make with Oreo cookies, M&M candies, and marshmallows.
5. Fondant Toppers
When it comes to decorating cupcakes, fondant will leave you with endless possibilities. Simply place a fondant circle on top of each cupcake over the layer of frosting, then use more fondant to create your desired topper. Books, brooms, Harry's glasses, and house elves are just a few of the Harry Potter cupcake ideas that you can use!
Celebrate house pride with these adorable scarf cupcakes! These scarf toppers are made from strips of fondant, cut and scored to perfection. You can easily transform white fondant into your desired house colors with the help of gel food coloring. 
Mandrakes are the iconic screaming plants that Harry Potter fans first meet in Herbology class. You can create your own Mandrake cupcakes at home with a DIY fondant mold, green frosting, and chocolate cupcakes that resemble soil. While this is one of the more detailed Harry Potter cupcake ideas, the results will be incredible!
Find your Hogwarts house with these butterbeer flavored cupcakes that contain a hidden surprise in the center of the cupcakes. As your guests take a bite, they'll find colored candy that matches one of the four Hogwarts houses. If you use mini colored chocolate chips, they'll even look just like the gems used to calculate House points!
These eye-catching cupcakes are decorated with a delicious buttercream frosting and topped with a golden snitch made from fondant. Using a toothpick to attach the wings will help with easy assembly. This recipe uses a gorgeous Gryffindor burgundy, but you can easily swap the gel food coloring to match another Hogwarts house.
10. Harry Potter Pull Apart Cupcakes
This pull apart cake is one of our favorite Harry Potter cupcake ideas, and it's sure to be a hit with your party guests. Not only does it have the fullness of a large and beautifully decorated cake, it's also so easy to serve and enjoy!
11. Harry Potter Cupcake Topper Ideas
With plenty of Harry Potter cupcake ideas out there, it can be hard to choose your favorites. Here is some inspiration for different cupcake toppers you can use for your Harry Potter party. Whether you create sorting hats, character faces, scarves, or broomsticks, your cupcakes will look stunning.
With a simple yellow lightning bolt in the center, these easy Harry Potter cupcakes are a tribute to Harry Potter himself. With the help of a cake mix and canned chocolate frosting, these can be made easily. This design is so easy to create and is the perfect way for Harry Potter fans to celebrate the Boy Who Lived.
Chocolate frogs are guaranteed to bring some magic to your dessert table. You can make your own chocolate frogs with the mold that you can find here. Pair this chocolate topping with peanut butter frosting, and you'll have a delicious flavor combination to satisfy any sweet tooth. 
14. Harry And Ron Cupcake Toppers
Recreate the faces of your favorite Hogwarts characters with DIY fondant toppers. These Harry Potter and Ron Weasly cupcakes are easy to make and will taste just as delicious as they are cute!
More cupcake recipes
📖 Recipe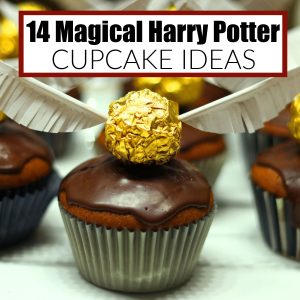 Harry Potter Cupcakes
A collection of Harry Potter cupcakes perfect for your next Harry Potter party including this simple cupcake idea.
Ingredients
1

box

chocolate cake mix

½

cup

vegetable oil

3

eggs

1 ¼

cup

water

2

tubs

vanilla frosting

red food coloring

blue food coloring

green food coloring

yellow food coloring
Instructions
Prepare the cupcakes according to the box directions. Once baked, let them cool.

Divide vanilla frosting into 4 bowls. In one bowl, add 3-4 drops red food coloring, in the second bowl, 3-4 drops yellow, next bowl 3-4 drops green, and last bowl 3-4 drops blue food coloring.

Pipe or spread each cupcake with a different color to represent each of the Howarts houses.
Nutrition
Calories:
251
kcal
Carbohydrates:
26
g
Protein:
4
g
Fat:
16
g
Saturated Fat:
3
g
Polyunsaturated Fat:
7
g
Monounsaturated Fat:
5
g
Trans Fat:
0.1
g
Cholesterol:
41
mg
Sodium:
314
mg
Potassium:
134
mg
Fiber:
1
g
Sugar:
14
g
Vitamin A:
60
IU
Calcium:
61
mg
Iron:
2
mg