A mermaid themed party is a fun and festive way to celebrate the siren within. Whether you are planning to host a mermaid birthday party or an under-the-sea themed baby shower, this list of mermaid cake ideas will set you up for success!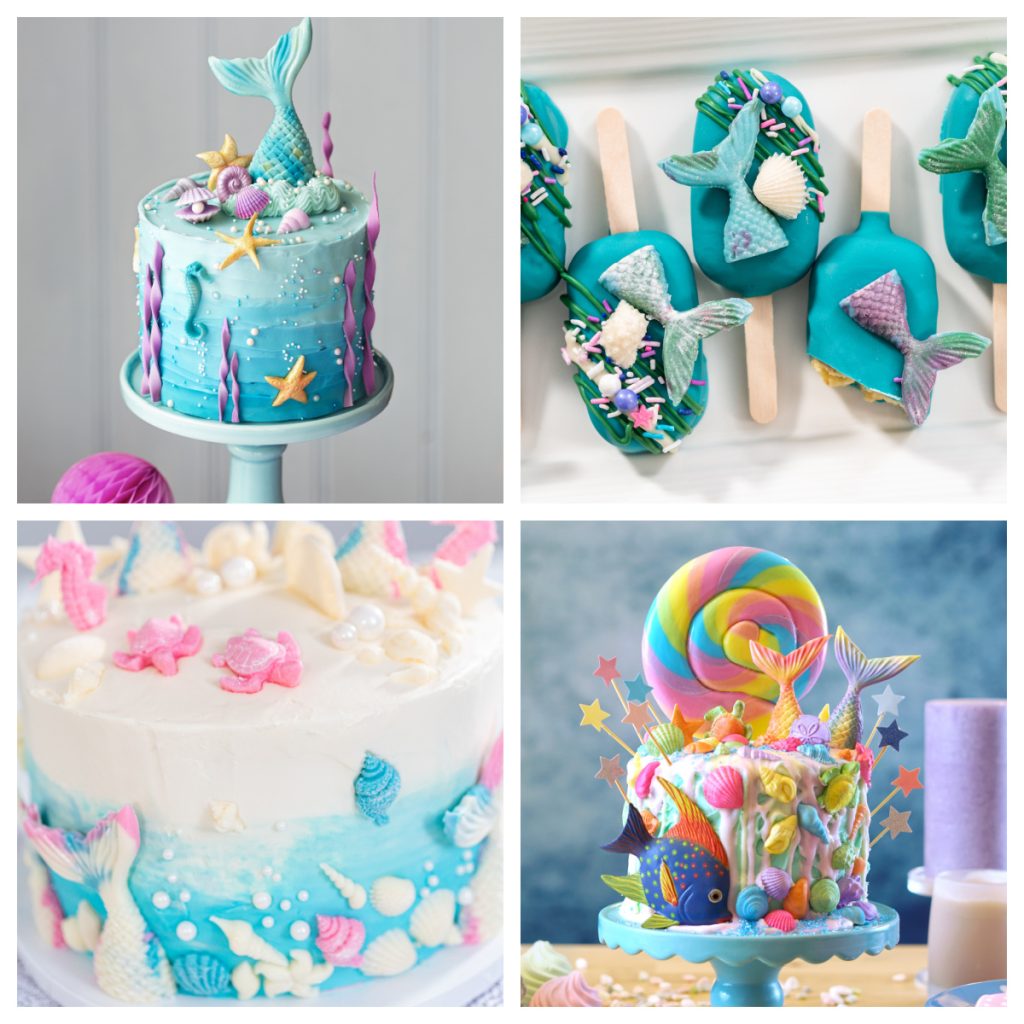 Mermaid Birthday Cake Ideas
Mermaids come in all shapes and sizes, and this curated list of the 20 most inspired mermaid cake ideas has a little something for everyone. You'll find mermaid themed cakesicles, sheet cakes, ice cream cakes, mermaid cupcakes, and more!
Whether you prefer to make everything from scratch or are in a time crunch, this list of some of the best cakes has you covered. All of these magical mermaid theme recipes are infused with the swirling colors and shimmering, pearly iridescence you expect from the mystical world of mermaid magic.
Honor all the little mermaids in your life with these scrumptious mermaid birthday cake ideas!
This decadent little cake features super moist vanilla layers and luscious buttercream. Blue-green frosting is used to make an enchanting effect that looks just like mermaid scales.
This cake features mermaid colors throughout the batter for a colorful, mesmerizing effect. The same three colors are used to make mermaid scales out of frosting, and the whole thing is topped off with a handmade chocolate fondant mermaid tail.
This adorable cake is made completely out of chocolate cupcakes and buttercream frosting arranged to look like a mermaid tail. It's surprisingly easy to make and even easier to serve. Perfect for your next mermaid party, whether it's a baby shower or birthday.
Break out the sprinkles, buttercream icing, and mermaid tails! You can choose to make cupcakes, cakes, or both for this simple, elegant mermaid birthday cake idea.
One of our favorite mermaid cake ideas, use multiple layers and multicolored frosting to create a tall, upright mermaid tail. This one takes a bit more time, but it is totally worth it. It actually looks like a diving mermaid!
This charming recipe is complete with mermaid tails, mermaid scales, sea creatures, and even edible sand. A number 9 shaped pan gives the cake all the right curves for the job.
Here's one of those mermaid cake ideas that might just make you swoon! Think cold, oversized cake pops, covered in smooth white chocolate, and decorated with handmade mermaid tails and lots of sprinkles.
This lavishly layered and beautifully colored cake is a total show stopper. Each layer is another magical under-the-sea hue, and the whole thing is topped off with a bold, brightly colored mermaid tail.
9. Unicorn Mermaid Cake
Celebrate all your favorite mythical creatures with this magically eclectic unicorn mermaid cake. For the fantasy lover in all of us, this colorful cake has mermaid tails, mermaid scales, sea creatures, and a unicorn head.
Ombre purple cake layers, bright blue frosting, and iridescent sprinkles on top create a wonderfully whimsical effect. This easy mermaid cake recipe post has a bonus recipe for adorable, under the sea clam cookies too!
Try this super fun and easy DIY mermaid ice cream cake. It's made in a large glass casserole dish so you don't have to worry about ice cream molds. This charmer is complete with mermaid tail cake toppers coming out of the water, candy sea creatures, and edible graham cracker crust sand.
This is an easy and clever hack for your list of mermaid cake ideas. Grab a premade, undecorated Carvel ice cream cake and get creative. Grab some frosting, food coloring, and some under the sea candy molds and let your imagination run wild.
This pull-apart cupcake cake uses funfetti cupcakes and airbrushing to create a magically alluring mermaid birthday cake. Cupcakes are arranged in a mermaid tail shape to form this fun pull apart cake. The color profile on this one is magnificent, with tons of pearly, shimmering colors and a variety of teals and purples.
Delight the little mermaids in your life with this quick, easy, no fail Ariel cake. Simply buy an undecorated cake and adorn it with Little Mermaid figurines and other seashore oriented goodies.
This cute confectionary creation is adorned with lovely pastel watercolors both inside and out — plus, it's covered in lots of sprinkles! This is another one of those versatile mermaid cake ideas that will work wonderfully for a birthday party, baby shower, or any other meeting of mermaids.
Ride the waves with this sweet little layered cake. Swiss meringue buttercream is dyed different shades of ocean blue and piped all over the side of the cake for a wave-like appearance. The whole thing is topped off with edible candy shells, starfish, and other creatures.
17. Mermaid Sheet Cake
Looking for mermaid cake ideas to feed a crowd? This mermaid sheet cake is easy to make (or order) and can be made into any size needed. Blues, purples, greens, and pinks are used to create a sensationally swirly, underwater effect.
18. Rainbow Mermaid Cake
This marvelous rainbow mermaid cake is an edible piece of art. Using all the colors of the rainbow, it fashions an underwater landscape, complete with a tiny kelp forest and coral. It's so lovely, you might not want to eat it!
Use food coloring, frosting, and marshmallow fondant to bring this sweet little mermaid birthday cake to life. This dessert is perfect for smaller occasions and can be made using any cake recipe or mix.
20. Giant Cupcake Cake
If pull-apart cupcake cakes aren't for you, what about one massively enormous cupcake!? This fun twist on mermaid birthday cake will have your party guests talking for weeks. Complete with mermaid tails, seashells, sprinkles, and swirls, this one is an absolute stunner!
Talk about a flavorful cake! This blue raspberry flavored cake will make you think of Summer. Lemon juice and raspberry extract are used to make this cake stand out from others.
22. Mermaid Mirror Glaze
Fun and colorful, this mirror glaze cake really stands out. Blues and pinks pour over this cake do make a beautiful drip icing.
23. Mermaid Doll Cake
Try using a doll for your mermaid cake topper. This cake has a doll in the middle of the cake with a fondant mermaid tail that cascades down the side of the cake. You could even use a Disney Ariel doll for a cute Ariel mermaid cake.
The darker base color of this cake really makes it pop. Perfect for more of an adult mermaid theme party, this cake looks elegant and tastes amazing.
25. Beautiful Number Cake
Blue, purple, and pink colors really make this gorgeous cake stand out. Shaped in the birthday number, this delicate cake really is something special.
A wonderful mermaid cake tutorial will guide you through the steps of making this scaled cake. Use your favorite colors to design this mermaid tail inspired confection.
The pastel theme of this beautiful cake is sure to stand out on your dessert table. Mermaid scales are made with fondant and the cake is topped with frosting, mermaid tails, and sea shells.
This under the sea theme cake is sure to bring any mermaid party to life. Colorful coral, starfish, and shells set this cake apart. Used crushed graham crackers to make authentic looking sand to surround the cake.
More Fun Cake Ideas
📖 Recipe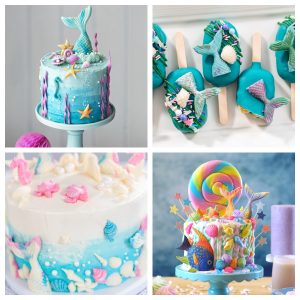 Mermaid Cake Ideas
A group of magical mermaid cake ideas for your next mermaid theme party. Beautiful mermaid cakes and recipes that are sure to inspire.
Ingredients
1

store bought white vanilla cake

pink sprinkles

purple sprinkles

teal sprinkles
Instructions
Top cake with a mixture of the pink, purple, and teal sprinkles. If desired, add some to the side of the cake as well.
Nutrition
Calories:
1923
kcal
Carbohydrates:
421
g
Protein:
21
g
Fat:
19
g
Saturated Fat:
10
g
Polyunsaturated Fat:
2
g
Monounsaturated Fat:
4
g
Trans Fat:
2
g
Sodium:
3583
mg
Potassium:
321
mg
Fiber:
6
g
Sugar:
218
g
Calcium:
1132
mg
Iron:
10
mg