Lions, tigers, and cakes — oh my! From birthdays to baby showers, a jungle theme party is a fun and festive way to celebrate. Tap into your animal nature and take a walk on the wild side with this exciting collection of jungle cake ideas.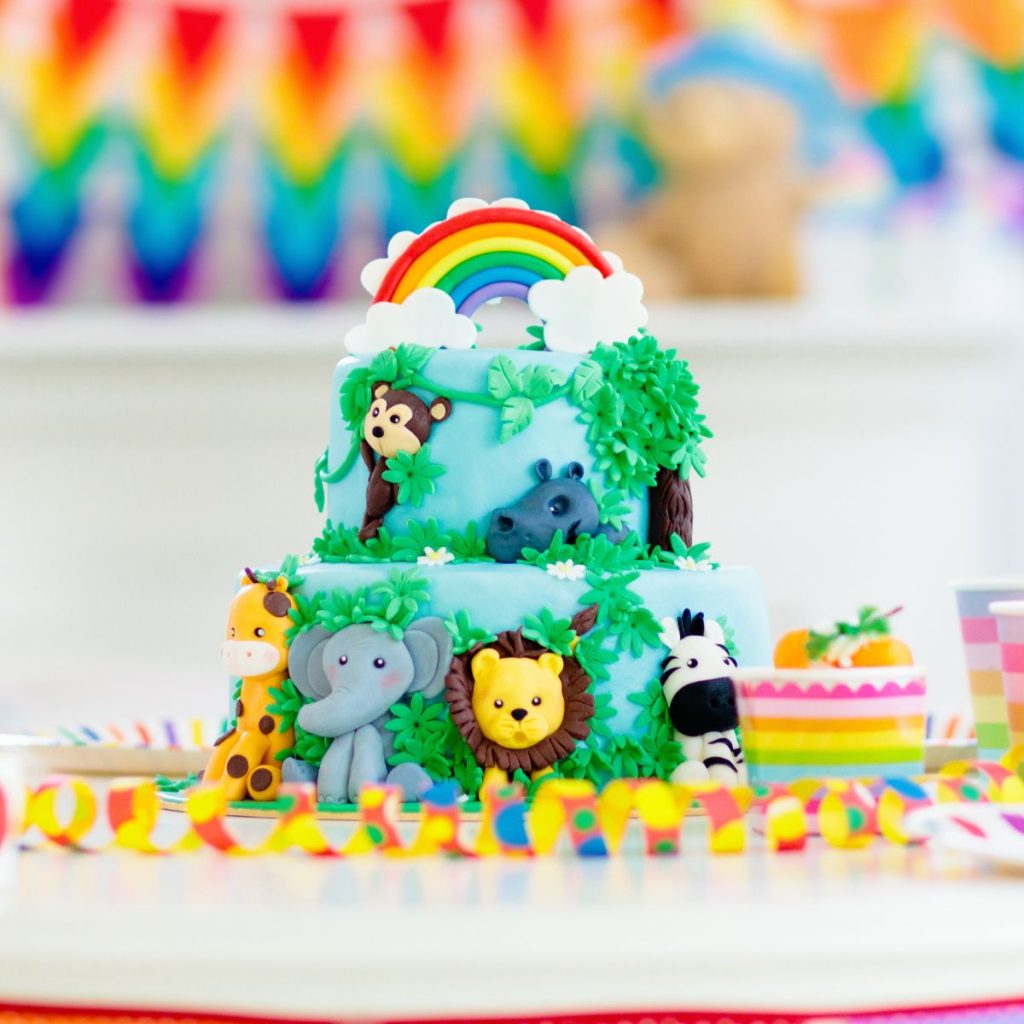 Amazing Jungle Theme Cake Ideas
This curated list of jungle theme cake ideas has a little something for everyone. It features everything from multi-layered, ornately decorated cakes to simple sheet cakes and adorable jungle animal cupcakes.
Whether it's a jungle safari birthday cake for a toddler or a graduation cake for your teenager, we've got you covered!
With this helpful list of jungle cake ideas, your jungle themed party is sure to be a success. Whip out the cheetah print apron and let's get to baking!
Celebrate your tiny Tarzan's first birthday with this charming two-tiered birthday cake. It's complete with fondant jungle animals including elephants, giraffes, monkeys, and plenty of twisty vines. It also includes a cute smash cake.
This jungle theme cake is one of the most stunning jungle cake ideas we've encountered. It features 3 layers of scrumptious cake and expertly crafted, three dimensional jungle animals. This birthday cake even has a swinging monkey on top!
This brightly colored, extravagant cake is host to a menagerie of three dimensional jungle palm trees and animals. This jungle safari cake is just about too cute to eat!
4. Jungle Forest Cake
Get ready to transport to the jungle floor with this creative and colorful jungle cake. Not only does it feature all your favorite jungle animals, it also boasts a waterfall, lots of lush trees, and miniature mushrooms. 
This is one of those jungle cake ideas that is dressed to impress. The fun doesn't stop with the adorably expressive jungle critters decorating the three layers. Inside each layer of this jungle safari cake, you'll discover a different animal print including cheetah spots, zebra pattern, and tiger stripes.
This lavishly decorated, jungle theme cake has three layers packed full of jungle flora and fauna. It has the usual jungle animal lineup, plus a few new fondant friends including panda bears, toucans, and hippopotamuses.
This jungle safari cake is pretty in pink yet just as wild. Two pastel pink layers are lined with fondant jungle animals and carefully crafted foliage. The best part is the rising sun and palm tree scene on top.
Throwing a baby shower and looking for jungle cake ideas? This one's for you! This easy to make sheet cake is adorned with baby jungle animals in front of a background of unfurling ferns. It makes a great birthday cake too.
9. Baby Shower Jungle Cake
Here's another of the jungle cake ideas made with baby showers in mind. This precious little carrot cake uses fondant jungle creatures and several shades of green to create a quaint jungle scene. My favorite part is the bright green, wispy grass. 
10. Jungle Birthday Cake
This precious birthday cake is made using a numbered cake pan and decorated with layers of homemade marshmallow fondant. The layered leaves create a cover for the baby animals to hide while a monkey swings from tree to tree. 
Follow this tutorial and get ready to make a ridiculously cute cake. We're talking lions with balloons, monkeys with presents, and swimming elephants in party hats. Yes, please!
12. Buttercream Lion Cake
This beautiful two-tiered round cake recipe uses multicolored buttercream frosting and expert piping technique to create the stunning mosaic of a lion. Make this birthday cake and get ready for a rip roaring success!
13. Jungle Cake With Figurines
This two tiered cake is magically transformed into a jungle scene with buttercream grass, a wafer cookie border, and jungle animal figurines as a cake topper. The placement of the animals and wafer cookies gives the cake a fun, dynamic effect.
14. Waterfall Jungle Cake
This eye popping cake has bright, vivid colors and cute jungle critters decorating its two tiers. The jungle green icing pops even more when highlighted by the bright blue waterfall cascading down the side and the fondant animals add so much cuteness to the cake.
You can easily transform a simple buttercream cake into a jungle theme cake with animal cake toppers and a bit of greenery. This creative recipe makes boulders out of Ferrero Rocher candies and foliage using fresh thyme and rosemary. Brilliant!
16. Elegant Jungle Cake
This enchanting jungle cake uses dainty animal figurines and wispy bits of real foliage for a truly elegant effect. This earth-toned jewel is another one of those jungle cake ideas versatile enough for all ages and all types of celebrations.
17. Jungle Drip Cake
This breathtakingly beautiful cake is stacked high with layers of chocolate cake and buttercream frosting. Melted chocolate is used to create the hypnotizing drip effect that gives this cake its name. Then, figurines of jungle animals and foliage effortlessly transform it into a jungle theme masterpiece. 
Delight the little lions in your life with this marvelous little jungle theme cake. This adorable little lion is complete with a flowing buttercream mane and a festive party hat. The recipe includes step by step instructions for birthday cake success. 
19. Gold Jungle
This elegant two tiered cake features vibrant green foliage airbrushed on a white, buttercream frosting backdrop. The second tier is adorned with shimmering gold fondant cutouts of majestically posed jungle animals. This is one of those jungle cake ideas perfect for all ages and occasions! 
Bring your favorite creatures to life with these impressive jungle animal cakes. This tutorial contains tips to create zebras, giraffes, lions, elephants, monkeys, and more!
At first glance, it might not seem like this cake belongs on a list of jungle cake ideas. However, beneath those layers of buttercream frosting, mesmerizing zebra stripes await. Embrace the jungle animals within with this zebra print cake!
Will you be trying one of these delicious cakes to go with your jungle party theme? Let me know in the comments.
Jungle Cake Toppers
More Birthday Cake Ideas
📖 Recipe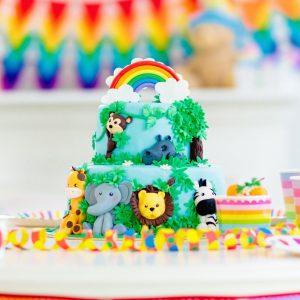 Jungle Cake Ideas
A collection of amazing jungle cake ideas. These jungle and safari cakes are perfect for birthdays, graduations, baby showers, and more.
Ingredients
1

vanilla or chocolate cake

store bought or homemade

1

jungle cake topper
Instructions
Place cake topper into cake of choice.
Nutrition
Calories:
231
kcal
Carbohydrates:
39
g
Protein:
3
g
Fat:
8
g
Saturated Fat:
2
g
Polyunsaturated Fat:
3
g
Monounsaturated Fat:
3
g
Sodium:
446
mg
Potassium:
178
mg
Fiber:
1
g
Sugar:
21
g
Vitamin A:
2
IU
Calcium:
81
mg
Iron:
2
mg