Celebrating your birthday boy or girl with a dinosaur birthday party will be so much fun, and a dinosaur themed cake will make your guests feel as if they've been transported straight to Jurassic World! Here are 31 creative dinosaur cake ideas for your next dinosaur party.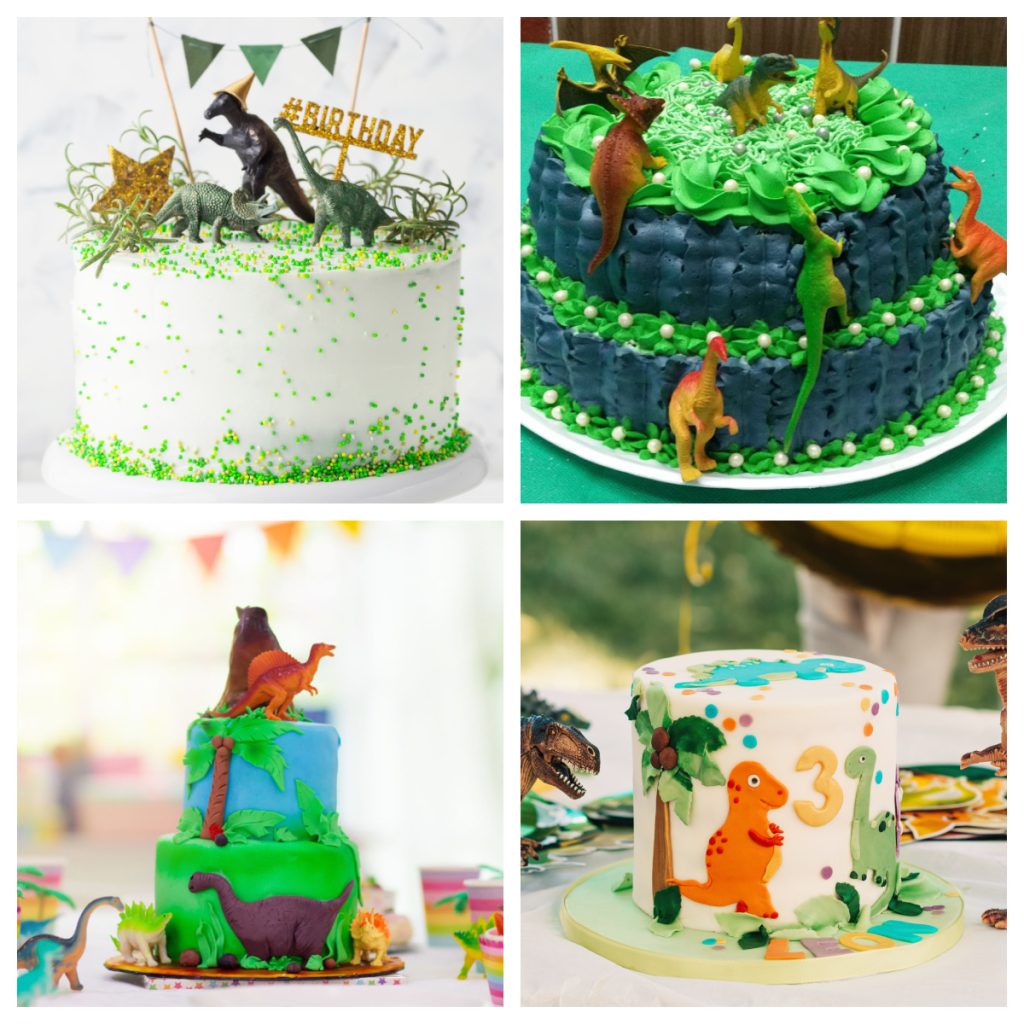 Best Cake Ideas For A Dinosaur Lover
We've gathered some of the best dinosaur birthday cakes that will take your party to the next level.
The best part is that these simple cake ideas are easy to recreate at home!
From classic cakes to cupcakes to cake pops, this list of some of the best dinosaur cakes has plenty of options that are perfect for dinosaur lovers of any age.
1. Dinosaur Head
Making your own dinosaur cake is easy with buttercream frosting, piping tips, and fondant. You can customize the color of this realistic dinosaur cake by adding a few drops of gel food coloring to your frosting!
Transform a classic sheet cake into a dino oasis by adding some toy dinosaurs! You can use frosting and candy to create natural elements such as volcanoes, lakes, and rocks.
This number cake is not only adorable, but also so easy to make! Crushed Oreos are the perfect ingredient to make your number stand out, turning the cake into a fun dinosaur dig site.
4. Dinosaur Volcano Cake
Volcano dinosaur cake ideas are guaranteed to be a delicious eruption of sweetness. Lit up with sparklers, this eye-catching volcano cake will be a hit with all of your party guests.
Dinosaur cake ideas don't need to be complicated! We love the simplicity of this ombre buttercream cake with green frosting, topped with dinosaur toys to fit perfectly with the party theme.
Colored frosting, candy, Oreos, and dinosaur toys are all you need to create this cute DIY idea. Make it a tiered cake and frost some waterfalls!
While this cake requires a bit of time and detailed work, the results will be absolutely stunning. You can find the step-by-step instructions for how to sculpt and assemble the cake here.
Decorated with Oreo frosting and a rich chocolate ganache, this dino cake is every chocolate lover's dream. Add your favorite dinosaur cake topper to finish it off.
Digging into this cake will be a delicious treat! Decorate your Oreo "dirt" cake with the remains of edible dinosaur bones. You can find dinosaur bone molds linked here.
A three dimensional dino will help bring your theme to life. Once you cut your cake to match the pieces in the template, you can piece it all together with the help of frosting and toothpicks.
Swap candles for sparklers and get ready for an unforgettable eruption! This volcano cake will be the talk of the party, with Jello and dry ice combining to create exploding lava.
Jurassic Park Cakes
12. Jurassic Gate
Enter right into Jurassic Park with a cake that features the iconic Jurassic Gate! Your guests will love this adventure themed cake.
13. Dinosaur Claws
Fondant is a great tool for all of your dinosaur cake ideas –– so easy to work with and customize the color! We love how these fondant claws add dimension to this simple, cute cake.
Birthday cake is so delicious, not even dinosaurs can keep their claws away from it! You can easily achieve this create clawed-in look by scoring your fondant.
15. Jurassic Waterfall
A frosting waterfall will add a splash of color to your birthday cake. Be sure to make your tiered cake tall so that your waterfall can have a few layers!
16. Jurassic Park Cake Printables
There are plenty of simple dinosaur cake ideas that you can create with the help of printables! Here are some ideas for how you can use printable leaves and dinosaur silhouettes.
Top off your cake with a dinosaur egg! You can mold and make your own dino egg topper with fondant and food coloring.
18. Jurassic World Tiered Cake
With claws, trees, and dinosaur silhouettes, we're a big fan of the way that this impressive dinosaur cake brings together different dinosaur cake ideas!
19. Blue Jurassic World Cake
This beautiful blue dinosaur themed cake is easy to make at home. Add some dinosaur bones, edible "pebbles," and you'll turn this simple tiered cake into an eye-catching treat.
One of our favorite dinosaur cake ideas is this mini bundt cake creation! All you need is chocolate cake mix, red icing, and red Jolly Rancher candy to create these single-serving volcanoes.
More Easy Dinosaur Themed Cakes And Cupcakes
21. Cute Dinosaur Cupcakes
Cupcakes are the perfect grab-and-go treats for any birthday party. Recreate this simple design with buttercream frosting made with bright colors and fondant spikes.
The possibilities are endless with Jurassic Park themed cupcakes! You can use frosting, toasted coconut, and malted milk balls to create dinosaur tracks and eggs.
Pull apart cakes will be great at your next dinosaur party because they have the fullness of a regular cake, but are so easy to divide and serve!
Cake pops can double as either a delicious bite-sized dessert or a cute party favor. These cake pops look just like little dinos and are almost too cute to eat!
Dinosaur Cakes For Girls (Or Boys)
How cute is this dinosaur ballerina cake?! This colorful cake with a dancing dino is the perfect treat to help your birthday girl celebrate her special day.
Pink and gold colors will look beautiful together on this dinosaur party cake. Make it for any little girl who's a dinosaur lover!
27. Colorful Dinosaurs
Colorful, cute dinosaurs will add some fun to your celebration. Pair these toppers with a variety of rainbow sprinkles to complete the look.
28. Cakeasaurus
Use the birthday girl's favorite colors to create the cutest dinosaur cake topper from fondant! This simple design is so easy to make at home.
Dinosaur Cakes For Boys (Or Girls)
Crushed chocolate chips cookies will help you create edible "dirt" for your dinosaur cake. This delicious cake idea is perfect for chocolate lovers, topped with a tasty chocolate ganache.
30. Dinosaur Forest Cake
Using fondant and piped frosting, you can create a dinosaur forest cake decorated with a variety of plants. This amazing cake will be a hit for anyone who loves nature or adventure.
This easy dinosaur theme cake is a must-have for any dinosaur lover who is also a Disney fan! Covered in chocolate frosting and candy, this is a simple cake to make at home. You can find the Arlo and Spot figurines linked here.
Dinosaur Cake Toppers
More Birthday Cake Ideas
📖 Recipe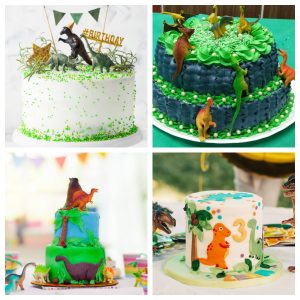 Dinosaur Cake Ideas
Some of the best dinosaur cakes and dinosaur cake ideas around. Find ideas and recipes for delicious dinosaur cakes for your next dinosaur themed party.
Ingredients
1

store bought chocolate cake

1

tub

vanilla frosting

3-4

drops

green food coloring

dinosaur figurines
Instructions
Add green food coloring to vanilla frosting. Stir to combine and turn the frosting green.

Place green frosting in a piping bag with star tip. Pipe green frosting around the top of the chocolate cake.

Add dinosaur figurines to the top of the cake.
Nutrition
Calories:
294
kcal
Carbohydrates:
50
g
Protein:
3
g
Fat:
11
g
Saturated Fat:
2
g
Polyunsaturated Fat:
4
g
Monounsaturated Fat:
4
g
Sodium:
473
mg
Potassium:
183
mg
Fiber:
1
g
Sugar:
30
g
Vitamin A:
2
IU
Calcium:
81
mg
Iron:
2
mg