Spring is in the air and with it comes endless cause for celebration. The flowers are blooming, the birds are chirping and the butterflies are fluttering! Celebrate the beauty of this season with this list of spectacular butterfly cake ideas!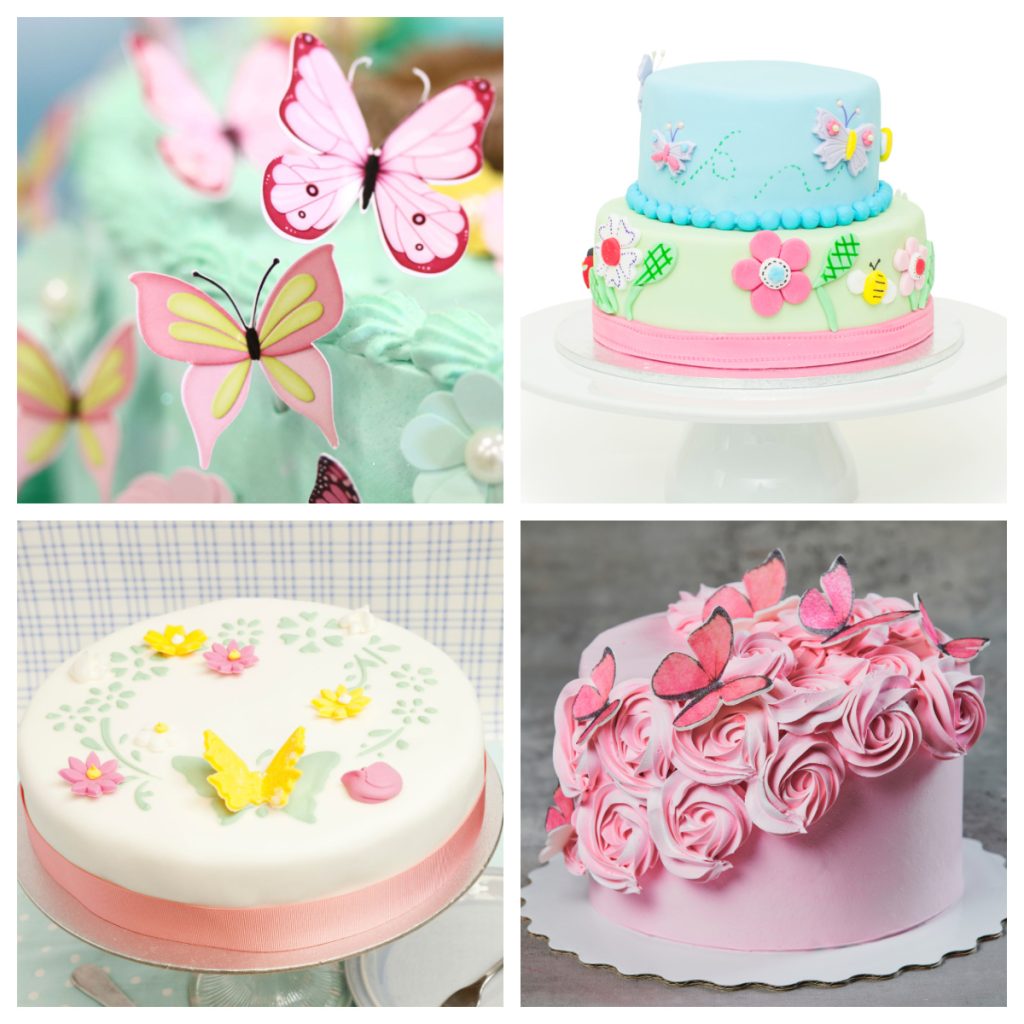 Butterfly cakes make the perfect centerpiece for all types of parties, not just spring or summer celebrations. Graduations, baby showers, birthdays, and weddings can all be granted a whimsical touch with a little butterfly magic.
Lucky for you, we've put together a list to cover all these festive occasions and more. You'll find shimmering butterfly wings covered in gum drops, rainbow colored buttercream mosaics, cupcakes to decorate with the kids, and much more!
Best Butterfly Theme Cakes
This list of butterfly cake designs has everything you need. Get ready for delicate, dainty, and divinely delicious desserts!
Kicking off our list of butterfly cake ideas, we have this lovely, easy to make butterfly cake from Betty Crocker. It features whimsical butterfly wings decorated with multicolored sparkling sugars and other candies. You are sure to love the butterfly cake recipe!
Learn how to turn a simple 9 inch round cake into one of the most adorable butterfly cakes you've ever seen. The butterfly wings are brought to life with purple buttercream frosting and rainbow colored gumdrops.
3. Candy Butterfly Cake
Make this vibrantly colored butterfly dessert with chocolate cake, chocolate frosting, and M&Ms. The candies are arranged to create a dazzling rainbow effect on the wings of the butterfly. It's one of the best butterfly cake ideas for chocolate lovers.
4. Barbie Butterfly Cake
This show stopping cake is perfect for any butterfly loving princess in your life. It features Barbie herself, adorned with butterfly wings and dressed in a flowing pink gown of buttercream frosting.
This pink, two tiered cake features a flight of multicolored, fondant butterflies fluttering up the side to a rainbow on top. Buy your fondant butterflies premade or check out the link above to try the DIY version.
This is one of the most stunning butterfly cake ideas out there. Transform a simple sponge cake into a magnificent Monarch butterfly cake using buttercream frosting, food coloring, and stencils. It looks just like the real thing!
Brightly colored sprinkles and buttercream layers create an eye-popping rainbow effect that brings this cake to life. The fun doesn't stop there though! Cut a slice and discover the baked in rainbow swirls.
Fly like a butterfly and dance like a ballerina with this charming two-tiered cake. It's hard to beat fluttering paper wafer butterflies ascending to meet the dancing princess on top.
Use a number cake pan, purple frosting, and marshmallow fondant butterflies to recreate this scrumptious gem. This butterfly cake is perfect for butterfly themed birthday parties.
This expertly decorated cake features a bright blue, red, and yellow pattern and an animated butterfly face. It almost looks like it flew straight in from a Pixar movie!
This artsy little cake is almost too cute to eat. Marshmallow fondant cut outs and pearlescent accents form a beautiful mosaic pattern on the wings.
Get your butterfly wings just the way you want them with this multiple choice tutorial. You can choose from 3 different ways to transform a 9 inch round cake into a butterfly.
This is one of the most enchanting butterfly cakes you'll encounter. Don't be fooled by the whispering butterfly wings on top though. The real surprise is the butterfly shape infused batter!
Here's another stunner on our list of butterfly cake ideas. This chocolate buttercream cake is extravagantly decorated with colorful candies and has a twisty marshmallow body. Great news though — it's incredibly easy to make.
This sweet spring butterfly cake is made from marbled chocolate cake and buttercream frosting. Licorice strips make the butterfly's body. Gum drops, and other candies add the perfect finishing touches to the butterfly wings.
You can make these beautiful British butterfly cakes with a simple white cake mix, buttercream frosting, and a dollop of raspberries jam. Park of the cupcake is used to make the wings of a butterfly that sit on top.
Also called fairy cakes, these delightfully delicate treats are perfect for weddings, baby showers, or just afternoon tea.
Looking for butterfly cake ideas to make with the kids? Look no further! Gather the gang and have a blast making butterfly wings out of pretzel twists, white chocolate, colorful frosting, and sprinkles.
These easy to make cupcakes are topped with pink frosting and can be made with any flavor cake. This is another of the butterfly cake ideas the kids will love to decorate with candies, sprinkles, and pretzels.
Turn your regular cupcakes into dainty butterfly delights using candied fruit slices, gummy worms, and sprinkles. It's another great one to do with the kids.
These butterfly cupcakes feature vibrantly colored buttercream frosting with matching butterfly toppers. This step by step tutorial will teach you how to make these edible decorations out of chocolate candy melts.
Jazz up your butterfly cake ideas with these marvelous gelatine butterflies. They have richly colored, life-like wings sure to elevate all your butterfly cakes or cupcakes. Try placing them on top of the cake or on the sides.
Make your very own fondant butterflies at home with these easy to follow instructions. These dreamy little butterflies will help you take all of your other butterfly cake ideas to the next level.
Follow these easy DIY instructions to make your own signature chocolate butterfly wings. These little beauties are perfect for butterfly cakes, cupcakes, or any of your butterfly cake ideas.
Try the DIY recipe for light, airy, and life like paper wafer butterflies to improve all your butterfly cake ideas. They take a while to complete, so be sure to plan in advance.
Undeniably adorable, these cake pops feature tiny, delicate butterflies and mini nature scenes. This is edible art at its finest!
Will you be making one of these amazing cakes for your next special occasion? Let me know below.
Butterfly Cake Topper
More Beautiful Birthday Cakes
📖 Recipe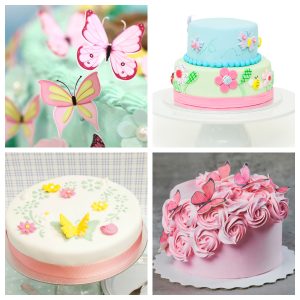 Butterfly Cake Ideas
A group of beautiful butterfly cake ideas. Butterfly cakes, cupcakes, and butterfly cake toppers, there are wonderful ideas to help make your own butterfly cake.
Ingredients
1

round

vanilla cake

1

tub

frosting

choose your favorite color

sprinkles

for decoration
Instructions
Cut the round cake in half. Turn them around and push beside each other to make wings.

Frost the cakes with a thin layer of frosting. Decorate with sprinkles.
Nutrition
Calories:
63
kcal
Carbohydrates:
10
g
Protein:
0.01
g
Fat:
2
g
Saturated Fat:
0.4
g
Polyunsaturated Fat:
1
g
Monounsaturated Fat:
1
g
Sodium:
28
mg
Potassium:
5
mg
Fiber:
0.001
g
Sugar:
10
g
Calcium:
1
mg
Iron:
0.03
mg