Birthdays are a cause for celebrating, and these birthday dessert ideas are perfect for kids and adults alike.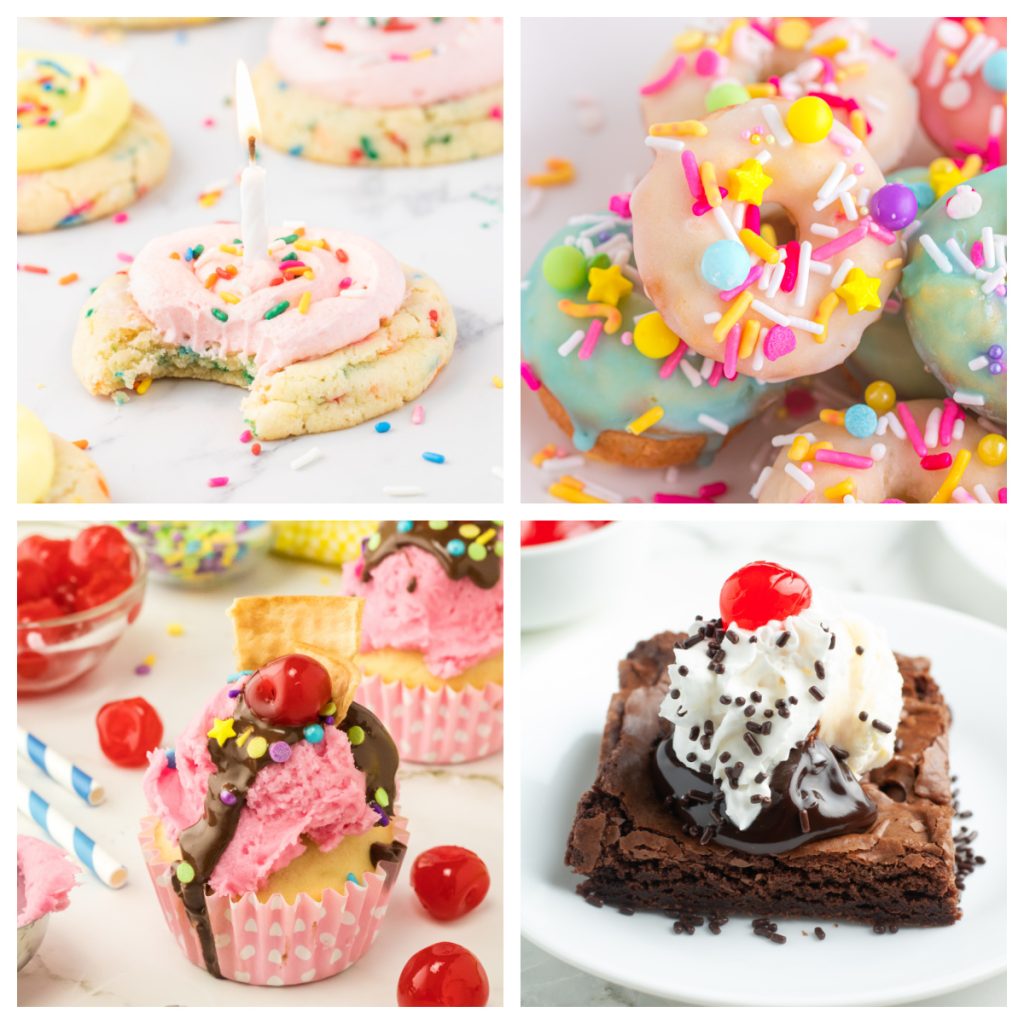 No birthday party is complete without a sweet treat to top it off. While classic birthday cake is the traditional dessert, there are so many other enticing desserts to try. Don't get me wrong, we love a good cake around here, but sometimes we want to mix it up.
Enter this list of incredible birthday dessert ideas. As everyone's sweet tooth can differ, this comprehensive list will give you unique suggestions to satisfy even the most finicky eaters. 

From truffles to donuts to fudge to cookies and cakes, there is something for everyone. Read through to find your next great birthday dessert idea. 
Funfetti cake mix is turned into colorful, fun cookies with this creative recipe. The cookies are soft, chewy, moist, and delicious. They have colorful sprinkles throughout and are decorated with sprinkles. These are a great alternative to a large cake and perfect for any birthday celebration. 
Looking for a fun, unique sweet treat to wow partygoers at the next birthday party? Look no further than these amazing sundae cupcakes. These birthday cupcakes get a scoop of frosting in them and then are topped with chocolate ganache, a cherry, and colorful sprinkles.
Birthdays need a quality dessert, and this ice cream layer cake is perfect for a summer birthday party. A fluffy funfetti cake is layered with an ice cream mixture for a multi-faceted sweet treat. Ice cream and cake go together like peanut butter and jelly; it just works. Colorful sprinkles add to this festive dessert.
Red velvet cake is the embodiment of decadence and luxury. It is an upscale, sophisticated, traditional cake that is perfect for any special day. The cake is topped with a heavenly cream cheese glaze that complements the moist, silky texture of the cake. Make it in a Bundt pan for an elegant presentation and wow partygoers. 
Fresh strawberries always make for a refreshing sweet treat. Including them with a cake makes for an even better dessert. A fluffy vanilla cake is topped with a whipped cream frosting and tasty, sweet fresh strawberries. This version is made in a sheet pan, making it perfect for a large birthday party.
A good old-fashioned brownie sundae never goes out of style. With a thick, fudgy brownie topped with ice cream and chocolate sauce, who can resist? Whether it is a birthday party, a dinner out, or a birthday spent at home with family, a brownie sundae always hits the spot.
This tried and true sweet treat should not be overlooked when deciding on a birthday dessert.
This may be the most unique birthday dessert idea yet. A birthday dessert board is simply a large board of delicious sweet treats.
It is a spectacular presentation full of all the birthday desserts you could want. You can customize it to your preferences, but this show-stopping board full of colorful sprinkles will inspire you to make an incredible birthday dessert fit for a Queen.
Chocoholics will crave this insanely chocolatey birthday dessert. Rich, fluffy chocolate cake is poked and filled with chocolate sauce. Covered in a chocolate frosting and topped with more chocolate pieces, it is chocolate on chocolate.
Chocolate cake is one of the most iconic birthday cakes, and this cake takes it to the highest of chocolatey levels.  
A vibrant sweet treat that tastes even better than it looks is confetti cupcakes. They are moist, fluffy, and bursting with colorful sprinkles. These cupcakes are topped with vanilla buttercream frosting and more gorgeous sprinkles. This is a dessert that shouts happy birthday from the rooftops.
This is a simple, elegant dessert that is silky smooth and oh-so-delicious. The chocolate mousse is a decadent, creamy delight with a whipped cream topping. Serve it in individual cups for an elegant presentation. It is the perfect sweet treat to complete a birthday dinner party.
Ice cream dreams do come true with this inventive, no-churn recipe. Delicious, frozen ice cream is made that tastes just like cake batter. Everyone loves cake and ice cream, so why not combine the two into one enticing dessert? With colorful sprinkles, it is a fun sweet treat for any birthday party. 
Combining two incredible desserts into one decadent sweet treat is genius. Birthday cake cheesecake is the mouthwatering mashup of birthday cake and cheesecake. It is creamy, rich, decadent, and full of colorful sprinkles. This is the ultimate birthday dessert for any cake lover.
When you need a simple birthday party dessert, these cake batter truffles are just the thing. Delicious bite-sized morsels taste just like a fabulous birthday cake. This is a no-bake recipe that comes together in 45 minutes. They are full of colorful sprinkles adding to a festive birthday party theme. 
Love fudgy brownies and birthday cake but not up to making two desserts? You don't have to with this amazing sweet treat. It has the best of both worlds with a brownie base and birthday cake with cream cheese topping.
Add colorful sprinkles for the ultimate birthday party sweet treat. These are guaranteed to be devoured, so you might want to make a double batch. 
The classic banana split is an underrated dessert. It is full of incredible flavors and textures, making it a wonderful birthday party treat. It is a fun activity for the kiddos, and big kids, to assemble their own.
The ice cream with fresh bananas, chocolate sauce, nuts, and colorful sprinkles creates a delightful sweet treat for every birthday girl or boy. 
A fun spin on a traditional birthday cake, this delightful recipe is refreshing and flavorful. The vanilla cream cookie crust is covered with a cream cheese layer and then a vanilla pudding layer.
Topped with colorful sprinkles, this is a sweet treat served cold. The flavors are refreshing and tantalizing to the taste buds. It is a splendid addition to any birthday party. 
Sugar cookies are a favorite traditional cookie. Their versatility in shapes and decorations makes them the perfect cookie for any occasion. The classic cookie version is upgraded in this heavenly recipe.
The sugar cookies are turned into bar form and topped with vanilla buttercream. They are soft, chewy, and delicious. Colorful sprinkles top them off for the ultimate sugar cookie sweet treat. 
There isn't a party dip more fun than this one. This dessert dip is a flavorful blend of cake mix, whipped topping, and yogurt. It is simple to make and a wonderful addition to a birthday party table. Serve with animal crackers and colorful sprinkles for a fun and tasty sweet treat everyone will enjoy. 
What better way to make the birthday girl or boy feel special than with this magical birthday dessert. Layers of crunchy birthday cake Oreos paired with layers of creamy chocolate and vanilla puddings, all topped with colorful sprinkles are a divine combination.
This stylish sweet treat is a decadent and delicious blend of flavors perfect for celebrating that special someone.
Cookie cake is always a favorite when it comes to celebrating a birthday. This delicious chocolate chip cookie cake can be decorated with your favorite frosting and sprinkles.
Not everyone loves cake or chocolate, and it is fun to mix things up. Mini donuts are a great way to add a versatile sweet treat and create a different yet delightful birthday dessert.
This recipe is simple to make and whips up in less than 20 minutes. Use different food colorings to create an array of colorful donuts and top them with sprinkles for an all-around colorful dessert for any birthday party. 
Cake batter fudge is the tantalizing flavor of cake batter in fudge form. Funfetti cake mix and colorful sprinkles add to the decadent flavors of this heavenly fudge. It makes a wonderful sweet treat for birthday parties and is simple to create. This is a no-bake recipe that makes beautiful bite-sized morsels. 
These sweet treats are not only festive and fun but are also a tasty favorite. Rice Krispie treats are loved by everyone. They are chewy, soft, and delicious, and this recipe takes them to new heights. Adding colorful sprinkles and vanilla frosting makes this a must-have birthday dessert.
This recipe for petit fours creates dainty bite-sized sweet treats. They are an elegant, enticing dessert perfect for an upscale birthday party. Adorable confetti cakes are covered in colorful fondant glaze. Decorated with dollops of frosting and colorful sprinkles, they are a beautiful, sophisticated dessert for a splendid birthday party. 
Macarons are a wonderful birthday dessert idea. They are dainty, cute, fun, and oh-so-satisfying. The soft shells are light with a delicious birthday cake-flavored filing. Made in bright colors and decorated with colorful sprinkles, these sweet treats are a fabulous addition to any birthday party. 
One of our favorite birthday dessert ideas - Cookie pie! Cookie pie is the best of both worlds, with a funfetti cake batter blondie baked in a pie crust topped with rainbow sprinkles. This decadent and delightful dessert is one not to be missed. It takes the term sweet treat to new heights. A divine dessert such as this will certainly make the birthday boy or girl feel special. 
If you love strawberries, then you will fall in love with this fluffy, homemade tasty dessert. It has the same flavors as the beloved strawberry crunch ice cream bars but in cake form. This dessert is perfect for summertime birthday parties. The cake is covered in a rich and creamy frosting and finished with a crunchy golden Oreo and strawberry topping. It is refreshing, tasty, and an amazing sweet treat. 
Did you make any of these birthday treats? Let me know in the comments.
More Birthday Cake Recipes
📖 Recipe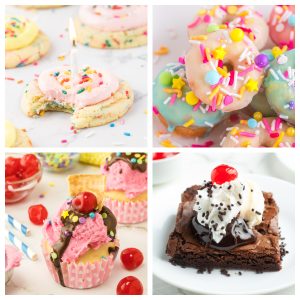 Birthday Dessert Ideas
A collection of 27 delicious birthday desserts. Not just your classic birthday cake, these birthday dessert recipes include things like cookies, trifles, cheesecake and more including this easy funfetti dip.
Ingredients
1

box

Funfetti Cake Mix

1

8 ounce

Cool Whip

slightly thawed

1

cup

Vanilla yogurt

1

tablespoon

Rainbow sprinkles
Instructions
Combine cake mix, Cool Whip, and yogurt in a large bowl. Fold in sprinkles.

Cover and place in the refrigerator for at least 30 minutes.

Serve chilled with animal crackers, vanilla wafer cookies, diced fruit, sugar cookies.
Nutrition
Calories:
330
kcal
Carbohydrates:
65
g
Protein:
4
g
Fat:
6
g
Saturated Fat:
2
g
Polyunsaturated Fat:
0.01
g
Monounsaturated Fat:
0.1
g
Cholesterol:
2
mg
Sodium:
491
mg
Potassium:
90
mg
Fiber:
2
g
Sugar:
44
g
Vitamin A:
18
IU
Vitamin C:
0.3
mg
Calcium:
99
mg
Iron:
1
mg