Sesame Street is a beloved children's television show known for promoting kindness, friendship, and learning. Planning a Sesame Street-themed party means that you'll need a spectacular cake for the birthday boy or girl!Here are our favorite Sesame Street Cake Ideas that will add some joy to your special celebration.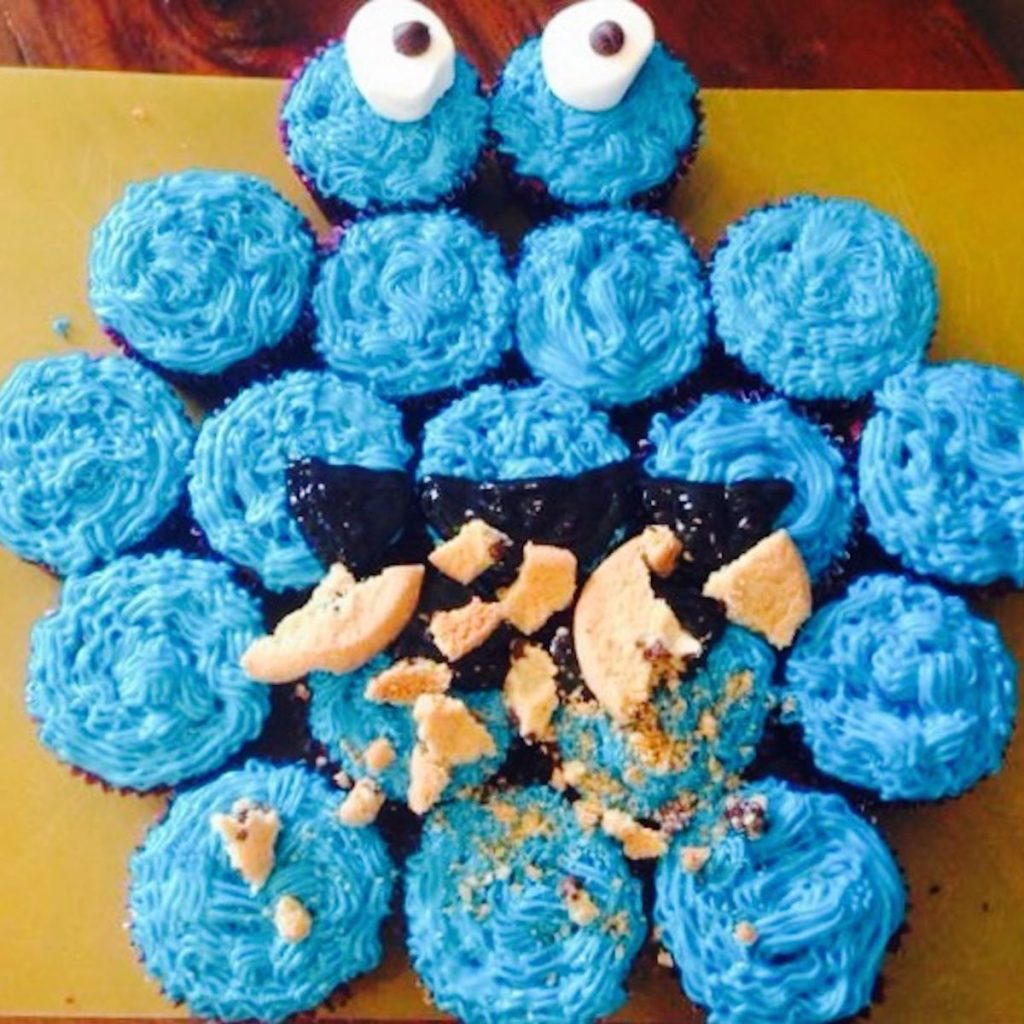 Best Sesame Street Birthday Cake Ideas
We've rounded up our favorite Sesame Street cake ideas, including sheet cakes, cupcakes, cake pops, and more.
These designs are easy to recreate at home with frosting and fondant, saving you a trip to the store or bakery.
Whether your cake is topped with Sesame Street characters and sprinkles — or chocolate chip cookies for a certain monster — it will certainly be a fun treat to make and enjoy.
This design brings chocolate chip cookies and birthday cake together in such a fun way! You can use a decorating tip to create Cookie Monster's textured face. Enjoy chocolate chips on the inside and delicious cookies on the outside. 
Making an Elmo cake at home is easy as can be. You can recreate this fun character cake with either a round cake pan or the Elmo-shaped cake pan linked in this post. 
3. Oscar The Grouch Cake
A Sesame Street birthday cake featuring Oscar the Grouch will be a fun addition to your party. Recreate this simple character cake design with the help of colored fondant and a little bit of buttercream frosting.
4. Sesame Street Cupcake Cake
Here's a gorgeous cupcake display with Sesame Street characters that will add a splash of color to your celebration! Cupcake cakes are the ideal party treat: easy to assemble and even easier to serve. 
5. Tiered Sesame Street Cake
This tiered cake stands tall and will look incredible on your dessert table. We love how each tier is dedicated to different Sesame Street characters.
6. Sesame Street Character Cake
One of our favorite Sesame Street cake ideas is this tiered character cake. This design features plenty of colors and iconic characters including Elmo, Count von Count, and Cookie Monster.
7. Pink Sesame Street Cake
The soft colors in this pink cake design are absolutely adorable. This easy fondant Sesame Street birthday cake is perfect for celebrating any little girl's birthday.
8. Cookie Monster And Elmo Cake
You can feature both Elmo and Cookie Monster in one incredible cake! We love how this cake design brings together different Sesame Street cake ideas to create one special treat.
9. Elmo Cookie Cake
Cookie cakes are perfect for any birthday boy or girl who prefers chocolate chip cookies over cake. Here is some inspiration for how you can create a simple Elmo design at home.
Classic sheet cakes are easy and fun to make! Decorated with the faces of Sesame Street characters like Big Bird, Elmo, Abby Cadabby, and Cookie Monster, this colorful cake is sure to bring a smile to everyone's face.
11. Baby Sesame Street Cake
We absolutely adore the Sesame Street babies! This design is perfect for first birthdays. Top off your Sesame Street birthday cake with miniature versions of your favorite characters. 
12. Elmo And Friends Cake
Decorated with multiple Sesame Street characters and lots of cute details, this design is one of our favorites. We love how this cake has so much dimension with a fondant railroad, flowers, clouds, and more.
13. Adorable Number Cake
Number cakes are a great way to celebrate a birthday! This Sesame Street birthday cake features the faces of three beloved characters and is decorated with piping tips to give it a fun texture.
14. Square Shaped Sesame Street Themed Cake
How cute is this square-shaped cake?! This unique cake design is shaped just like a birthday present. You can use fondant to create the details, including ribbons, polka dots, and character figurines.
15. 3D Elmo Cake
Bring adorable Elmo to life with this 3D cake design that looks just like him. While his head and body are made from cake, using Rice Krispie Treats will make it easy to craft his arms and legs.
16. Sesame Street Drip Cake
Here is a dreamy drip cake that's perfect for any little girl! This adorable cake features figurines of multiple Sesame Street characters. We love how the added macarons and candies tie it all together.
17. Colorful Sesame Street Cake
A rainbow cake will take your party to the next level, and fondant will make your decorating process easy! You can use your favorite colors to create polka dots, rainbow strips, confetti, and balloons. 
18. Bow Topped Cake
Presents are a fun part of any birthday celebration, so why not have a cake that looks just like a gift? This creative design uses fondant to make a gorgeous eye-catching topper. We love how the curled pieces add contrast to the ribbon flaps.
19. Sesame Street Sprinkle Cake
Sprinkles are a sweet way to elevate your birthday cake. This is one of our favorite simple Sesame Street cake ideas, covered completely with sprinkles and topped with character figurines and whipped cream.
Cake pops are soft and scrumptious! This cute design uses different characters' faces for each cake individual cake pop. You can display these on your dessert table, or wrap them in treat bags for a fun party favor.
21. Sesame Street Cakesicles
Not only are cakesicles adorable, but they are also so easy to make! Cakesicles are a twist on your classic birthday cake, making a perfect grab-and-go treat for all of your party guests.
22. Sesame Street Cupcakes
These colorful cupcakes are just as delicious as they are stunning! You can easily recreate these character cupcakes by using decorating tips to create texture with your icing.
23. 3D Cookie Monster Cake
One of the cutest Sesame Street cake ideas is this 3D Cookie Monster cake! Making this cake at home is easy with the help of a Wilton stand-up bear pan. Be sure to finish off this design with a few chocolate chip cookies and a name street sign.
Sesame Street Cake Toppers
More Kids Birthday Cakes
📖 Recipe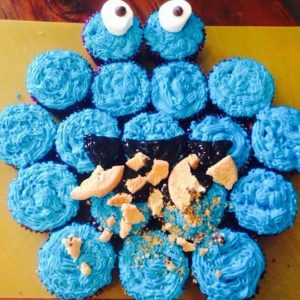 Sesame Street Cake Ideas
Some of the cutest Sesame Street cake ideas.
Ingredients
1

store bought or premade cake

1

Sesame Street cake topper

1

colorful sprinkles
Instructions
Place cake topper and sprinkles on top of premade cake.
Nutrition
Calories:
321
kcal
Carbohydrates:
70
g
Protein:
4
g
Fat:
3
g
Saturated Fat:
2
g
Polyunsaturated Fat:
0.4
g
Monounsaturated Fat:
1
g
Trans Fat:
0.4
g
Sodium:
597
mg
Potassium:
53
mg
Fiber:
1
g
Sugar:
36
g
Calcium:
189
mg
Iron:
2
mg