As one of Disney's most popular films of all time, Frozen's songs and characters continue to melt hearts a whole decade later! Frozen is all about the power of love and friendship. There's no better way to celebrate your love for the Disney princess or prince in your life than with a Frozen themed party and cake. Here are 23 Frozen cake ideas to help you plan the most magical occasion.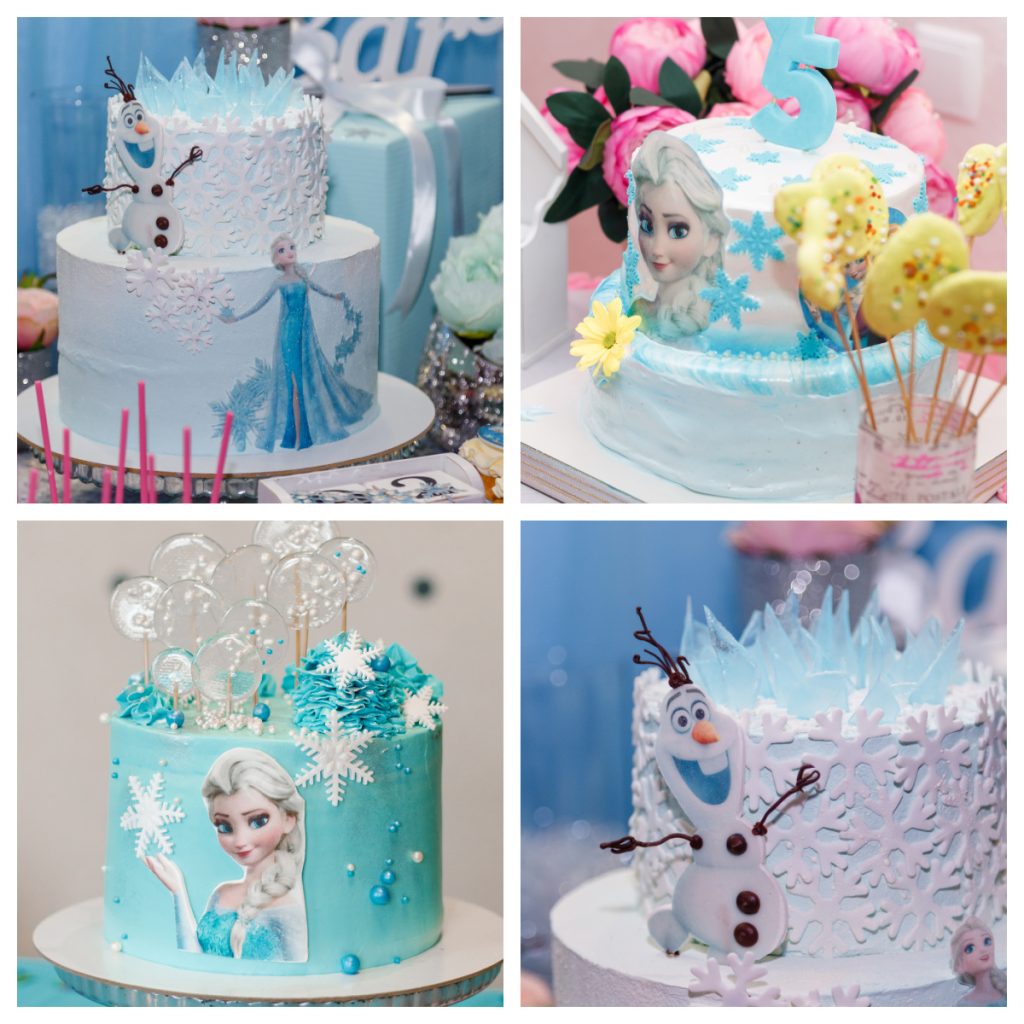 Best Frozen Birthday Cake Ideas
Our Frozen birthday theme led us on a quest to uncover the most creative and fun winter wonderland inspired cakes, including cupcakes, tiered cakes, and more.
This list of Frozen cake designs contains plenty of ideas that are ideal for beginner bakers, with a number of helpful video tutorials linked throughout.
Inspired by the snow, each one of these designs is sweet, simple, and so incredibly special. Once you've picked your favorite Frozen birthday cake ideas, let the magic begin!
Here's a simple layer cake that is not only so cute, but also so easy to put together! Just add a Frozen cake topper, sparkly decorations, and edible pearls to bring this easy Frozen cake together.
This stunning snowflake cake is perfect for your Frozen winter wonderland party. You can find a helpful tutorial video here, as well as a downloadable template that will make it easy to recreate your own snowflakes.
Frosted with a beautiful watercolor design and topped off with sprinkles, this scrumptious and colorful cake is sure to be a hit at your Frozen party. We love how this cake is inspired by Frozen colors on both the outside and inside!
Bring the magic of winter to life with this gorgeous winter wonderland cake. Each slice of this ombré cake features a decadent buttercream frosting and blue and white sanding sugar to create a sparkling effect.
We're in love with this winter inspired cake and the eye-catching snowflake that sits on top. Our favorite part of this Frozen cake design is the use of shredded coconut –– it looks just like fresh snow!
Candy snowflakes are the perfect cake toppers for any Frozen cake design. You can make these edible snowflakes at home with hard candies and cookie cutters. Check out the step-by-step instructions in this post to see how it's done.
One of our favorite Frozen cake ideas is this ombré cake with beautiful buttercream swirls. We love how elegant this design is and how it features all of the colors in Elsa's iconic blue dress.
8. Olaf Cake
This fun Frozen themed cake is sure to bring a smile to your party guests' faces! The blue ruffles, snowflakes, and snow-covered trees are great additions to this design, but our favorite part is the Olaf topper.
9. Elsa Cake
Here's a creative cake design that's straight out of the beloved song, "Let it Go!" The dripped icing design gives the illusion of melted snow, and the Elsa topper and candy decorations take the cake to the next level.
10. Frozen Character Cake
How stunning are the details in this Disney Frozen cake?! Featuring not only Anna and Elsa, but also Kristoff, Olaf, and Sven, this unique cake design is just as beautiful as it is sweet.
11. Frozen Drip Cake
Drip cakes are fun and easy to make and will look so cute on your dessert table! We love how the dripping white icing looks like melting snow, and how the sprinkles and buttercream add texture to the design.
12. Frozen Faultline Cake
Dive deep into the icy kingdom of Arendelle with this Frozen inspired faultline cake! Faultline cakes have become incredibly trendy in recent years. The sprinkles, sparkles, and almond bark make this cake a mesmerizing treat.
Fondant ruffles and sparkly snowflakes make this Frozen cake a magical sight! This simple tiered Disney Frozen cake has a picture of Elsa to make it extra fun and special.
A Disney princess cake is a little girl's dream come true! You can recreate this dreamy design at home with an Elsa doll and a wonder mold cake pan. The helpful video in this post will show you all the steps so you can easily make your own.
15. Beautiful Frozen Castle Cake
Standing five tiers tall and topped with the ice frozen castle itself, this elegant design will be the talk of the party. Elsa's icy palace is an essential item at any Frozen birthday party, and this cake idea brings it to life perfectly.
One of the cutest Frozen cake ideas that we discovered was this homemade winter cake featuring Olaf. The candy glass and sparkling snow make it a stunning treat that is guaranteed to satisfy any sweet tooth.
17. Snowflake Cupcake Cake
We're huge fans of cupcake cakes! This snowflake-inspired cupcake display has the fullness of other Frozen cake ideas but is even easier to put together and serve during your party.
18. Cute Sunflower Frozen Cake
Perfect for any sunflower lover, this adorable cake incorporates beautiful yellow flowers that pop on the blue cake background! Our list of Frozen cake ideas would be incomplete without this design inspired by the Disney short, "Frozen Fever."
19. Cute Olaf Birthday Cake
Do you wanna build a snowman? This Olaf cake is bursting with happiness and will help you do just that! With the help of fondant, you can easily build your own version of Olaf at home.
Celebrate the occasion with Disney Frozen cake toppers of Elsa and all of her friends. This simple watercolor cake is easy to make, and the rock candies that look like icicles take it to the next level.
21. Frozen Theme Birthday Cake
This amazin Frozen birthday cake gives you a true taste of Arendelle! The details of this cake are gorgeous: vibrant colors, character cake toppers, and the Arendellian crest used as a border on each tier.
22. Rock Candy Frozen Cake
Elevate any of your Frozen cake ideas by adding rock candy! Rock candy sticks will look just like tall icicles, and they're super easy to work with and add to your design.
23. Pink Olaf Cake
Olaf is the perfect addition to complete this dreamy pink cake. We absolutely adore this soft pink color, plus the incorporation of the cute snow babies from the "Frozen Fever" Disney short.
24. Frozen Inspired Cakesicles
Disney's Frozen inspired cakesicles are like a piece of cake on a popsicle stick. Decorated with beautiful blue colors and candy snowflakes. These work for any special occasion.
Make your own cake pops with this simple recipe. Use your favorite Frozen inspired colors and sprinkles.
Frozen Cake Toppers
Which cake will you be using for your Frozen party?
More Birthday Cake Ideas
📖 Recipe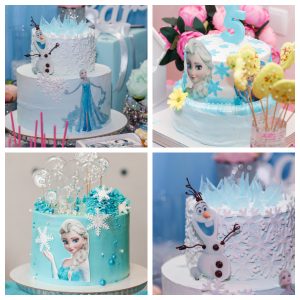 Frozen Cake Ideas
A group of amazing Frozen inspired cakes.
Ingredients
1

premade cake

1

Frozen cake topper
Instructions
Choose your favorite Frozen cake toppers and place on a cake.
Nutrition
Calories:
317
kcal
Carbohydrates:
71
g
Protein:
3
g
Fat:
2
g
Saturated Fat:
1
g
Polyunsaturated Fat:
0.2
g
Monounsaturated Fat:
1
g
Trans Fat:
0.2
g
Sodium:
627
mg
Potassium:
40
mg
Fiber:
1
g
Sugar:
37
g
Calcium:
182
mg
Iron:
2
mg