Paw Patrol is a cute and popular show about the brave and heroic dogs who always manage to save the day! A Paw Patrol party is the perfect way to celebrate the dog lovers in your life, and a special themed birthday cake is guaranteed to make them feel special. Here are 25 fun Paw Patrol cake ideas to take your party to the next level.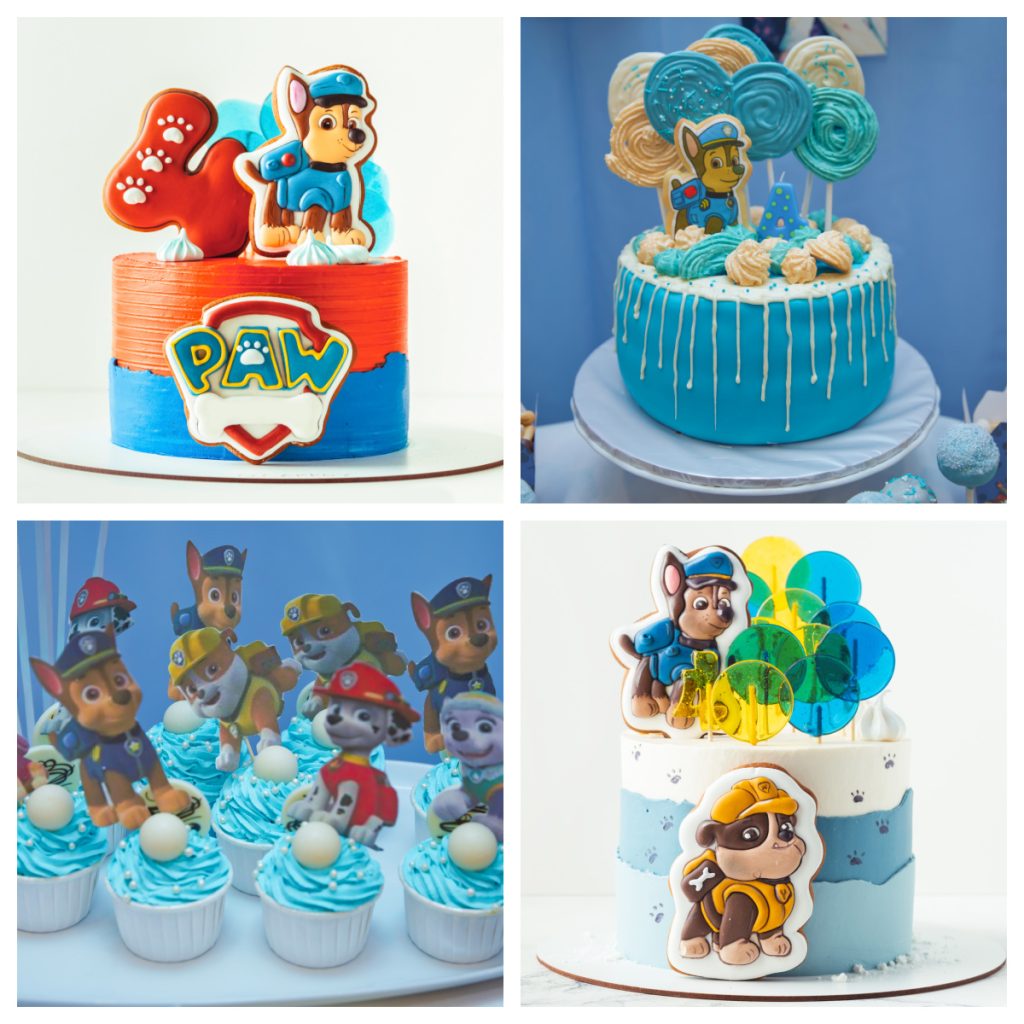 Best Cake Ideas For Your Paw Patrol Party Theme
This list features some of our favorite Paw Patrol cake ideas, with plenty of simple cake designs that are easy for beginner bakers to recreate at home!
Whether your birthday cake features dog bones, paw prints, or favorite characters from the show, there are so many ways to bring this fun theme to life.
This Paw Patrol cake only takes 10 minutes to decorate! You can use a plain pre-made cake from the store to keep things simple. All you'll need is colored M&Ms, bamboo skewers, and the Paw Patrol decorations that you can buy here.
Shaped like a dog bone, this homemade cake is so cute and fun to make! Check out this post for detailed step-by-step instructions on how to shape this simple cake, recreate the Paw Patrol logo, and decorate it with fondant paw prints.
Here is an easy cake idea that takes only minutes to recreate! We love the use of Paw Patrol character toppers and Scooby Doo graham crackers, and how the name topper adds a personal touch.
Featuring bright colors and edible character images, this unique cake is sure to impress your party guests. This post will walk you through all the steps you need to bring this fun design to life.
5. Cute Rubble Cake
One of our favorite Paw Patrol cake ideas is this adorable Rubble cake. Decorated with chocolate frosting, Oreo cookies, and colored candy, this Rubble cake is just as cute as it is delicious!
Bursting with gorgeous frosted flowers, this beautiful cake with a Skye topper is perfect for your birthday girl. The pink logo is absolutely adorable, and the personalized bone cookies add another level of sweetness.
7. Candy Paw Patrol Cake
Here is a colorful candy cake that is easy to recreate at home. Simply pick your favorite characters, then match each one with M&Ms in a similar color! Line the side of the cake with Twix or Kit Kats and finish it off with a printable topper.
8. Pink Paw Patrol Cake
A pink Paw Patrol cake is a sweet way to celebrate your birthday girl! You can make this tiered cake design with colored fondant and toy figurines of your favorite characters.
Making this smiling Zuma cake is fun and easy with just a few simple ingredients. All you'll need for the decorating process is chocolate icing, gel food coloring, and a piping bag and spatula.
10. Paw Patrol Sheet Cake
You can never go wrong with a classic sheet cake! Decorated with colored buttercream, this Paw Patrol sheet cake is a great way to bring your Paw Patrol party theme to life.
11. Chase Paw Patrol Cake
Speckled and splattered with blue and yellow, this Chase Paw Patrol cake will be a huge hit at your party! Our favorite details in this cake design include the paw print number and the adorable image of Chase on the front.
12. Marshall Cake
Kids will love this cute cake that looks just like Marshall! You can recreate this cake design with buttercream frosting, using a piping bag and decorating tips to get your desired texture.
13. Fondant Marshall Cake
Anyone who loves Marshall will be sure to enjoy this firefighter-inspired Paw Patrol themed cake! We're a huge fan of fondant flame as well as how the cake features Dalmatian spots just like Marshall's.
Celebrate your Paw Patrol party theme with this dog bowl cake idea! Wrapped in fondant and topped with cocoa puff cereal, this creative cake design is almost too cute to eat. Watch the helpful video here to see how it all comes together.
Bring Rocky and his iconic green hat to life with this fun and adorable fondant cake design. Each layer is filled with a scrumptious buttercream frosting. Check out the video tutorial here!
Adding a cute topper to your birthday cake will take it to the next level! This video tutorial will show you the step-by-step instructions for how to make your own Everest topper from fondant.
17. Paw Patrol Cookie Cake
Cookie and cake fans alike will fall in love with this cake that's decorated with stunning sugar cookies! Each cookie is beautifully made and adds a fun splash of color to the cake design. Try using a character cookie cutters to make your cookies.
18. Paw Patrol Number Cake
Number cakes are a great way to celebrate the birthday kid turning another year older. This creative Paw Patrol number cake features vibrant colors, characters, and paw prints.
The dreamy pastel colors of this cake will make it a stunning display at your birthday celebration. Add figurines of Everest, Skye, or your other favorite characters to complete the look!
Buttercream is great for decorating because it's easy to work with, and it's also easy to customize to your desired color with gel food coloring! You can use decorating tips to recreate this design, adding texture to each frosting layer. Try adding a Chase cake topper to finish the cake.
21. Chase Cookie Cake
Perfect for anyone who prefers cookies over cake, this cookie cake with frosting is a fun and delicious treat that will satisfy any sweet tooth!
22. Paw Patrol Character Cake
One of the most creative Paw Patrol cake ideas we found was this tiered character cake! We love how each tier is dedicated to a different character and how the hat on top is personalized for the birthday kid. This would be the perfect centerpiece of the dessert table.
23. Paw Cake
Featuring the Paw Patrol logo in the center, this simple but cute paw print-shaped cake is a great way to celebrate your Paw Patrol party theme.
24. Lookout Tower Cake
How cute is this lookout tower cake?! This impressive fondant design is one of the most creative Paw Patrol Cake ideas we've seen. We're a huge fan of how this tiered design adds so much dimension to the lookout tower. Sure to be the highlight of the party.
25. Paw Patrol Drip Cake
Drip cakes are not only fun but also so easy to make! Icing drips down the sides of the cake add color and fun. The rainbow paw prints, candies, and fondant letters are a great addition to this colorful, eye-catching cake design.
Paw Patrol Cake Toppers
Need an easy cake topper to place on the top of the cake or cupcakes? Try one of these cute toppers.
More Kid Birthday Cake Ideas
Will you be making any of these cute Paw Patrol Cakes?
📖 Recipe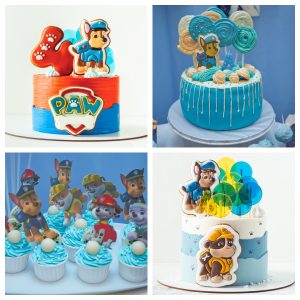 Paw Patrol Cake Ideas
A collection of 25 Paw Patrol Cake ideas. These Paw Patrol cakes are sure to inspire you for your Paw Patrol Party.
Ingredients
1

store bought birthday cake

1

Paw Patrol cake topper
Instructions
Add cake topper to cake and serve.
Nutrition
Calories:
216
kcal
Carbohydrates:
43
g
Protein:
1
g
Fat:
4
g
Saturated Fat:
1
g
Sodium:
348
mg
Fiber:
1
g
Sugar:
28
g
Calcium:
22
mg
Iron:
1
mg