Cocomelon is a fun and popular children's show known for its sing-along nursery rhymes, cute characters, and colorful animation. A Cocomelon themed cake is the perfect way to celebrate the birthday of your little one! Here are 29 Cocomelon cake ideas to make your special occasion extra sweet.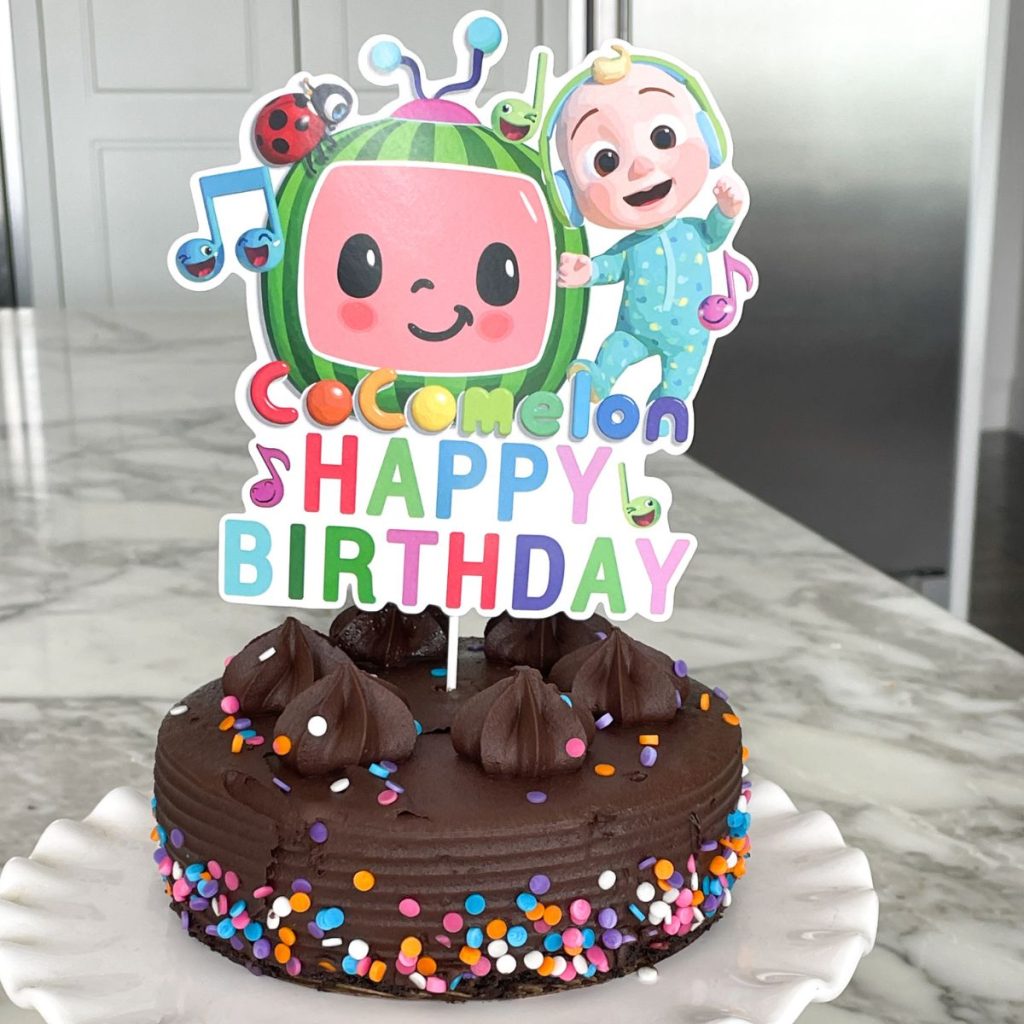 Adorable Cocomelon Cake Ideas
We've rounded up a variety of Cocomelon inspired cakes, including regular cakes, cupcakes, cake pops, and more!
The best part is that all of these Cocomelon cake ideas can be recreated at home, saving you a trip to the bakery.
Pick your favorite idea and get ready to have fun making something sweet!
1. Fondant Cocomelon Cake
Here is a beautiful cake idea that is sure to add a splash of color to your party. You can recreate this design at home with colored fondant and printables of your favorite Cocomelon characters.
2. Blue Cocomelon Cake
This design features a light blue background and clouds. We love the soft colors in this cake, and how the addition of small candies and sprinkles add dimension.
Make the cutest watermelon-inspired cake with layers of red velvet and colorful buttercream frosting! The step-by-step instructions in this video will make it simple for you to follow along and recreate your own.
A fun topper will take your cake to the next level! Here is a helpful tutorial video that will teach you how to make your own Cocomelon JJ topper from fondant.
How cute is this layered buttercream cake?! You can recreate this textured design by using piping bags and decorating tips. We absolutely love the addition of so many Cocomelon characters as toppers too!
6. Three Tier Cocomelon Cake
Standing tall, this eye-catching tiered cake is guaranteed to be the talk of your party! We love how this design brings together a variety of Cocomelon cake ideas, with each layer decorated differently.
7. Simple Cocomelon Cake
Decorated with buttercream frosting and printables, this simple cake is easy to make at home. Our favorite part about this design is how it's frosted to look not only like a watermelon, but also like roses!
8. Cocomelon Sprinkle Cake
Rainbow sprinkles are the perfect way to make a simple but cute cake. Check out this simple design made with buttercream frosting and Cocomelon toppers.
Fondant is easy to work with, even if you're a beginner baker! Here is a step-by-step video that will give you instructions for how to decorate your own Cocomelon cake at home.
Celebrate your little one with a smash cake for them to enjoy on their own! This adorable ladybug smash cake will look so cute next to the larger Cocomelon watermelon cake in this pairing.
11. Number Cake
Number cakes are a fun way to celebrate the birthday kid turning another year older. This simple watermelon number cake is easy to recreate and will be a hit at your party.
12. Tiered Cocomelon Cake
With vibrant colors and piped frosting, this tiered cake is absolutely stunning. We love details in this design, especially the cascading rainbow that falls from the upper layer!
13. Simple Cocomelon Cake
Simple Cocomelon cake ideas are special and sweet. Here is one way that you can use fondant to create a simple but certainly adorable Cocomelon cake.
14. Pink Cocomelon Theme Cake
Little girls will fall in love with this cake, featuring pastel colors and Cocomelon characters. All of the decorations for this cake can be made with fondant.
15. Adorable Cocomelon Cake
This adorable Cocomelon cake is almost too cute to eat! Our favorite details from this cake include the faces of the Cocomelon characters and use of fondant fruit for decoration.
16. Cocomelon Sheet Cake
Classic sheet cakes are always a great choice for parties! Here is a gorgeous idea for a sheet cake, decorated with colored buttercream and topped with character printables and a 3D JJ model.
Here is an elegant cake design that is guaranteed to impress your party guests. This unique tiered cake is decorated with colored fondant, with plenty of added details to give it dimension.
18. Lollipop Cake
Topped with lollipop decorations, this adorable Cocomelon cake is a great way to honor anyone who loves sweets. The watermelon face and cute cloud toothpicks bring the whole design together.
It's easy to make your own Cocomelon themed cake with the help of fondant and buttercream! This step-by-step video will show you everything you need to know to recreate this design at home.
One of our favorite Cocomelon cake ideas is this adorable design that features the entire family from the show. We love how the standing fondant rainbow creates such a beautiful background for the Cocomelon characters.
21. Colorful Sprinkle Cake
A simple sheet cake is easy to make at home and looks incredible with the addition of rainbow sprinkles. This design displays classic rainbow sprinkles around the sides and cute rainbow stars on top.
22. Cocomelon School Bus Cake
This school bus cake is unique and so fun! Use piping tips to get a nice textured design with your buttercream frosting, and fondant to create the character faces, letters, and details that you want to include on your cake.
23. Pastel Cocomelo Cake
Covered in beautiful pastel colors, this Cocomelon cake brings together fondant and candy decorations, as well as a JJ topper. This sweet cake will be the perfect addition to your celebration.
24. Cocomelon Twins Cake
It's two times the fun with this twins cake!
25. Cocomelon Cakesicles
Cakesicles are sure to satisfy any sweet tooth. These adorable watermelon cakesicles are made with Oreo cookies and can be ordered from Etsy. They would also be so fun to make at home!
26. Cocomelon Cupcake Cake
e love cupcake cakes because they have the fullness of regular cakes, but are much easier to serve –– just by pulling it apart! Enjoy these delicious Cocomelon cupcakes.
Cake pops are moist, sweet, cute and delightful! They're perfect to serve at your party or send home in treat bags. This video will walk you through all the steps you need to create your own Cocomelon cake pops.
Cocomelon Cake Toppers
More Birthday Cakes For Kids
📖 Recipe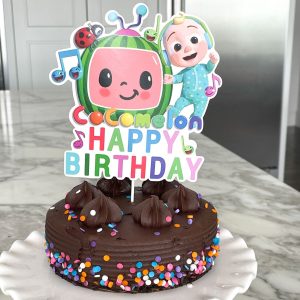 Cocomelon Cake Ideas
A group of amazing Cocomelon cake ideas. These fun Cocomelon cakes are perfect for a birthday party.
Ingredients
1

premade cake

1

Cocomelon cake topper
Instructions
Place Cocomelon topper into cake and serve.
Nutrition
Calories:
238
kcal
Carbohydrates:
53
g
Protein:
2
g
Fat:
2
g
Saturated Fat:
1
g
Polyunsaturated Fat:
0.1
g
Monounsaturated Fat:
0.4
g
Trans Fat:
0.1
g
Sodium:
470
mg
Potassium:
30
mg
Fiber:
1
g
Sugar:
28
g
Calcium:
136
mg
Iron:
1
mg