SpongeBob SquarePants is one of the most well-known cartoons of all time, recognized for its humor and unique underwater location, Bikini Bottom. Given the popularity of the series, SpongeBob has become a beloved party theme, and there is no shortage of cake ideas to go with it! Here are our favorite SpongeBob Cake Ideas that are sure to add some fun to your birthday party.
Best SpongeBob Birthday Cake Ideas
We've collected a variety of SpongeBob cake designs, including sheet cakes, tiered cakes, heart-shaped cakes, and cake pops.
This list features plenty of simple cake ideas that you can easily make at home with just a few decorating supplies.
From Krabby Patties and pineapples to your favorite cartoon characters, there are endless ways to bring a SpongeBob birthday theme to life. 
This smiling SpongeBob birthday cake is loaded with tropical flavors –– with pineapple cake and a scrumptious pineapple syrup! Follow along with the step-by-step video tutorial to see how this fun design comes together.
2. 28 Years Later Cake
Recreate the iconic time transition image from the cartoon! Our favorite part about this cake is the vibrant colors of the frosting. Be sure to use the birthday boy or girl's age as the featured number on your cake!
3. 3D SpongeBob Cake
Here's a fun 3D cake design to bring this character to life for your special occasion. We love the textured details in this seated SpongeBob design, as well as the addition of shells and graham cracker sand to tie it all together.
One of our favorite SpongeBob cake ideas is this gorgeous tiered cake. This stunning design uses fondant to recreate beloved characters and sea creatures, seaweed strands, and SpongeBob's pineapple house. 
5. Krabby Patty Cake
A SpongeBob theme party would be incomplete without Krabby Patties! We love how this tiered cake has a different design for each layer. Top off the cake with a Krabby Patty to take it to the next level.
6. Simple SpongeBob Cake
Making a SpongeBob birthday cake is simple! All you'll need is a square-shaped cake pan, boxed cake mix, buttercream frosting, and colored fondant for easy decorating. 
7. Pineapple House Cake
Who lives in a pineapple under the sea? SpongeBob SquarePants! Here is some inspiration for how you can create your own pineapple house cake. You can achieve the textured design by using decorating tips.
8. SpongeBob Bikini Bottom Cake
You can bring the world of Bikini Bottom to life with this creative tiered cake design! We love how this cake brings together a number of SpongeBob cake ideas, including characters, Krabby Patties, the pineapple house, and more.
This colorful cake is sure to make your party guests smile! Starting with a 9x13 rectangular cake, use an image of Patrick Star to create your own cake template. Once you've cut and arranged the cake, cover it with delicious buttercream.
10. Buttercream Patrick Cake
Loaded with buttercream, this dessert is just as sweet as it is adorable. We love how this SpongeBob birthday cake design has plenty of texture. You can use decorating tips to recreate it at home!
11. Fondant SpongeBob Cake
Fondant is easy to work with and will help you easily create an incredible birthday cake. This simple round cake features Spongebob SquarePants himself and a personalized birthday message on top.
12. SpongeBob Cookie Cake
Cookie cakes are the perfect way to celebrate the birthday boy or girl who prefers cookies over cake. This ginormous chocolate chip cookie cake features cartoon characters and a simple but sweet birthday greeting.
13. SpongeBob Cupcake Cake
Cupcake cakes are among our favorite party ideas of all time! Made from individual cupcakes, this SpongeBob birthday cake looks just like regular cake, but is even easier to divide and serve.
14. Pink SpongeBob Cake
Perfect for any birthday girl who loves SpongeBob SquarePants, this cake is a dreamy pastel pink color! We love the use of sugar pearls and sprinkles for decoration, as well as the character toppers and Krabby Patty gummies.
Sheet cakes are not only fun, but also so easy to make! The rectangular shape of the cake closely resembles the shape of SpongeBob SquarePants, making this simple design perfect for any beginner baker.
16. Heart Shaped SpongeBob Cake
What better way to make the birthday boy or girl feel loved than with a heart-shaped cake? This ocean-inspired cake is decorated beautifully with colored buttercream and an image of SpongeBob and Patrick on top.
17. Krabby Patty Cake
This unique birthday cake is shaped just like a Krabby Patty! Topped off with a miniature character figurine, this design is one of our favorite SpongeBob cake ideas because of how creative it is.
18. SpongeBob Cake Pops
One of the cutest SpongeBob cake ideas is these adorable cake pops. Not only are they soft and scrumptious, but they are also versatile! Set them up on your dessert table or send them home as party favors.
19. SpongeBob Number Cake
Celebrate the birthday boy or girl with a number cake! This SpongeBob birthday cake design is a great way to get creative. Add on some sugar pearls and use buttercream to create character faces and other ocean-themed elements.
20. Cute SpongeBob Sheet Cake
Buttercream makes decorating simple as it's not only delicious, but also easy to work with and customize. Here's an idea for a classic textured sheet cake that you can make at home with decorating tips and gel food coloring.
SpongeBob Cake Toppers
More Fun Cake Ideas
📖 Recipe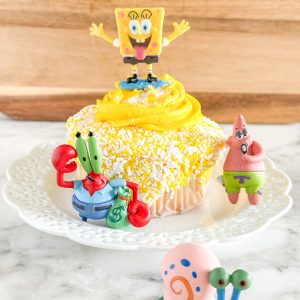 Best SpongeBob Cake Ideas
A collection of fun SpongeBob Squarepants cakes.
Ingredients
1

store bough cake

Spongebob cake topper
Instructions
Place cake topper on premade cake and serve.
Nutrition
Calories:
26
kcal
Carbohydrates:
4
g
Protein:
0.4
g
Fat:
1
g
Saturated Fat:
0.2
g
Polyunsaturated Fat:
0.2
g
Monounsaturated Fat:
0.4
g
Cholesterol:
0.1
mg
Sodium:
23
mg
Potassium:
7
mg
Fiber:
0.1
g
Sugar:
3
g
Vitamin A:
4
IU
Vitamin C:
0.01
mg
Calcium:
9
mg
Iron:
0.1
mg