An emoji themed party is a fun way to celebrate all sorts of occasions including birthdays, graduations, office parties, and more. If you are looking for emoji cake ideas to get the party started, welcome! You've come to the right place.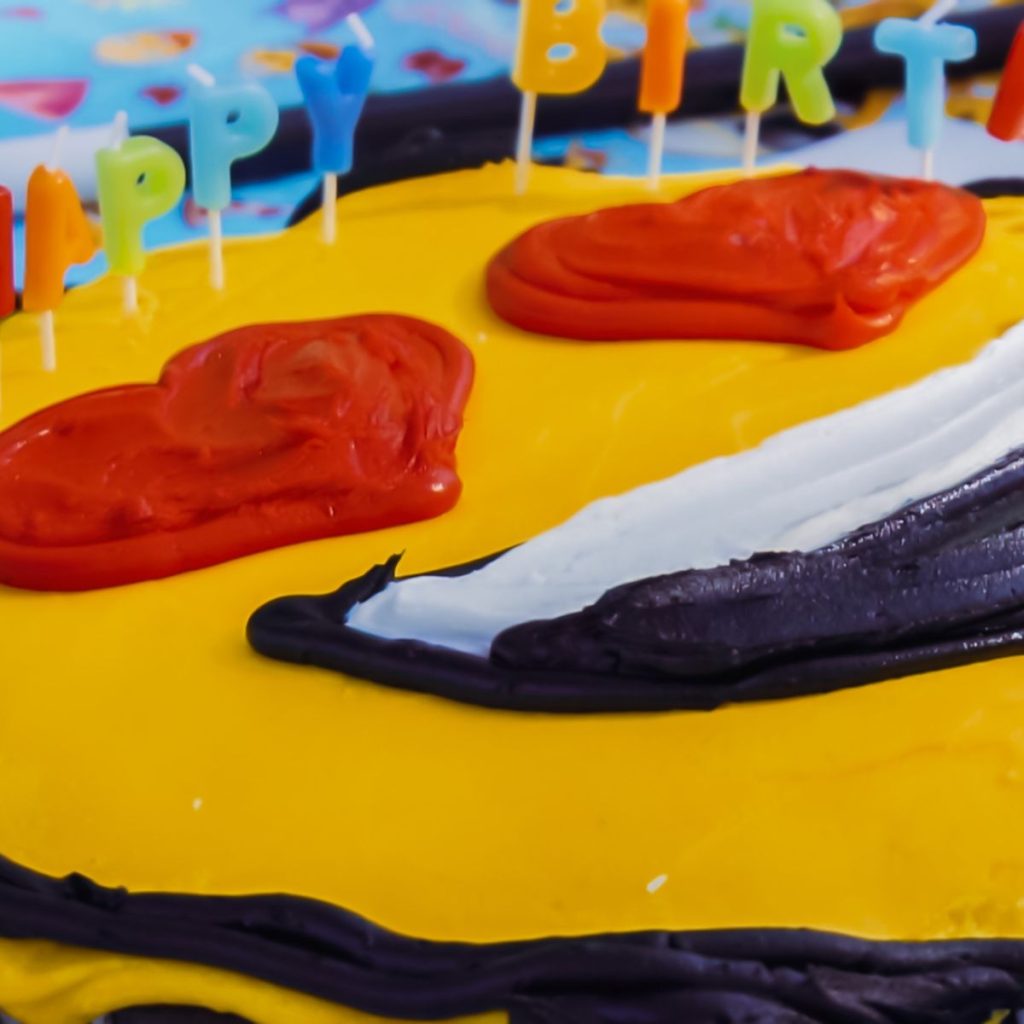 In a world of ever increasing technology, emojis and emoticons are here to stay, so it's no surprise that emoji parties are on the rise. These expressive little animations let us express ourselves while lightening the mood and providing endless comic relief.
Keep reading to find out all the yummiest ways to bring your favorite emojis to life with these fun cakes that are perfect for any emoji theme party.
Emoji Birthday Cake Ideas
This list of emoji cake ideas has a little something for everyone. From easy DIY sheet cakes to trendy drip cakes covered in candy jewels, you'll find the perfect option for your event.
These luscious cakes feature all your favorite emojis. We have winking smiley faces, grinning purple devils and, of course, the beloved poop emoji all in sugary sweet cake form.
Celebrate all the emoji lovers in your life with these divinely delicious emoji birthday cake ideas! Don't forget to check out these cute emoji cupcakes.
1. Colorful Emoji Cake
This brightly colored, two tiered emoji cake is an absolute stunner with loads of colorful candy sprinkles and fondant toppers of all your favorite emojis. This is one emoji birthday cake your guests won't forget!
2. Sprinkle Emoji Cake
For this elegant cake recipe, a tall, round cake is completely covered in rainbow colored sprinkles and topped with a winking smiley face emoji. You can easily customize this cake with any of your favorite emojis.
When it comes to hilarious emoji cake ideas, this is at the top of the list! Stars, hearts, and emoji fondant pieces cover the sides of this cake while a giant chocolate poop emoji spews rainbows out of its mouth on top.
4. Buttercream Emoji Cake
Transform a simple round cake into an emoji birthday cake with these handy fondant cake toppers. The toppers are fun to make and easy to turn into any of your favorite emojis.
5. Pink Emoji Cake
Turn up the sass with this pretty pink creation. It has rich buttercream frosting and emoji toppers made from chocolate. It makes a fantastic emoji birthday cake for the little ladies in your life and can be customized to fit any emoji party.
6. Emoji Sheet Cake
With a lot of colored frosting and some piping expertise, transform a simple sheet cake and 3 round cakes into an eye-popping, emoji lover's dream.
7. Adorable Emoji Cake With Emoji Poop Frosting
Here's another sensationally silly idea for your next emoji party. You can crank up the chuckle factor on any emoji birthday cake by using chocolate frosting and candy eyes to make poop emojis. I know, I know…but the kids love it!
8. Simple Emoji Face Cake With Cupcakes
This simple, vibrantly colored cake is actually two emoji cake ideas in one. Turn a regular round cake into a beaming smiley face, then surround the whole thing with cute emoji cupcakes. Perfect for any special occasion!
The perfect addition to any summertime emoji party, this ice cream cake is easy to make and fun for the whole family. Start with a premade ice cream cake, then let the kids make the toppers using candy melts and liquid food markers.
Bring your favorite emojis to life with these sweet little cakes. Serve them at your next emoji party or make a batch to give out as gifts.
11. Fun Emoji Cake
Emoji cake ideas don't get much easier than this. Fondant emoji cutouts and edible markers make it super easy to turn that plain vanilla or buttercream cake into an emoji birthday cake.
This easy, fondant free cake is made with boxed chocolate cake mix, chocolate frosting, and loads of chocolate shavings. It's another deliciously great go-to idea for guaranteed giggles.
Show your stripes with these charming mini zebra cakes. This emoji cake recipe is easy to personalize using yellow buttercream frosting and simple fondant cutouts. It's another one of those emoji cake ideas the kids will be more than happy to help with.
14. Emoji Cupcake Cake
Go ahead and showcase all of your favorite emojis with this clever emoji cupcake cake. This easy DIY cake is made completely out of emoji adorned cupcakes and can be made using any flavor cake.
15. Cute Purple Emoji Cake
Honor the purple lovers in your life with this dazzling, purple emoji birthday cake. This showstopper is complete with colorful candy sprinkles, sparkling numbers, and marshmallow fondant decorations.
16. Emoji Drip Cake
Melt the hearts of your emoji party guests with a dynamically delicious drip cake. To get this effect, emoji cake toppers are nestled on top of a mesmerizing pool of multicolored melted chocolate.
17. Emoji Cookie Cake
For the emoji-loving cookie monsters in your life, why not try an emoji cookie cake? You can either order one already decorated or buy a plain one to decorate yourself.
18. Celebratory Emoji Cake
Bust out the party hats and streamers for this festive dessert. This beautiful, two tiered cake features lots of colorful squiggles and all your favorite emojis in fondant form. This one even has the purple smiling devil!
19. Emoji Sweets Cake
This extraordinary cake is a sugar lover's dream come true. Candy emojis are scattered among colorful candies, cupcakes, and ice cream cones, all on top of a brightly colored drip cake.
20. Emoji Movie Cake
Emojis have made it off our phones and onto the big screen. Bring Gene Meh, Smiler, or any of your favorite Emoji Movie characters to life with this remarkably decorated cake.
21. Emoji Cake Pops
Turn everyday cake pops into all your favorite emojis with this adorably inventive cake idea. Whether it's a birthday, graduation, or office party, these scrumptious little desserts are always a crowd pleaser.
Will you be making any of these cake for your emoji theme party? Let me know in the comments.
More Cake Ideas
📖 Recipe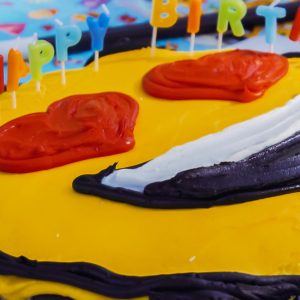 Best Emoji Cake Ideas
Collection of cute and fun emoji cake ideas. These emoji cakes are perfect for a birthday or any special occasion.
Ingredients
1

prepared cake with white icing

1

yellow fondant

1

edible black pen

1

edible red pen
Instructions
Roll yellow fondant out into a ¼-inch thick sheet.

Using a small circle cutter, cut out circles in the yellow fondant.

Using the edible pens, draw your favorite emoji faces on the fondant circles.

Place the emoji face circles on top and on the side of the cake.
Nutrition
Calories:
160
kcal
Carbohydrates:
35
g
Protein:
2
g
Fat:
2
g
Saturated Fat:
1
g
Polyunsaturated Fat:
0.2
g
Monounsaturated Fat:
0.4
g
Trans Fat:
0.2
g
Sodium:
299
mg
Potassium:
27
mg
Fiber:
0.5
g
Sugar:
18
g
Calcium:
94
mg
Iron:
1
mg